When thinking of living room furniture, coffee tables often come to mind right after sofas. This convenient, yet functional piece of furniture is the perfect spot to rest drinks, magazines, electronic devices, display decor, and offer space to kick up your feet or enjoy a meal. Centrally located and endlessly practical, the coffee table gives your room character, holding personal items and decor, reflecting your personality. Available in a wide range of sizes, shapes, and materials to choose from, our comprehensive guide helps break down important factors to consider when selecting a new coffee table design – narrowing down your choices to ensure you select the best choice for your space and your needs.
Things to Consider When Buying a Coffee Table
What room will the coffee table be placed in?
The type of room and its functionality can affect what shape, style, or materials will be the best choice

Materials and styles that might work well in a formal living room might be too scratch prone, delicate, or difficult to clean to be used in a heavily trafficked family room with kids and pets

In more casual settings, your coffee table needs to be durable and robust -- able to handle things like bumped corners, scratches on the surface, spilled drinks and other haphazards.
Will the coffee table be acting as an aesthetic focal point?
Consider your lifestyle and how you'll be using the coffee table. Love to relax and put your feet up? A sturdy ottoman might be a great choice. Looking to stay organized? Opt for a style with built-in storage space. Have lots to display? Select a coffee table style with multiple levels to show off your coffee table books and trinkets from world travels

The coffee table you're selecting also needs to mesh well with the other furniture in your room. Are you looking at the right color and type of wood? Will a metal table blend or match with the other accent pieces? Make sure the table you are considering purchasing is not going to look out of place or clash with your current furniture or decor
Coffee tables can be manufactured from a relatively broad range of different materials including wood, glass, metal, stone, and acrylic
Classic and most popular option

Rich, warm, and versatile, wood is adaptable to a wide range of aesthetics and decor styles

From light, airy woods like pine, to deep, rich options like cheery, dark oak, and mahogany, you can find wooden coffee tables for any space
Durable and wear-resistant

Can be cast into a variety of shapes

Popular for industrial design styles
Often paired with metal or wood joints and support structures

Helps to create an open, airy feel - especially in tight spaces

Doesn't stain

Very delicate
Durable, easy to maintain

Beautiful and elegant

Porous material, so can stain easily

Can be heavy and difficult to move about your space
Choosing the Best Coffee Table Shape for Your Interior
When selecting a shape for your coffee table, think about how much space you want to fill, then choose a table that fits without looking over- or under-scaled. The pieces around your coffee table will dictate its shape. Choose something that is accessible to all of the people sitting around it. Oval coffee tables work well for smaller spaces, while square coffee tables are a good pairing for an L-shaped sectional.
When to Use Round or Oval Coffee Tables
Round coffee tables are great for larger rooms as they take up more space than square or rectangular coffee tables
Round and oval coffee tables also work well with smaller furniture groupings

Round coffee tables soften lines in a room and are easy to walk around

Lack of sharp edges can be a plus for households with pets and young children
When to Use Square or Rectangular Coffee Table
Can work well with rooms whose design features more angular shapes and forms

Both work well in large or small spaces

Rectangular coffee tables are decidedly more modern and offer the most amount of surface area to work with
Square coffee tables nestle perfectly into the L of a sectional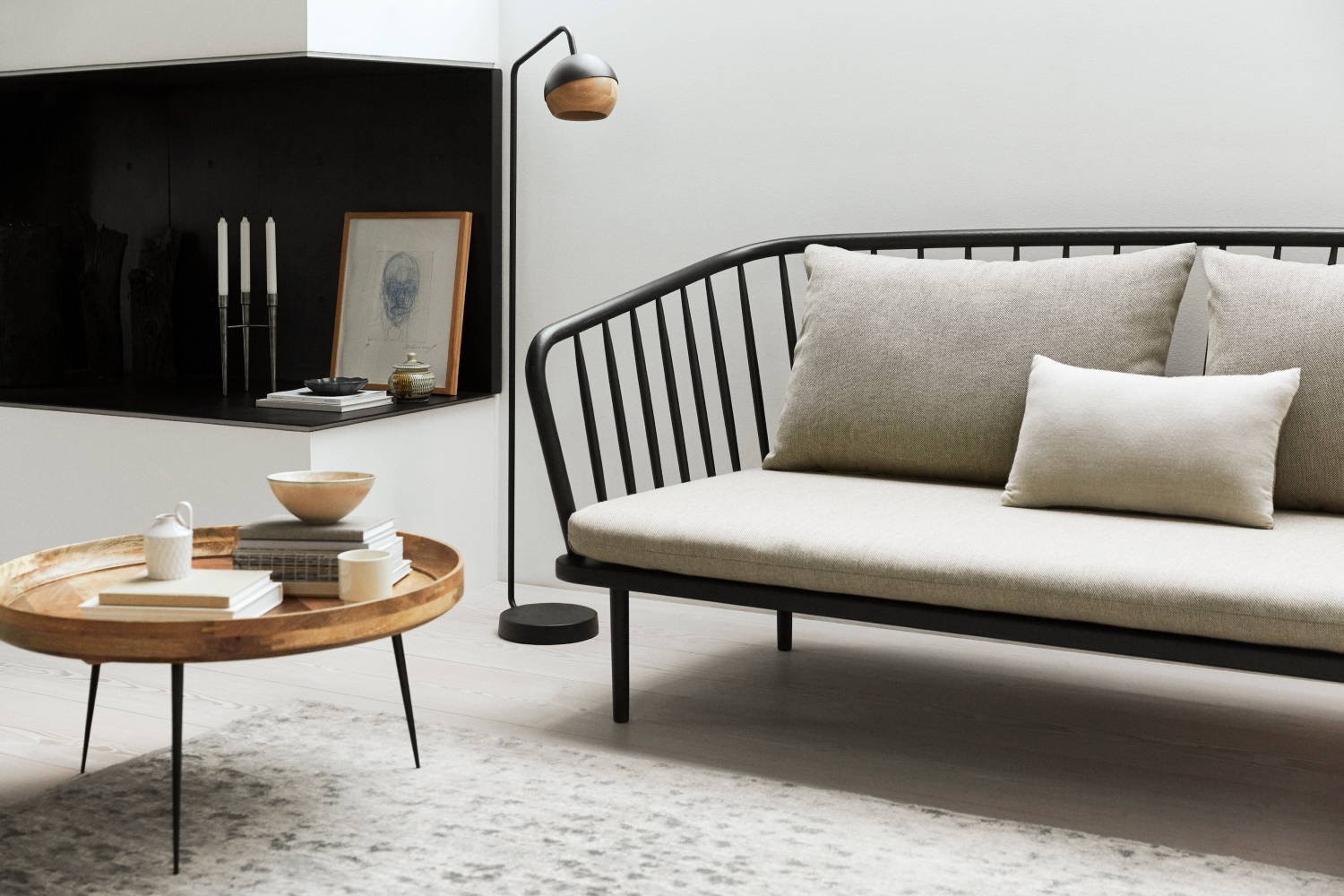 Sizing and Placement of Your Coffee Table
A good size for a coffee table is around ⅔ of the total length of the sofa with which it is being paired

A coffee table that's too large can obstruct needed walkway areas or overwhelm the room

Your coffee table should at least 14" from the couch so people can sit comfortably and move about, but still reach the coffee table when they need to

For height of your table, don't go lower than 3" below or higher than 1" above the seat of your sofa or lounge chair

General sizing info:

For a 9-10' sofa choose a 72-80" table

For an 8-foot sofa choose a 64" table

For a 7-foot sofa choose a 56" table

For a 6 foot sofa choose a 36-48" table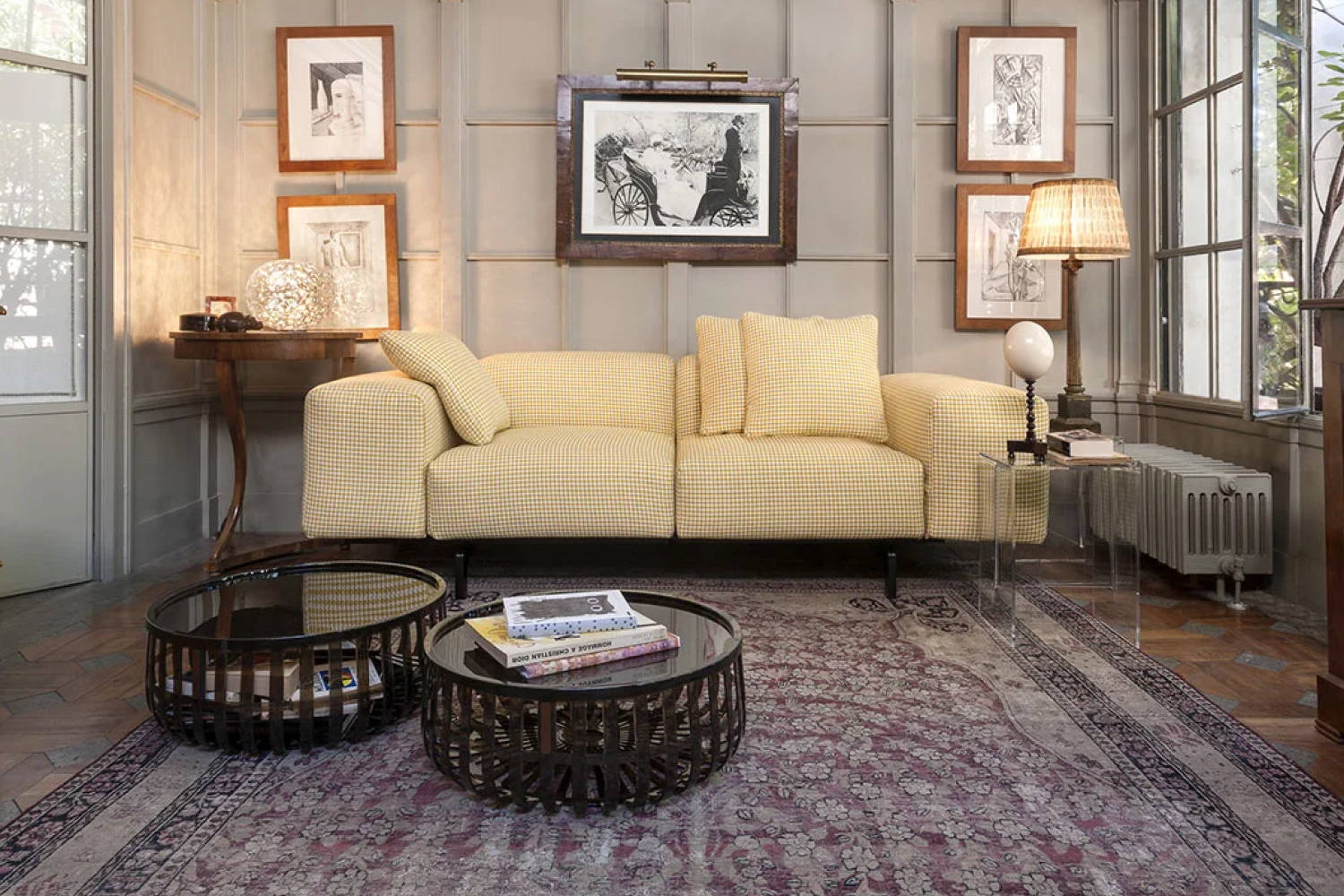 Centrally located within a room, a coffee table acts as both a decorative focal point and a convenient, functional surface. A defining piece of furniture for any living space, coffee tables are an important design decision to make to ensure the rest of your space is both balanced and functional. By utilizing your surrounding furniture and decor, the shape and size of your room, and assessing your intended usage, you will end up with the perfect coffee table selection ready to elevate and accentuate your space while providing the perfect surface for displaying, serving, and entertaining.