Whether you favor an open floor plan that connects the dining space to the kitchen (or living room) or if you're more aligned with a defined, purposeful dining room, as is the growing trend, the dining table itself is both a visual representation of your aesthetic and a functional piece of furniture. These days, modern dining tables are available in a wide range of sizes, colors, materials, and shapes to fit everything from a transitional space between a kitchen and living room to a rectangular, formal dining space. But how do you decide which table is right for your home? Here we will go over the core factors you should consider when selecting the best dining table option for you.
Measure Your Space To Determine What Size Table Will Fit Best in The Room
First, measure the length and width of your dining space in feet

Then ideally subtract 6 feet from the length and width of the space to allow for three feet of clearance on all sides

The result is the maximum recommended size for your dining table.

For example, if you have a 10' x 12' dining space, a suitable table size would be 4' x 6' or 48" x 72".
Consider How Many People You'll Need To Seat At A Time
Larger tables generally tend to fit more people; round tables can also accommodate more people than a square or rectangular table of similar dimensions

Each place at the table is likely to need at least 22-24" of table space for the person sitting there, depending on the size and style of your dining chairs
Table showing the number of people who can sit at tables of different sizes

| Size (Diameter) | Oval & Rectangular Will Seat | Round & Square Will Seat |
| --- | --- | --- |
| 4 Feet (48 Inches) | 4 People | 4 People |
| 5 Feet (60 Inches) | 6 People | 6 People |
| 6 Feet (72 Inches) | 6 People | 6 People |
| 8 Feet (96 Inches) | 8 People | Not a typical size |
| 10 Feet (120 Inches) | 10 People | Not a typical size |
Consider The Shape Of The Room When Choosing Table Shape
For rooms with equal length and width, a table that's also equal in those dimensions generally tends to look best – whether it's round or square. For rooms with uneven dimensions, oval or rectangular tables tend to fit the space more adeptly.
Dining Table Shapes:
Most common dining table shape

Good for seating numerous guests, with a linear shape that makes it easy to ensure adequate walkway space along the sides

Longer tables tend to work better in larger spaces
Square tables can be a great choice for compact spaces, as well as for smaller households that normally don't need to seat very many people simultaneously

A great choice for open concept living where a large room may be used for dining and living. Square tables can help divide space without looking too busy

Creates a more intimate environment where each side is equally balanced
Round tables have the advantage of compactness, making them a good fit for small spaces so there is less bumping or crowding when trying to sit down

Can generally fit more chairs than a quadrangular table of similar dimensions

Can be ideal for large groups – everyone faces center so no one is ever left out of the conversation or feeling distanced from each other
Oval tables aren't the most common shape, but can create a unique visual interest point for the room

While they may be the same size as a similar rectangular table, the roundedness gives an illusion of compactness that can help open up the space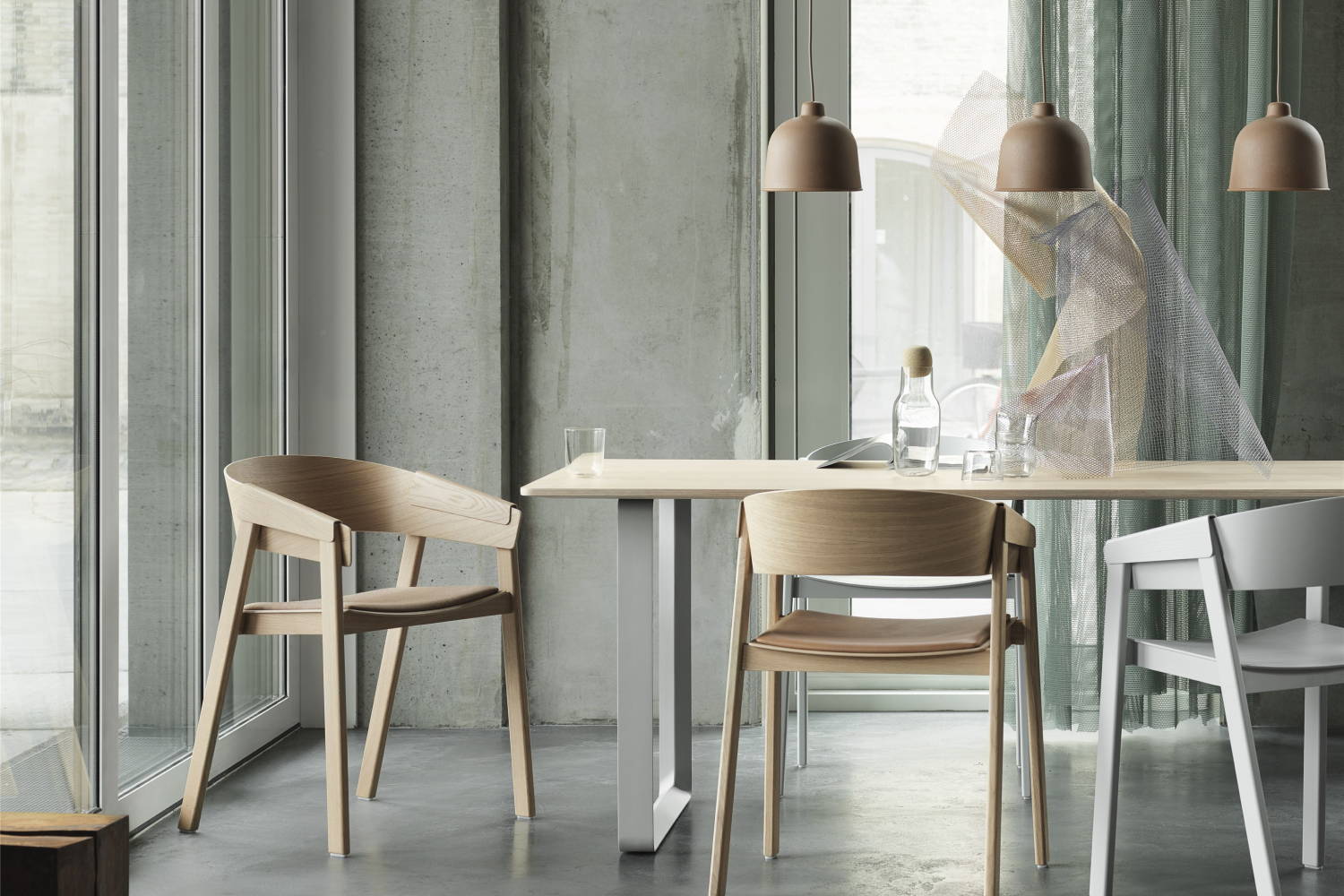 Decide What Material You Want Your Table To Be Made Out Of
Different materials pair well with different aesthetics, offer different maintenance and upkeep needs, and provide different levels of durability and longevity. Along with your aesthetic taste, your lifestyle may affect what kinds of materials make the most sense.
Top Dining Table Materials:
Classic wooden dining tables are known for their durability and ease of repair, making them one of the most popular choices of materials

Pine, acacia, and mango are known for their affordability

Solid hardwoods, like oak, tend to be heavier and more durable

Wood can show scratches and other wear and tear, as well as potentially expanding and contracting along with the ambient heat and humidity, oiling and upkeep is a must
Wood veneer
Wood veneer offers an often less expensive alternative to solid wood tables

A very thin layer of wood, or a material made to look like wood, is applied as a veneer atop a plywood core
Elegant, eye-catching stone surfaces made from marble, quartz, or granite can provide a beautiful centerpiece for a formal dining room

Different stone and stone-like materials (ie cement) have different levels of hardness, scratch resistance, and general durability

Marble is known for being delicate and soft, prone to scratching, whereas granite is a tougher stone

While generally hard-wearing, stone tabletops can chip or crack, which isn't easily repaired
Tables with tops made from clear, frosted, or tinted glass work to bring lightness to a space and the translucent surface can help the room feel more open and spacious

Glass can chip, scratch, or crack, and accumulates fingerprints, dirts, and oils that can be tough to remove
Metal dining tables
While metals are more commonly used for the base or feet of tables than their tops, a metal tabletop can be an excellent compliment to many decor styles, including minimalist and industrial aesthetics

Metals like steel, brass, and zinc are durable and hard to damage

However, like glass tabletops, they tend to show fingerprints, and may need special cleaning solutions
Plastic and laminate tabletops
Plastic and laminate materials can be very durable and long-lasting, but can sometimes appear visually "cheap"

They have good resistance to staining, discoloration, and damage

Oftentimes can be used in both indoor and outdoor settings thanks to their durability and weather-resistance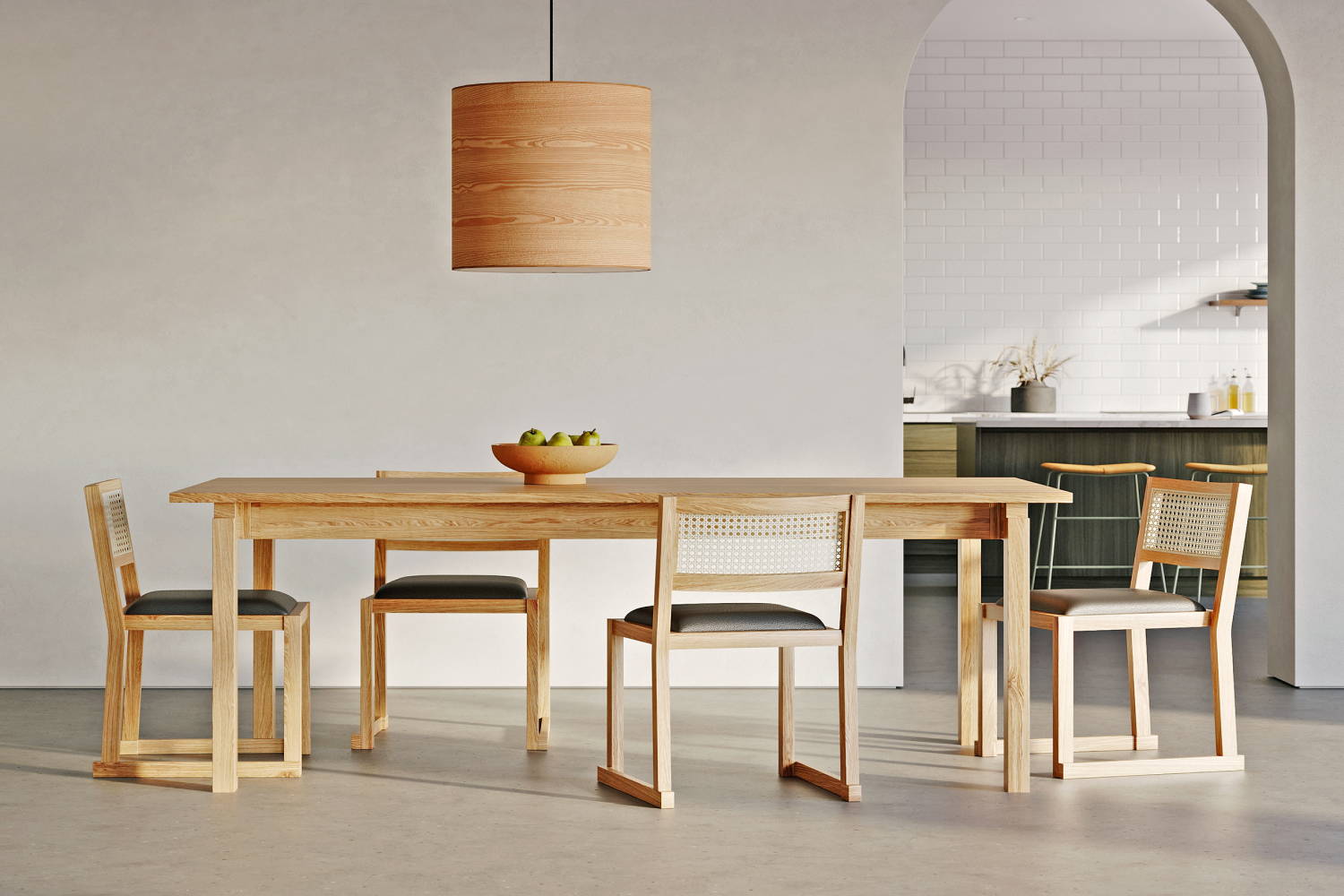 Ultimately, the best dining table for you will be one that works within your budget, is built to last, fits within your space, and offers a style that you will love for years to come. Whether you choose to host weekly meals, business meetings, or entertain friends and family at your dining room table, you want to ensure it is a furniture piece that is both fully functional to your needs while creating visual interest to elevate your space. When in doubt, keep things clean-lined, simple, and sturdy to ensure a timeless look that will never go out of style.