Verner Panton 1926-1998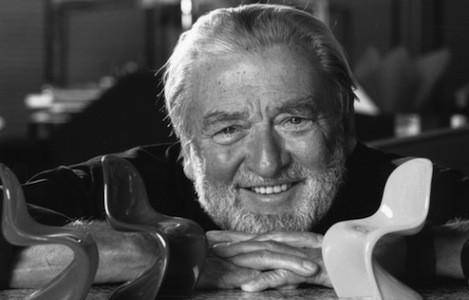 "Colours should never be left to chance. They should be a conscious decision. Colours have their own meanings and functions."

Denmark's design tradition may be revered for its visual restraint and utilitarian grace, but Verner Panton, a great Dane himself, had more colorful things on his mind. Panton's eye-popping, playful design esthetic, far from looking to history for direction, was decidedly forward-thinking, presenting a vibrant futuristic vision that was perfectly in sync with the psychedelic 60s.

Panton studied architecture, and apprenticed with the legendary Arne Jacobsen, but quickly established himself as a rebel, less inclined towards Jacobsen's brand of understated modernism than new technologies and radical forms. He assisted in the production of Jacobsen's exalted Ant Chair, but his own chair designs, like 1958's Cone Chair, were defined by their solid volumes and whimsical shapes. His iconoclastic Panton Chair, with its sensuous S-shaped profile and cantilevered seat, derived from a single piece of injection-molded plastic, was a technological marvel. But it was Panton's interior projects—symphonies in brilliant color and geometric forms, encompassing textiles, furniture, and lighting—that most vividly expressed his preference for a harmonious visual statement. Verner Panton's joyous design philosophy offered an antidote to a turbulent decade, spawning objects—perhaps best illustrated in the irresistible FlowerPot lamp series, his charming nod to a 'flower power' generation—that, while destined to be emblems of an era, have managed to transcend it gracefully, too.