A dining room is only as versatile as its lighting. Dining tables can be used as a spot to gather to celebrate and make memories, the dining room is a place of everyday meals, a spot to get homework and projects finished, and even for some – a home office. For dining rooms outfitted with round dining tables, selecting the right size, shape, and design of chandelier may seem tricky, but with a few simple rules, you'll be able to select the perfect design that not only complements your space, but balances out other furniture and lighting pieces that make up your entire room. Follow our tips and tricks to select the best size chandelier for round dining tables in the most common of sizes.
Choosing the Right Width For a Chandelier Above Your Dining Table
General Tips & Tricks:
Basic formula for measuring your space: L x W = D
L = length of room in feet

W = width of room in feet

D = ideal chandelier diameter in inches

This basic formula can be used to gauge the right size range for chandeliers in just about any area of your home

Example: For a 10x14' room, a chandelier with a 24" diameter would be best

When hanging a chandelier over a dining room table, the general rule of thumb for the chandelier width is ½-⅔ of the total tabletop diameter
What Size Should a Chandelier Be for a 60" Round Table?
A chandelier over a round 60" table should have a diameter of around 30-40" – or around ⅓ to ⅔, at most, of the diameter of the table

This size range generally provides the best visual balance

Anything larger or smaller will look out of place and disrupt the visual appeal of your dining space
What Size Should a Chandelier Be for a 48" Round Table?
For tables of this size, a chandelier anywhere from ⅓ to ¾ of the width of the table can work – a good size is often between 24" and 36" in diameter

You can get away with a slightly smaller design if it is incredibly ornate or distinctive in design, over-the-top lighting fixtures tend to fill a space more visually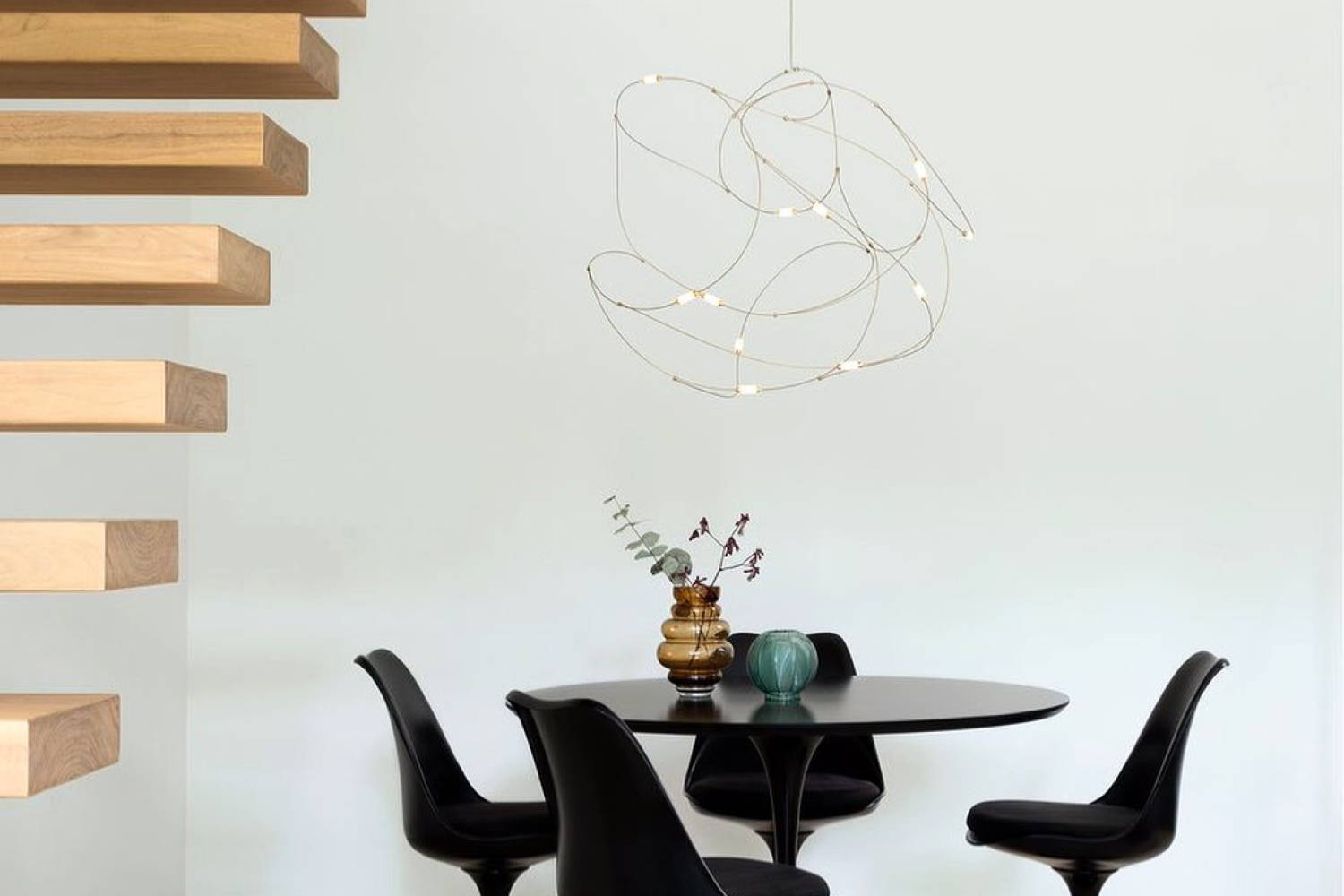 Additional Considerations for Sizing A Chandelier Over A Dining Table
The shape of your chandelier should complement the shape of the dining room table. A round table looks best with a chandelier that is either round or square. For long narrow tables, you may want to consider a chandelier that is more rectangular than round.
For chandeliers or pendant lights over a dining table, desk, countertop, or other surface, base the sizing on the item of furniture, rather than on the room's dimensions as a whole

For rectangular or square dining tables, base the sizing primarily on the table's length
Round or square chandeliers tend to look more visually balanced over round tables than rectangular or narrow chandeliers
For more modern and contemporary chandelier styles, with cleaner lines and fewer bulbs, you can opt for a larger size over a table without overwhelming the space

The lowest edge of the chandelier should be between 30" and 34" off the tabletop. This allows for people to comfortably socialize, sit, and stand from their seats, and provides room for most decorative centerpieces.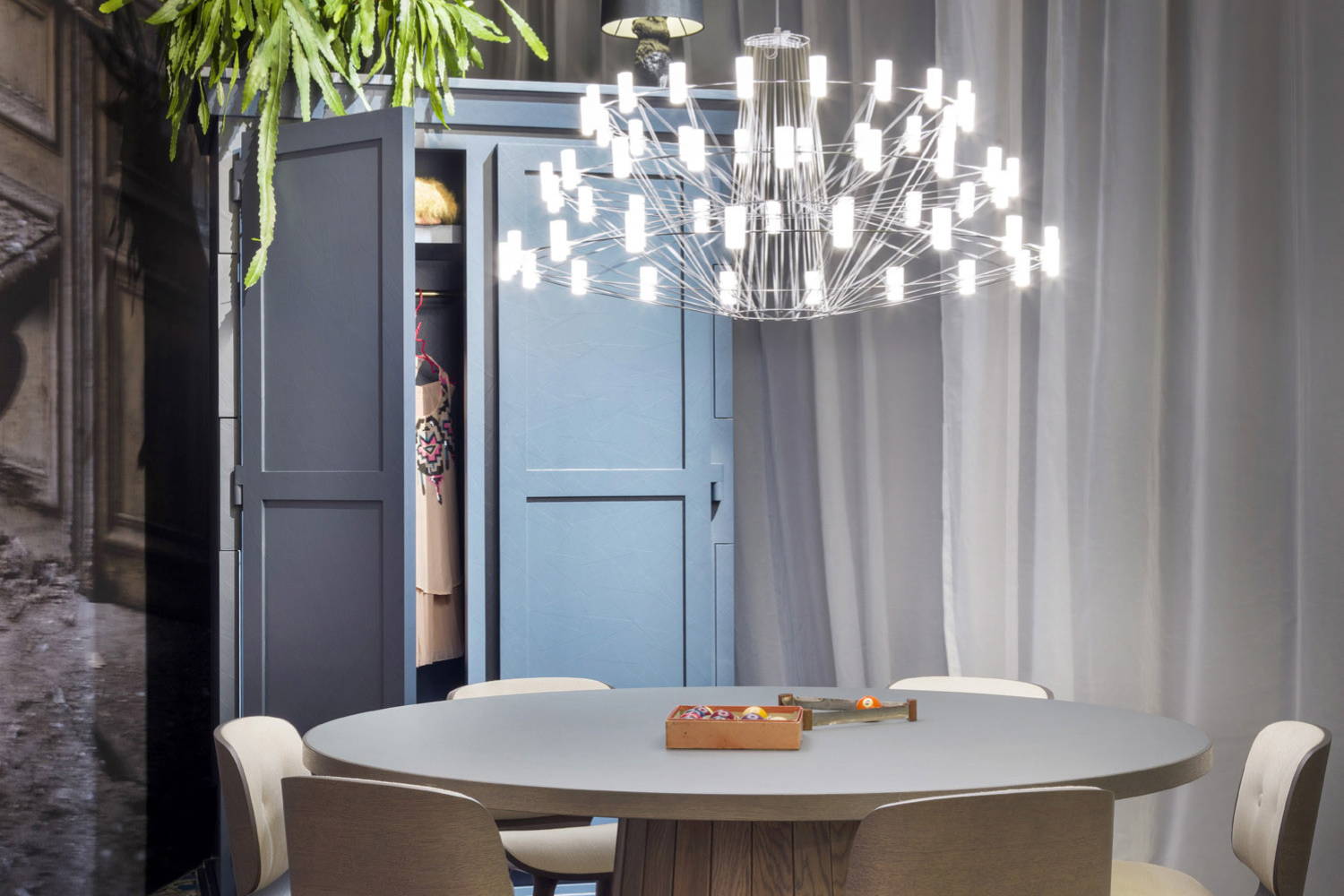 When selecting a chandelier or pendant to go above your round dining room table, a complementary shape can go a long way, but isn't necessarily something you have to stick to. Both round and square chandelier designs can work perfectly above a round dining room table, while linear or rectangular designs are best saved for rectangular or square tables. Ultimately it comes down to aesthetics and personal preference for what you feel looks best in your space and suits your needs, but ensuring your lighting choice is proportionate to your table and hung at the right height will create a welcoming dining space that is equal parts chic and functional.