Jens Risom 1916-2016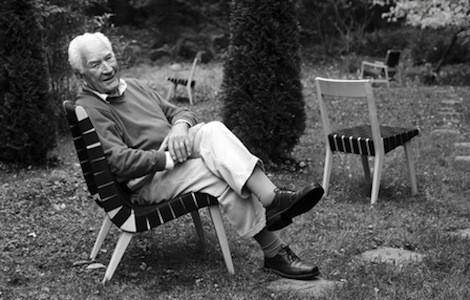 "I prefer design that is neutral and not center stage."

Unlike many of his Mid-Century contemporaries, Jens Risom wasn't trained as an architect—and remains, first and foremost, a visionary furniture designer. The son of a noted Danish architect (Sven Risom), he studied at the Copenhagen School of Industrial Arts and Design, and immediately showed enough of his formidable talent to secure work with Kaare Klint, the legendary Danish architect sometimes billed as the father of the modern Danish design movement.

Risom traveled to the U.S. in 1939 to study American furniture design, and a fortuitous meeting with Hans Knoll spawned the Hans Knoll Furniture Company in 1942—Knoll Associates' precursor. Risom designed the majority of the company's furniture offerings—a range of now-classic armchairs, stools and lounges defined by elegant wood profiles and a tapestry of webbing.

Risom's signature designs for Knoll reflected his instinct for original thinking and utilitarian beauty, created against a backdrop of wartime material scarcity, and essentially composed with scrap wood and leftover elastic parachute strapping. Though Risom would leave Knoll to helm his own company, his furniture collection, reintroduced by Knoll in 1994, marks a watershed moment in the company's history, and is an enduring reminder of Jens Risom's place as Knoll's first designer.