Harry Bertoia 1915-1978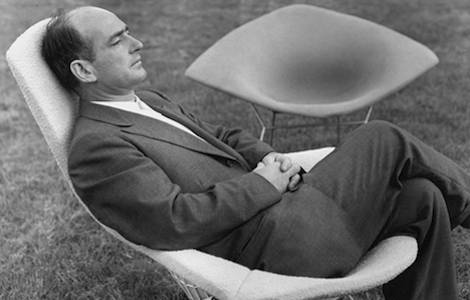 "The urge for good design is the same as the urge to go on living."

Italian born artist Harry Bertoia may never have considered furniture design had he not entered the cauldron of creativity that was Michigan's Cranbrook Academy of Art in 1937. Upon being awarded a scholarship to study painting and drawing at Cranbrook, Bertoia's serendipitous meeting with fellow Cranbrook residents Charles Eames, Florence Knoll and Eliel Saarinen helped direct his focus towards three-dimensional work.

After establishing a metal workshop at Cranbrook, where he taught, among other things, jewelry design (he made Charles and Ray Eames' wedding rings), Bertoia's instinct for experimentation and innovation was crucial (if officially un-credited) in the evolution of the famous Eames plywood chair, which may never have seen mass production were it not for Bertoia's penchant for innovative problem solving. Encouraged by Florence and Hans Knoll to continue his explorations with metal, Bertoia emerged with the remarkable 'wire' furniture collection, an ethereally beautiful, inspired melding of sculpture and design, fitting for a man long accustomed to visual expression via the built form. Introduced in 1952, Knoll's Bertoia collection, in continuous production for more than half a century, remains both a technological and visual benchmark of 20th Century design—but just a single data point in a rich artistic life defined by more than 50,000 created works.