George Nakashima 1905-1990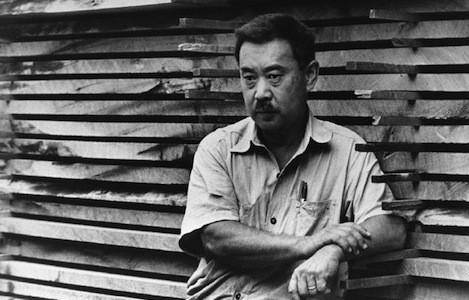 "It requires a genuine fight to produce one well designed object of relatively permanent value."

George Nakashima's ability to seamlessly meld modern design sensibilities with ancient Japanese woodworking techniques yielded a singular esthetic instantly recognizable as his alone. Nakashima's reverence for wood and its intrinsic qualities was reflected in furniture designs marked by a preference for simple shapes, expert craftsmanship, and organic edges dictated by the wood's natural forms.

After completing architecture studies at MIT, Nakashima left the U.S. on a globe trotting expedition that eventually took him to Japan. There, he delved into the intricacies of Japanese design and architecture, and found work with Antonin Raymond, an associate of Frank Lloyd Wright's—formative experiences that would shape his deep respect for the hand-crafted object, and make him a leading figure in America's Arts and Crafts movement.

Nakashima's woodworking mastery and reputation for artful perfectionism led to notable private and corporate commissions, including designs—like his elegant Splay Leg Table and Straight Chair—created specifically for Knoll in the 1940's, and reintroduced by the company in 2008. A recipient of the gold medal for craftsmanship from the American Institute of Architects, and the Order of the Sacred Treasure from the Emperor of Japan, George Nakashima remains a seminal figure in the arc of 20th Century furniture design.