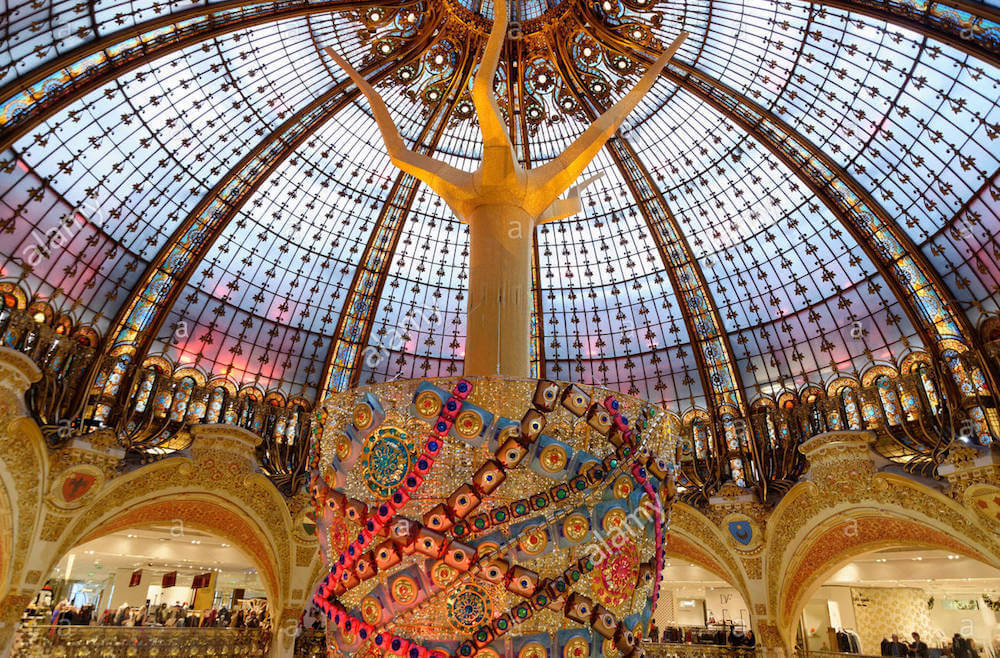 An inverted Christmas tree comprised of Swarovski cyrstals hung suspended from the Art Nouveau cupola of Paris' Galeries Lafayette luxury department store in 2014.
In a year that saw political and social norms dramatically upended, maybe it's only fitting that the most striking holiday decor trend of 2017 is the inverted Christmas tree. While it's worth noting that upside-down Christmas trees—or, for that matter, inverted icons of any sort—are not exactly an original creative concept, it's hard to argue with 2017 being the year in which this topsy turvey decorative curiousity became a full-fledged 'thing.'
Though jarring to traditionalists, inverted Christmas trees, it's argued, predate conventional indoor trees, their origins estimated to be sometime around the 15th Century in Eastern Europe—for reasons that appear to be as fuzzy around the edges as the origins of the Christmas tree tradition itself. Whatver the rationale for this inverted trend, modernists like us can always make an argument for calling conventional wisdom into question, and holiday decor is no exception. Here, a collection of some of the more beguiling examples of upturned Christmas tree installations—each of which imaginatively illlustrates why overturning esthetic norms can sometimes be a beautiful thing.
In a year that made the unaccepted acceptable, it may be only fitting that 2017's most striking holiday decor trend is the upside-down Christmas tree.
Karl Lagerfeld Christmas Tree, Claridge's Hotel, London, 2017
London's Claridge's took the inverted Christmas tree route—repeatedly— this year, decorating its lobby with a series of illuminated inverted trees, and offering a silver-bedecked tree designed by fashion icon Karl Lagerfeld (above and below) as its centerpiece. But for being suspended upside down, Lagerfeld's 16-foot spruce is fairly traditional, down to the mirrored star topper, which sits nestled amid the spruce's exposed roots.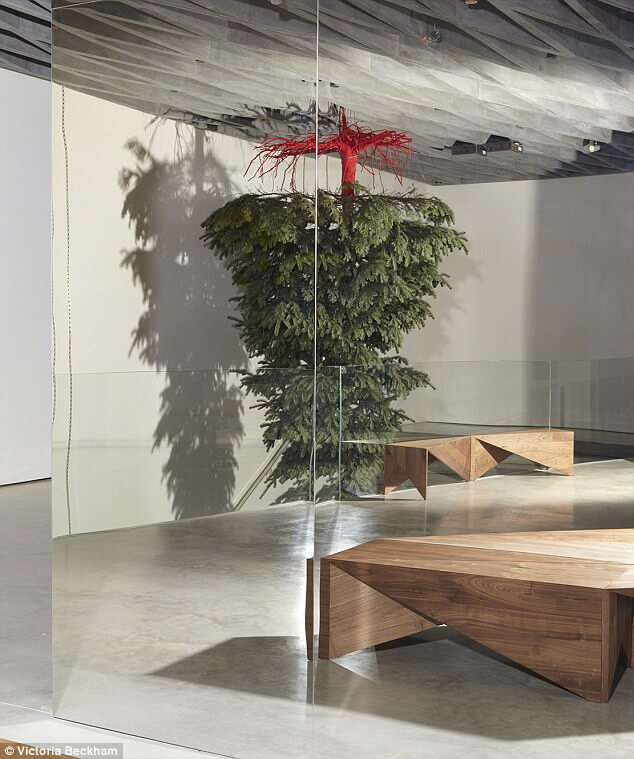 Christmas Tree Installations by Shirazeh Houshiary
Arguably, the mother of the modern inverted Christmas tree is the Iranian-born artist Shirazeh Houshiary, whose 2 installations in the rotunda of London's Tate Britain—the first in 1992, the second in 2016 (below)—remain the most poetic Christmas tree installations of any kind. Both installations involved a massive inverted pine tree, suspended from the ceiling, unadorned, except for gleaming gold leaf roots.
In 2012, customers at Victoria Beckham's London clothing boutique (above), were greeted by a Houshiary-designed inverted pine tree installation, its roots painted bright red.
"I would like us to contemplate that the pine tree is one of the oldest species and recognise the roots are the source of its continued stability, nourishment and longevity," the artist explained.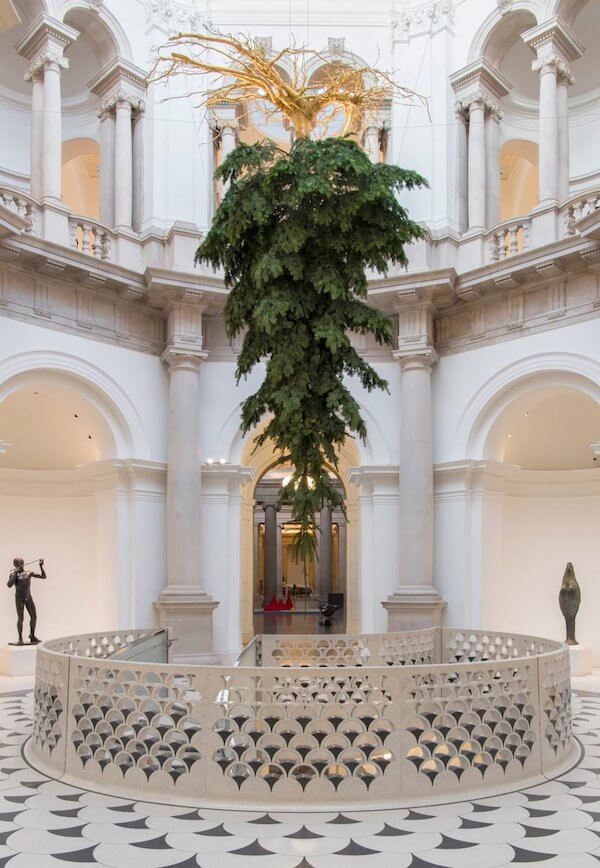 Controversy and philosophical objections aside, the fact remains that we tend to gauge the merits of inverted Christmas trees in the same way we gauge the merits of traditional Christmas trees: by whether or not we think they're pret