When it comes to remodeling a home, or building a new one, there are many difficult decisions to be made. From selecting wall color, furniture, and lighting, all aspects are equally important in creating a warm and inviting environment to welcome your friends and family. Often the final decision made, lighting is both aesthetically pleasing and functional – providing a dual-action purpose within your home. With so many choices and styles to choose from, how can you be sure which pendant light is the right one for your space? Here we will provide you with some lighting design basics regarding pendant lights so you can feel more confident when making your decisions.
What is Pendant Lighting?
Pendant lighting is any type of light fixture that is suspended from the ceiling by a rod, chain, or cord and typically consists of a singular light source. Similar in concept to a chandelier, pendants typically have fewer lights or bulbs. Depending on the size of the pendant, it typically can be used to accent spaces from kitchen island countertops, dining tables, entryways, and bathrooms. Larger pendant lights can be used on their own, while smaller options can be clustered together at varying heights for a dynamic lighting design that is all your own.
Why Opt for Pendant Lighting?
Along with their visual elegance and aesthetic versatility, you can find pendant lights in a variety of styles, materials, sizes, and finishes to suit just about any decor scheme. Pendant lighting fixtures are used for general lighting, area lighting, and task lighting. We use them in our entry hallways, stairwells, dining rooms, kitchens, bedrooms and family rooms—even on our porches. Pendant lights are used to light up narrow hallways, to highlight our artwork, photos, and sculptures. Pendant lights, in one form or another, often provide necessary lighting in virtually any room of your home.
Ample Coverage:

Pendant lights do a great job of maximizing the amount of light they produce. Typically through direct diffusion, they produce a targeted light in smaller amounts, lighting up smaller spaces with ease and balancing out overhead lighting in larger spaces
Reduced Glare:

Pendant lights tend to be covered by clear, seeded, or frosted glass, or other shade materials like paper, linen, or metal where the light is diffused, reducing glare and providing a welcoming warmth to your space
Space Saving:

For smaller spaces, where square footage is scarce, pendant lighting is a great way to save space and reduce the need for table or floor lamps,giving you more space to live comfortably with a reliable light source overhead
How to Pick the Perfect Pendant Lights for Your Home
Elements to consider when selecting pendant lighting options for your home
Where will you be hanging the lights?
The positioning, and which room of your home you want to illuminate, can affect which style of light will be both the most aesthetic, and the most effective at providing the right amount and quality of light

For dining rooms, pendant lights are a great alternative to a traditional chandelier over the table

For kitchen countertops and islands, linear pendants are a perennial favorite
Choosing the right material for your pendant lights
In many kinds of rooms – living and bedroom areas, home offices & playrooms, any material is fine, so you can make your choice primarily based on aesthetics. However, if you're selecting pendant lights for a kitchen or a bathroom, you'll need to give some consideration to what materials it's made from

Bathroom environments need lighting that has a wet rating

There are also lights with a "damp" rating, a notch below "wet,"which will work in damp spaces like bathrooms and well-covered patios, but "wet" is the best choice for steamy bathrooms

You'll want to avoid fabrics and natural, woven materials that could be damaged or discolored by excessive moisture

For kitchen lighting, it's best to avoid lighting that features fabric elements, as they're highly susceptible to absorbing kitchen odors and damage from grease, smoke, and splatters
Determining the right size for your pendant lights
Choosing the right size pendant starts with measuring your ceiling height. For ceilings that are 8 feet or less, flush or semi-flush mounted lighting is ideal, due to the reduced headroom

For higher ceilings, chandeliers and dangling fixtures are more suitable

To figure out the right diameter, you can use this handy shortcut – measure the length of the room; measure the width; add the two numbers together; then switch from feet to inches. E.g., 12' becomes 12". This gives you a suitable measurement for the diameter of a pendant light

For pendant lights installed over a bar, counter, or kitchen island, measure the width of the surface then subtracting one foot. This should give you a good number for a maximum diameter. (For spacing over long counters and islands, position the pendant lights 16" apart.)

For illuminating dining tables, hanging the pendant between 30 to 36 inches above the table is ideal
How many pendant lights should you put up over a dining room table or kitchen island?
The ideal number of lights comes down to the size of the table or countertop, as well as the dimensions of the lights themselves

Rule of thumb: For larger lights, the space between two pendant light fixtures should be, at minimum, equal to the diameter of the lights. For small lights, 16" is a good distance

Measure the length and width of the table or counter, then subtract 12" from each of the numbers, in order to provide a minimum of 6" of clearance on all sides. This will give you the amount of space you have to work with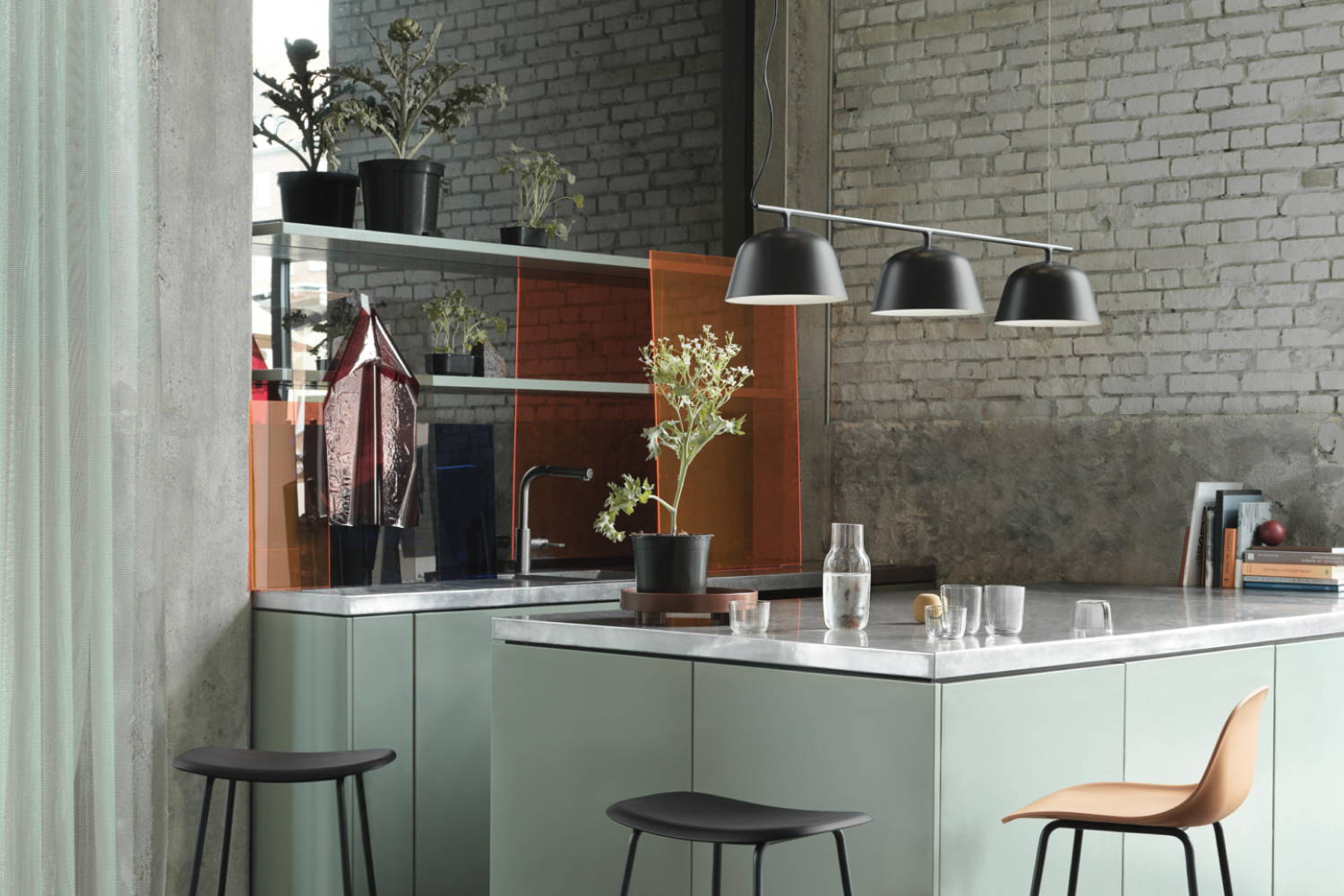 Types of Pendant Lighting
There are several different styles of pendant lighting, each with their own visual and functional benefits. Along with matching your lighting to your interior decor, you may also want to consider how bright or diffused you want the lighting to be.
This classic style of pendant lighting features a glass shade around the bulb, creating an even, diffused style of lighting that's great for creating ambiance in a room

You'll find these in a wide range of designs ready to fit different styles of interior decor. Whether your style is ultra-contemporary minimalism or opulent Art Deco aesthetics, you can find glass pendant lighting that works with your home
This style features multiple bulbs within a singular shade or multiple shades

Some multi-light pendants have multiple light sources that hang on arms attached to a central fixture. Others hang from cords that attach to a ceiling rose

Great for illuminating larger spaces, like main living area, dining rooms, or sizeable master bedrooms
This style features a shade that's shaped like a cylinder, reminiscent of a drum

Often made from fabric, drum shades produce soft, diffused lighting perfect for living spaces, bedrooms, and dining rooms
Globe pendant lights are aptly named for their spherical shades, often made from glass, metal, plastic, and even paper

This style produces an even distribution of light, and works well with many contemporary and mid-century modern decor schemes
These fixtures generally consist of a single long tube of integrated lights, with a canopy above them

Linear pendant lighting works beautifully for illuminating kitchen countertops, home bars, dining tables, and other linear elements within your home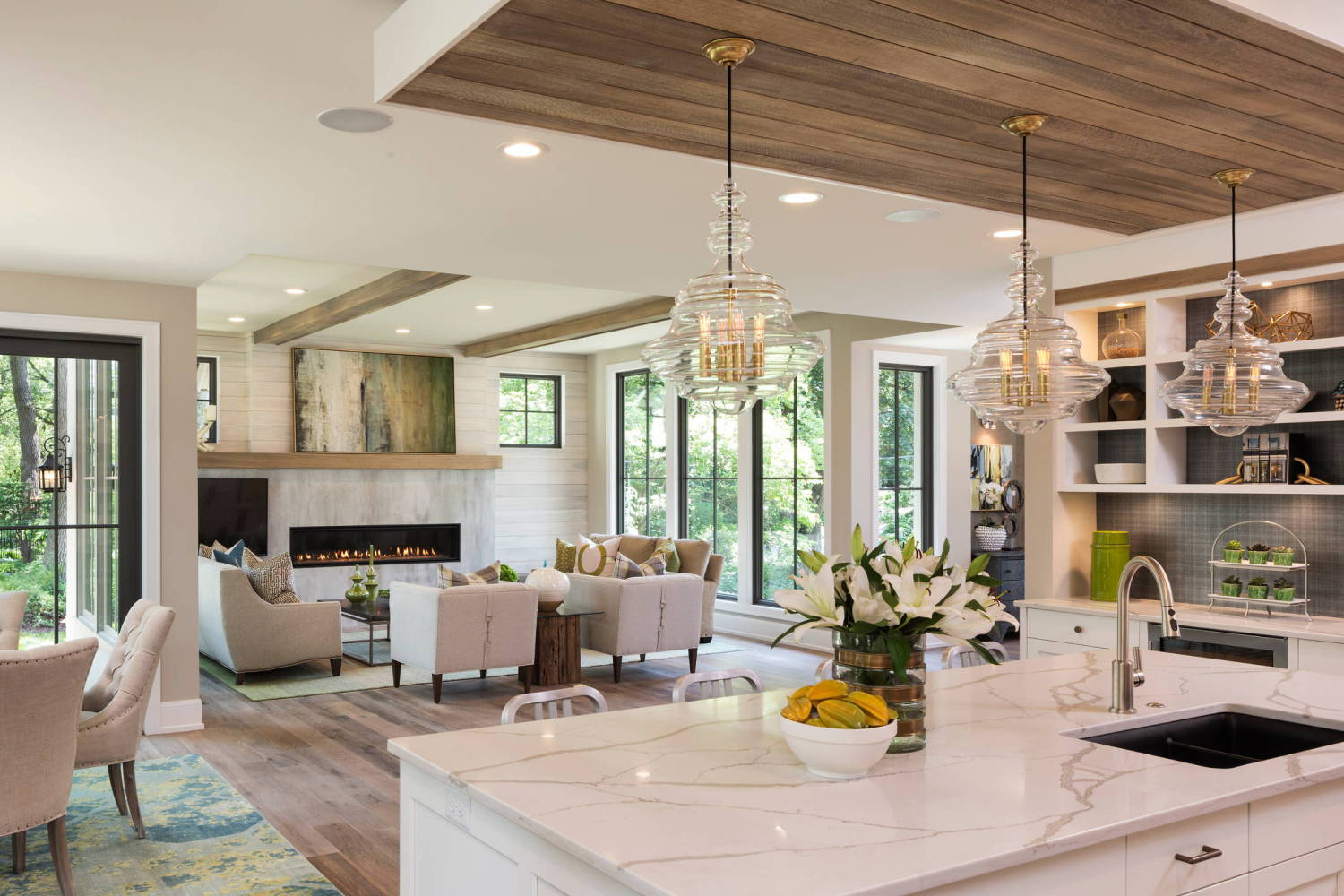 What Kind of Lightbulbs Should You Use?
LED bulbs are a great choice due to their longevity and low energy consumption, though their brightness and tendency toward harsher light coloration can cause them to overpower a room

Incandescent bulbs often create lighting with a softer, ambient feel, but come with the downsides of a shorter lifespan and higher energy consumption

Consider the light color – you'll find a measurement in Kelvins on most lightbulb packaging. Lower numbers mean soft, yellowy light, with higher numbers tending more toward bluish tones

You may also want to consider LED smart bulbs that allow you to adjust the color and brightness of the lighting, so that you can tailor the brightness to what works best within that space
Table showing the technical details of different light bulb types

| Lamp Type | LED | Fluorescent | Halogen | Incandescent |
| --- | --- | --- | --- | --- |
| Efficiency | Uses 80% less energy than incandescent | Uses 75% less energy than incandescent | Uses 30% less energy than incandescent | 90% of energy is wasted as heat |
| Annual Operating Costs | Low | Medium-Low | Medium | High |
| Average Life Span | 50,000 Hours | 10,000 Hours | 1,000 Hours | 1,000 Hours |
| Light Output (watts) | 6-8W | 13-15W | 45W | 60W |
| Color Temperature | Varies by product | 3,000K to 6,000K | 2,700K to 5,500K | 2,700K |
| Color Rendering Index | 80-90+ | 60-70+ | 100 | 100 |
| Dimmable | Most | Very Few | Yes | Yes |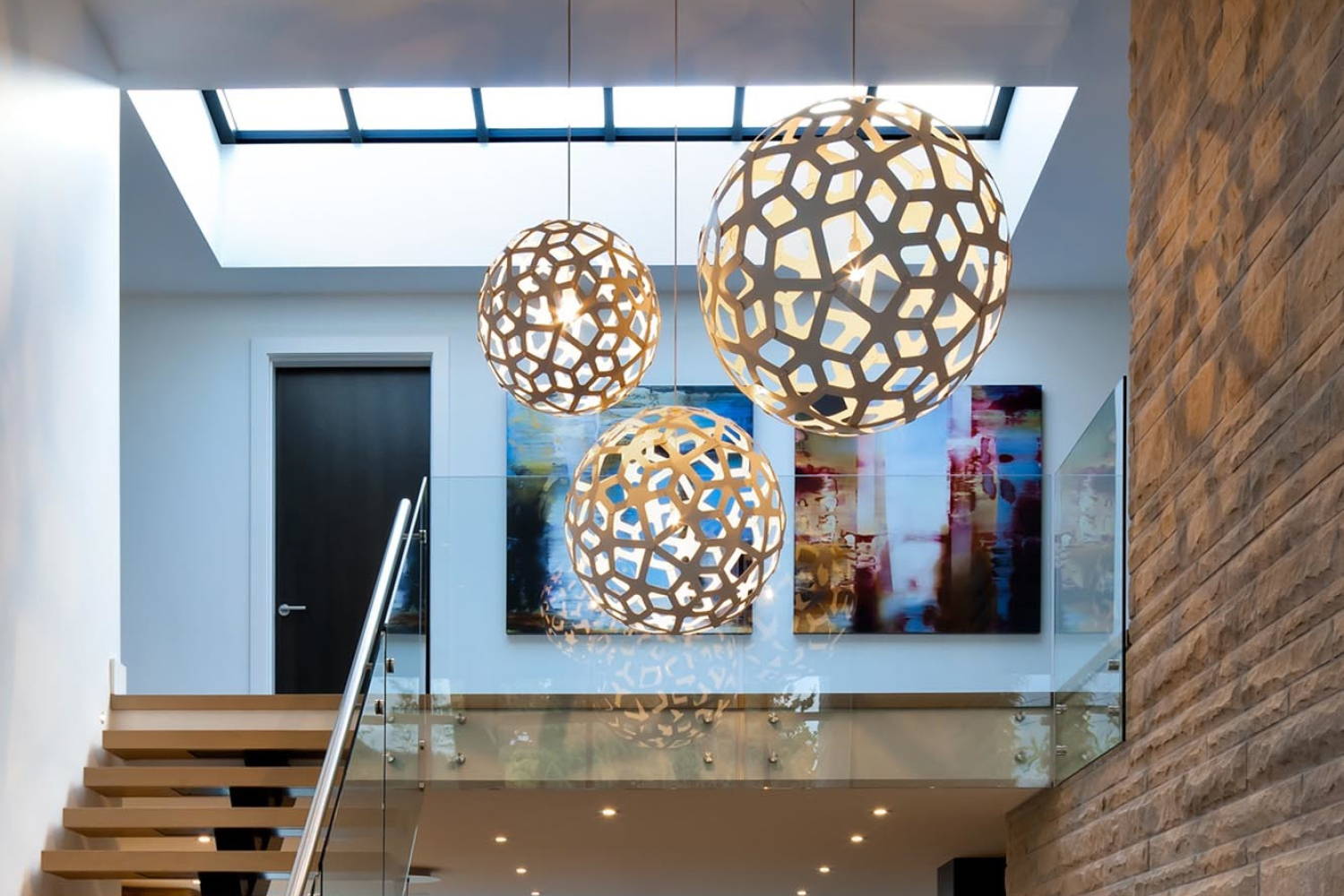 Lighting solutions don't have to stop at illumination, and pendant lights are proof of that. Pendant lighting fixtures go above and beyond traditional lighting to provide diversity, style, and ambiance, all wrapped up in one. Whether you select pendant lighting as your only source of illumination in a room, or choose to pair it with chandeliers, recessed lighting, or lamps, pendants offer a world of versatility in not only providing necessary brightness, but also serving as a decorative element that elevates and accentuates your space.