Owing to their size, modern floor lamps are natural attention-getters, but they're also versatile lighting solutions for the modern home. Our Top 14 Modern Floor Lamps include design icons and innovative contemporary lamps alike. Looking for the perfect table lamp? Peruse our list of Top 20 Contemporary Table Lamps.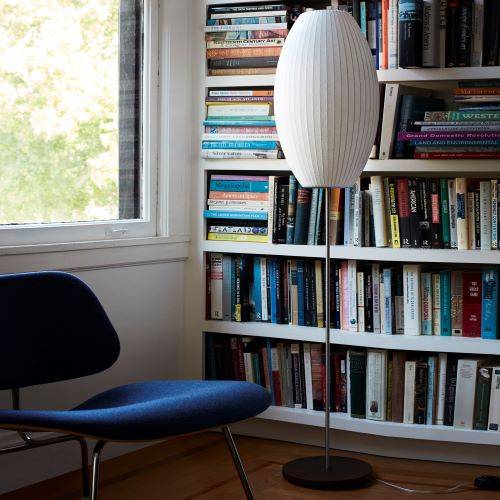 Offering a rounded shape with clean, parallel lines, this iconic floor lamp from Herman Miller disperses a soft light within any space, taking inspiration from a set of silk-covered Swedish hanging lamps.
- Handcrafted
- Iconic Design
- Made in the United States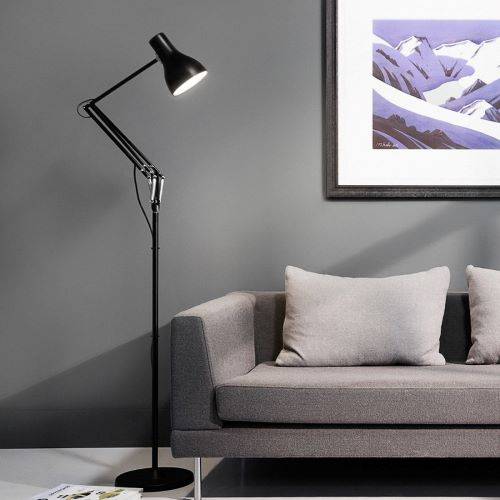 The perfect reading light ready to flank either side of a living room sofa or lounge chair, the Type 75 Floor Lamp is a classic design outfitted with all the high-quality fittings and features for unparallelled functionality.
- Industrial designs suits city lofts and contemporary living spaces
- Flowing movement & full adjustability
- Neutral finish options suit any space
Ferruccio Laviani's glamorous floor lamp for Kartell takes center stage in any contemporary space, its all-over decorative surface emitting beautiful nuanced light at night, while remaining gorgeous art piece in the light of day.
- Powered by LED lighting for energy efficiency
- Greenguard certified
- Colorful finish options make this a true statement piece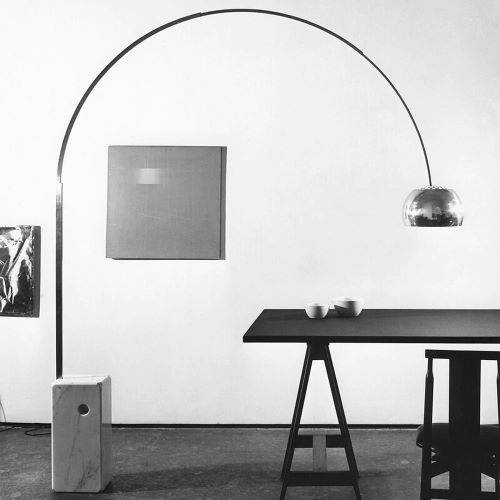 More than 50 years after it's arrival, this modern design classic by Achille & Pier Giacomo Castiglioni remains a superstar—its Carrera marble base, stainless steel stem and aluminum shade updated with LED energy efficiency.
- Iconic mid-century modern design
- Marble base adds elevated appeal
- LED lighting is energy-efficient and powerful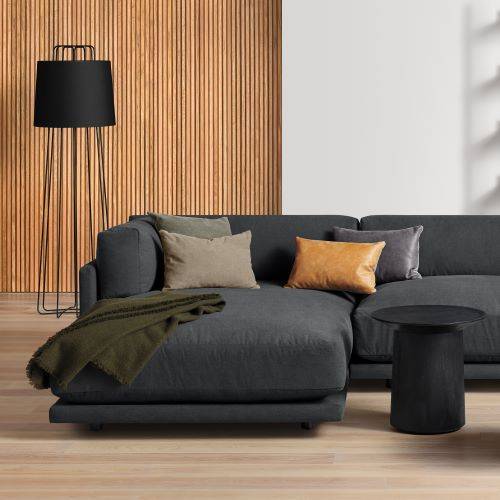 A striking modern floor lamp, Perimeter combines loops of powder coated steel with a solid fabric shade. Available in five elegant colors, Perimeter's graphic, yet playful, form easily segues from bedroom to home office to baby room.
- Eye-catching openwork design
- Signature Blu Dot color options add a contemporary pop
- Versatile design works in bedroom, living room, or kid's room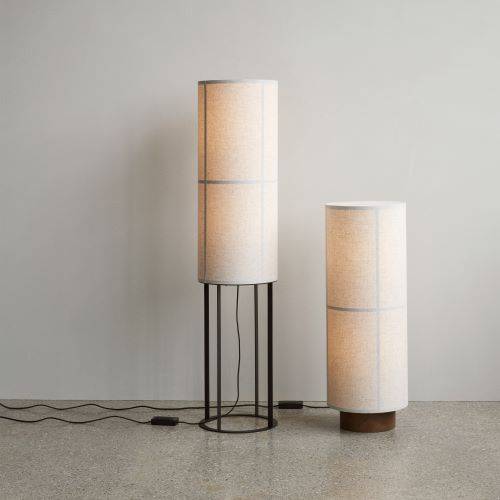 A Nordic take on the traditional Japanese rice paper lantern, this floor lamp fuses the functionality of Scandinavian design with the beauty of Japanese style for a cylindrical luminary that offers softly diffused light for a warm and welcoming glow.
- Japandi-style lamp is both rustic and sophisticated
- Dimmable
- Neutral finish works well in a variety of aesthetics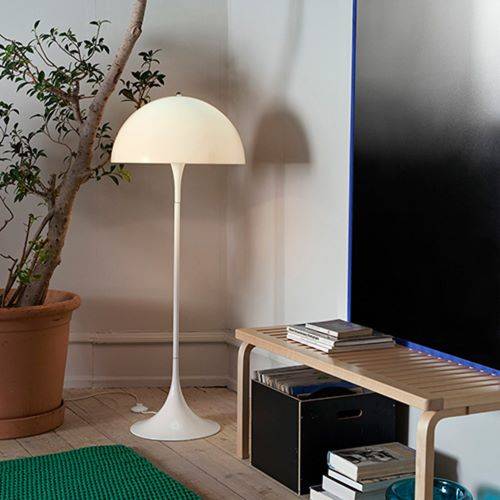 Originally designed in 1971, the Panthella Floor Lamp still remains one of Verner Panton's most popular lighting fixtures with its rounded shade and sturdy base, perfect accenting a living room or master bedroom.
- Mid-century modern design icon
- Powered by LED lighting for energy efficiency
- Sleek white finish suits a variety of living spaces
Paying tribute to the machine age, the Elise Floor Lamp offers a refined silhouette and streamlined sophistication, ready to emit a soft, seductive light through its transparent frosted acrylic shade.
- Compact, cylinder shape fits perfectly in open or tight spaces
- Dimmer Included
- Marble base adds luxe appeal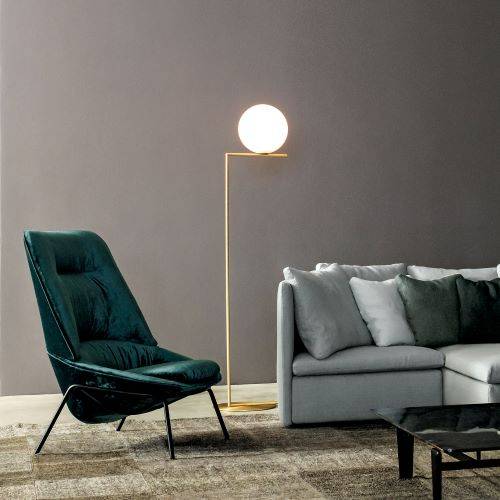 A minimalist's dream, Michael Anastassiades' IC Lights Floor Lamp is the kind of balancing act any modern design lover will welcome, its brushed brass stem and opaline glass globe creating an inspired modern lighting statement.
- Blown glass diffuser adds unique appeal
- Dimmable
- Sleek finish options add an elevated touch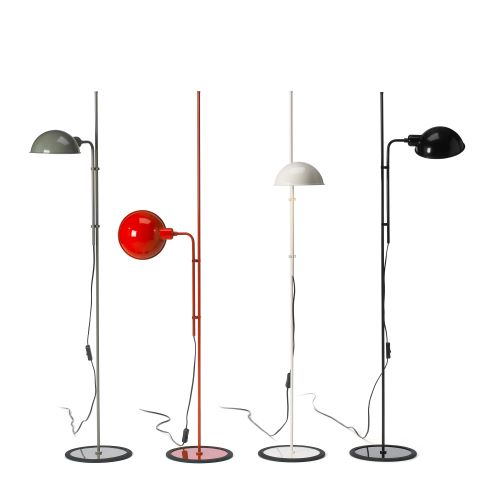 Simple and straightforward, without any frills, the Funiculi Floor Lamp focuses on the essence of a truly useful design to present a stylish and functional floor lamp in its purist form.
- Mid-century modern design
- Powered by LED lighting for energy-efficiency
- Variety of finish options to suit any space
Adding playful, breezy style to any corner of your home, the 9602 Table Lamp from Gubi is characterized by its triangular shade and rattan-wrapped stem, all accented by fine brass details for a tropical-chic touch of brightness.
- Rattan accents add a tropical or coastal vibe
- Iconic design originally created in 1938
- Powered by LED lighting for energy-efficiency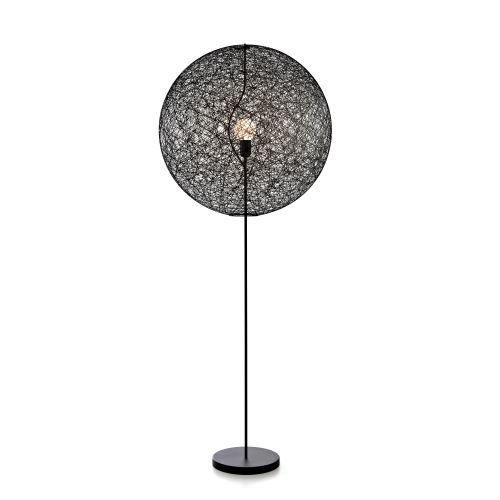 Designed to diffuse light in every direction, the Random Floor Lamp II lights up even the darkest of corners with its striking simplicity and lightness offering a unique shade crafted from fiberglass and epoxy resin.
- Dimmable
- Oversized shade makes this a true statement maker
- Neutral finish options suit any interior
An iconic silhouette perfect for mid-century modern, Scandinavian, and even contemporary living spaces, the Leaf Floor Lamp showcases an ultra-thin body and subtly curved LED head for up to 35,000 hours of usage.
- Powered by LED lighting for energy-efficiency
- Sustainably Crafted
- Dimmable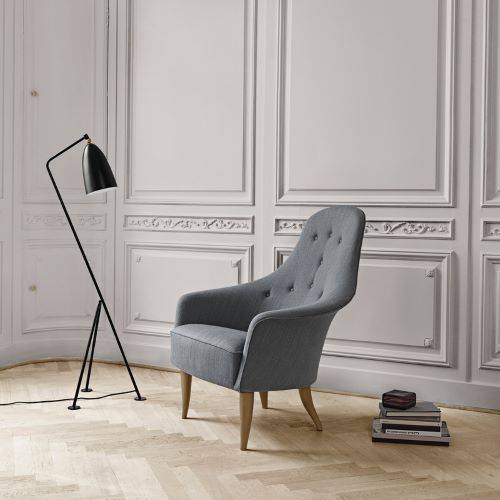 First issued in 1947, Gubi's revival of Greta Grossman's tubular steel floor lamp is a dynamic presence, with its slender, tilted body and conical shade. If directional light and no glare is your wish, Grashoppa is here to grant it.  
- Iconic mid-century modern design
- Shade can be tilted and rotated 360 degrees
- Wide variety of finish options to suit every space