Norman Cherner's name may not roll off the tongue quite as easily as those of his contemporaries, Charles Eames and Eero Saarinen, but Cherner's place in modern design history remains secure for the chair that bears his name. The Cherner Chair, a familiar form of the Mid Century era, has a fraught history, but its enduring presence on the contemporary design landscape is testament to its revolutionary character, both technical and visual.
The story of the Cherner Chair's creation, popularity, demise, and rebirth is well known. Commissioned in 1958 by the Massachusetts-based furniture manufacturer, Plycraft, Norman Cherner created an artful modern chair of molded plywood, a pliable, experimental material which allowed for the crafting of seamless, organic forms. His Cherner Chair was a contemporary armchair with an anthropomorphic form, resembling a woman's shapely body, and a pair of looping, ribbony arms. Plycraft, in an act of inexplicable duplicity, claimed to have scrapped plans to make the chair, only to continue manufacturing it under a different name, giving Cherner neither credit not royalties. Cherner sued Plycraft, won, and was finally given rightful credit (and royalties) in 1961—the same year that Norman Rockwell immortalized the Cherner Chair on the cover of The Saturday Evening Post.
Norman Cherner's place in modern design history remains secure for the revolutionary chair that bears his name.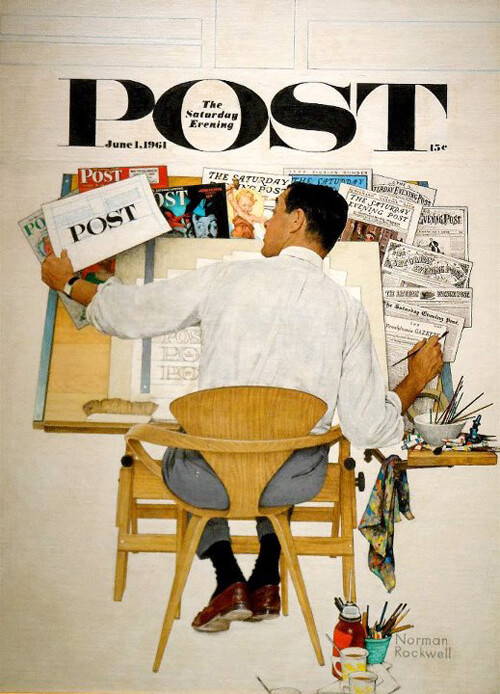 The Cherner Chair was featured on Norman Rockwell's cover for the Saturday Evening Post.
Still, while other molded plywood chairs—most notably, icons-in-the-making by Charles & Ray Eames and Arne Jacobsen—grew in popularity, leading the Mid Century design craze, the Cherner Chair was no longer in production by the early 1970's, receding from the domestic scene and into museum collections for two decades. In 1999 Cherner's sons founded the Cherner Chair Company, putting the Cherner Chair back into production, and ensuring Norman Cherner's rightful place amongst the 20th Century's greatest modern furniture designers.
Norman Cherner's Armchair, designed in 1958, remains a Mid Century modern design icon.
But Norman Cherner's contribution to modern design extends far beyond his famous chair. A proponent of Bauhaus principles, Cherner spent much of his career as an instructor, teaching at Columbia University and lecturing at the Museum of Modern Art. His interest in leveraging new technologies in service of affordable design encompassed both products and architecture, yielding one of the first ever pre-fabricated houses, while his books on self-designing everything from furniture to housing to children's toys advocated for hands-on control over personal objects and the domestic environment.
Still, it's the sculptural form of his famous modern armchair that remains inextricably linked with the Cherner name, and maybe that's not such a bad thing. Cherner, like most modernists, believed in the power of modern design to transcend fashion and outlast eras. At the ripe old age of 60, the Cherner Chair has, inarguably, done just that.
Norman Cherner, designer of the iconic Cherner Armchair.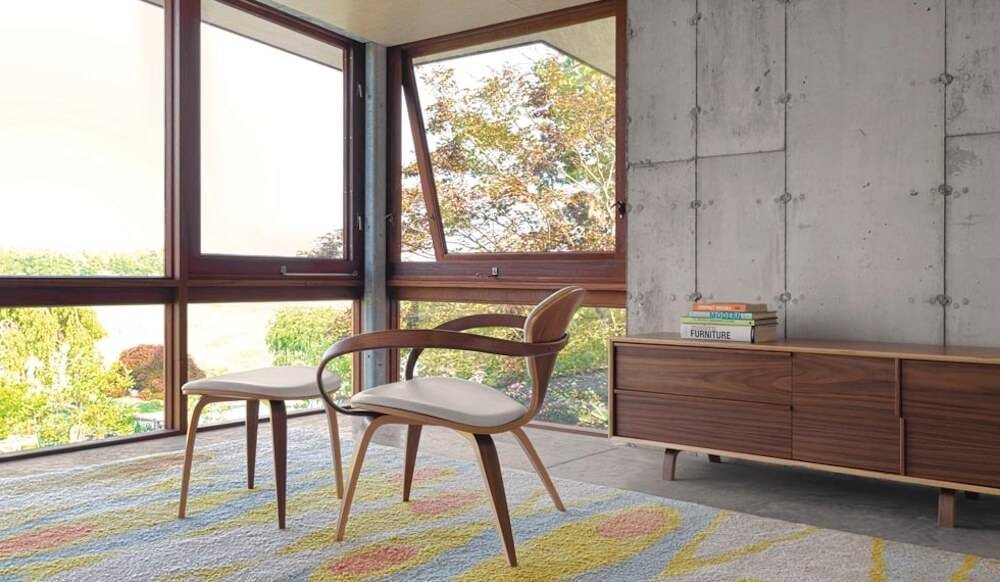 The Cherner Lounge Armchair and Ottoman, extends the iconic Cherner seating collection.