Eero Aarnio b. 1932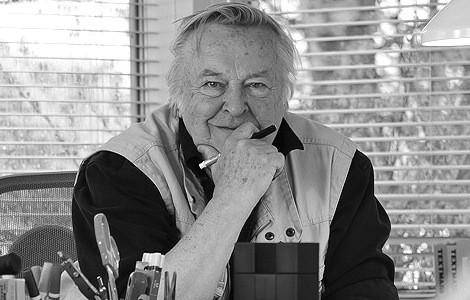 "A chair is a chair, is a chair... but a seat does not necessarily have to be a chair."

Like his Danish contemporary, Verner Panton, Finland's Eero Aarnio sought to expand the boundaries of material and form, and conceived of designs that remain potent aesthetic symbols of the 1960s.

Aarnio studied industrial design, and leveraged the possibilities intrinsic to plastic and fiberglass in creating furniture infused with lighthearted, Pop Art-infused sensibilities that belied their serious technological sophistication. Aarnio's breakthrough design, the iconoclastic Ball Chair, essentially a hollowed-out globe on a pedestal, was a remarkable cocooned design that called into question the very definition of a chair, straddling a line between furniture and architecture. Designed in 1962, it was finally put into production in 1966, its otherworldly form perfectly timed for an era defined by the space race and moon landing.

The similarly shaped Bubble Chair—a 1968 iteration of suspended, see-through plastic—proved irresistible to fashion photographers, and, along with 1967's Pastil chair—a sensuously sculptural, candy-colored seat—established Aarnio as a master of innovation who turned the notion of form and its related function on its ear. A design icon himself, Eero Aarnio's more recent work, like his Rocket Stool for Artek, and his whimsical products for children, illustrate that his enduring presence on the contemporary design landscape is due, in part, to being a serious designer of objects that remain nothing if not fun for the rest of us.