The perfect spot to entertain friends and family or sprawl out for a weekend movie night; sectionals offer a spacious comfort that can't be beat. When choosing a coffee table to pair with your sectional, there are a few things to consider such as the size, shape, and style of the sectional. Rectangular coffee tables are a great choice as they can match the long lines of a sectional and create a cohesive look. Plus, they offer ample surface area for drinks, snacks, and books. Oval coffee tables work well thanks to curved edges that can help soften the angles of a sectional. Additionally, oval tables tend to work well in smaller spaces where a rectangular table may feel too overwhelming. That being said, the shape of your coffee table ultimately comes down to personal preference and the style of your living room. If you have a more contemporary or eclectic style, a round or organic-shaped coffee table may work better. Ultimately, the best coffee table for a sectional is one that complements in size, shape, and style, while also meeting your functional needs.
Best Coffee Table Shape For an L-Shaped Sectional
For an L-shaped corner sectional, a square or round coffee table is your best bet

For visual appeal and proper functionality, the coffee table should be no more than ~⅔ the length of the sofa part of the sectional

Make sure your coffee table is 14-18 inches away from the sectional to allow for traffic to flow around the table with ease, while still being close enough to rest a drink or favorite book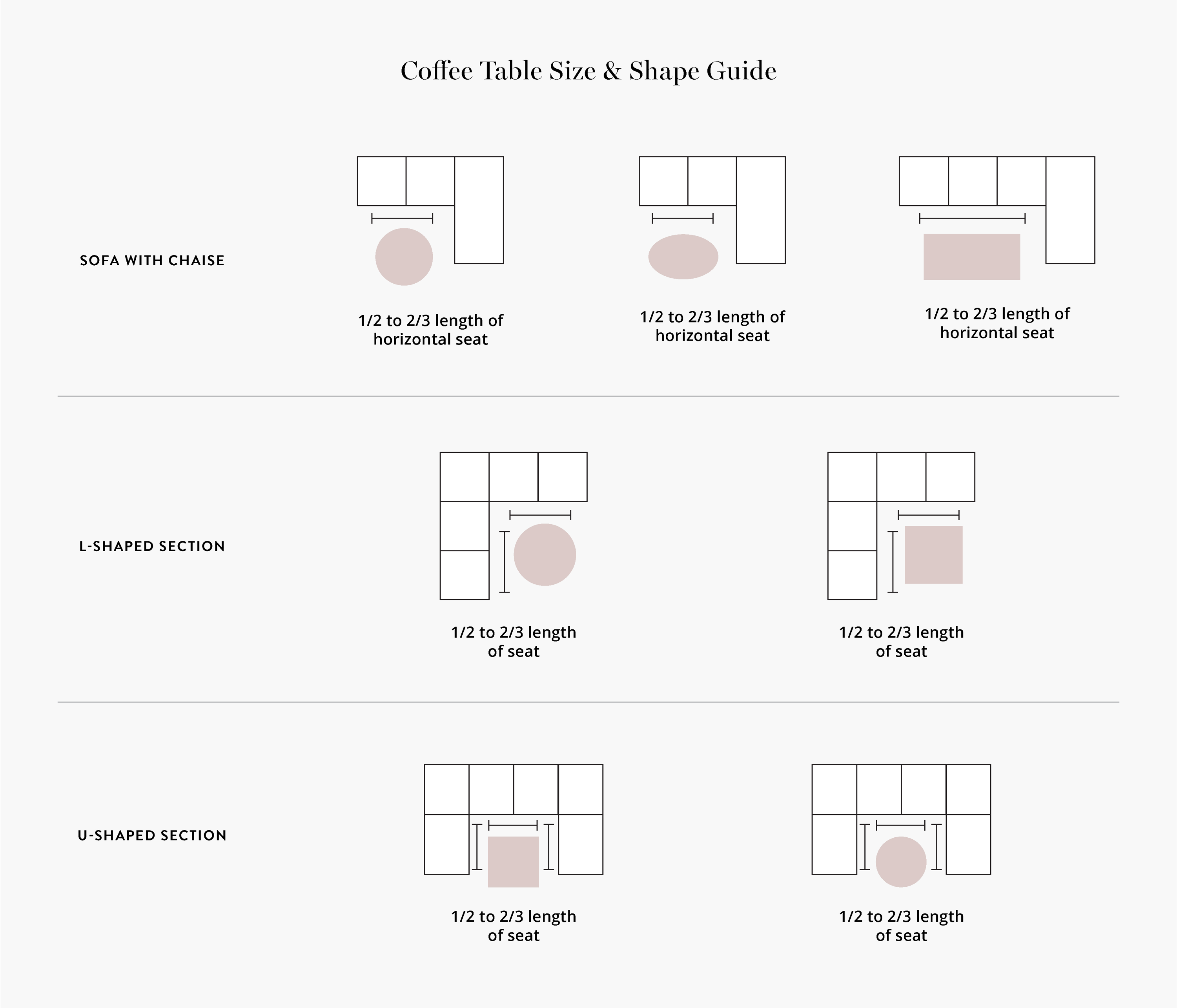 Best Coffee Table Shape For a U-Shaped Sectional
For U-shaped sectionals where both long sides are the same length, a square or round coffee tables work the best
Large square coffee tables can be a great fit for a balanced look
Round coffee tables can also work with this style of sectional as they

have the advantage of freeing up more space around them due to their curved form

If you want to maximize seating in addition to a large sectional – e.g. if you entertain often – an ottoman that also functions as a coffee table can be useful (for a relatively flat ottoman, a large tray on top works well for holding drinks, food, etc.)
What Size Round Coffee Table is Good For A Sectional?
If you are looking to select a round coffee table to accent your sectional, the diameter should be a maximum of ⅔ of the sofa length for a balanced seating group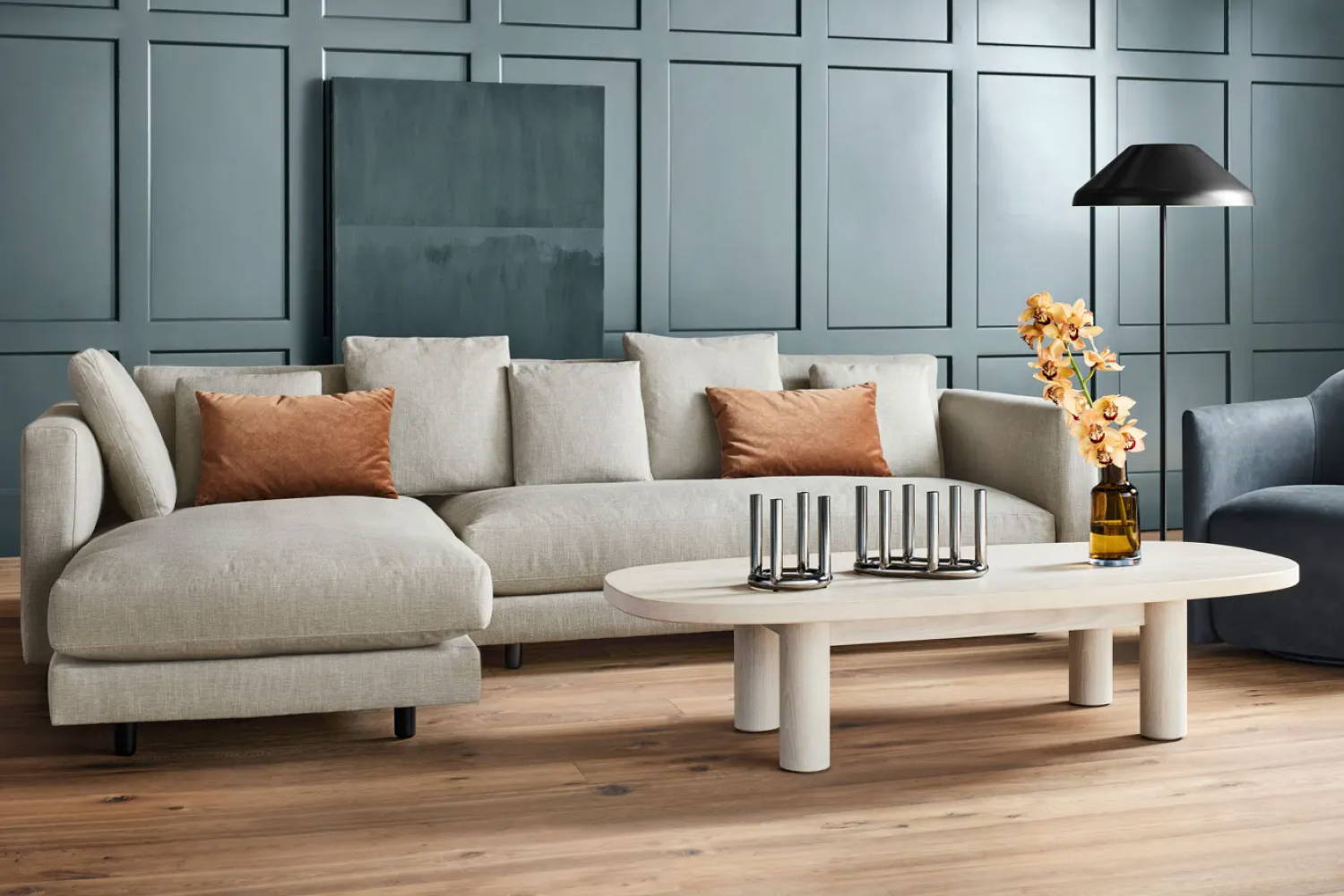 What Shape and Size Coffee Table Works Best Paired With a Sectional That Features a Chaise?
For a sectional sofa featuring a chaise on one side, a rectangular, or oval table pairs well aesthetically and functionally

When positioning your coffee table, it should be 14-18 inches away from the edge of the seats and should not extend past the chaise cushion
In the end, its truly up to you to decide which coffee table works best in your home. When choosing the best coffee table for a sectional, it is important to consider the size, shape, height, style, and functionality of the coffee table before making moves to purchase. For both functionality and visual appeal, the coffee table should complement the size and shape of the sectional, be proportional in height, match the style of the room, and meet your needs for daily use. By taking these factors into account, you can find the perfect coffee table that enhances the comfort and style of your sectional and adds the perfect finishing touch to your living space.