Getting horizontal has never been easier—or prettier. Linear suspension lights are dramatic attention getters in any interior space, and our favorite linear pendants feature both glamorous and understated designs. Comprised of materials as wide-ranging as metal, glass, wood and natural fibers, our Top 10 Modern Linear Pendants will have you lining up for more. For additional lighting options, shop our Top 10 Over-the-Counter Pendant Lights.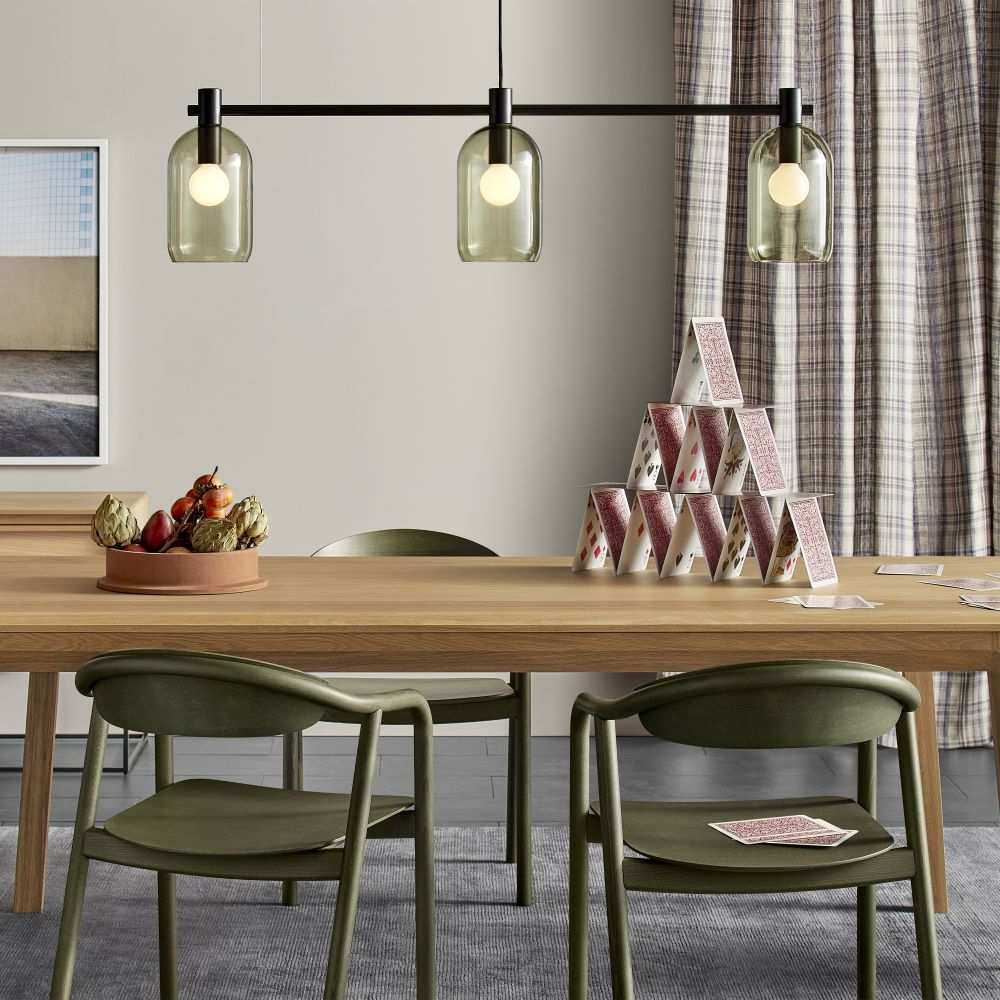 Deceptively simple with a striking black frame and olive-tinted hand blown glass shades, this linear suspension fixture is part art object, part functional luminary ready to spruce up any dining room or kitchen island countertop.
Hand-blown glass adds an elevated touch
Powered by energy-efficient LED lighting
Perfect size for dining tables and office conference tables
A unique lighting design perfect for farmhouse modern and industrial dining spaces alike, this linear pendant light is wrapped in fine leather for an elevated touch of beauty ready to enliven every meal.
Real leather accents add a luxe touch
Belt-inspired design makes a statement in any dining space
Powered by energy-efficient LED lighting
Inspired by the flowering plant of the same name, this linear luminary is equipped with powerful LED light blossoms creating a warm welcomed glow, perfect for making a statement in a dining room or kitchen area.
LED blossoms can be adjusted for a lighting design that is all your own
Dimmable to set the mood
Powered by energy-efficient LED lighting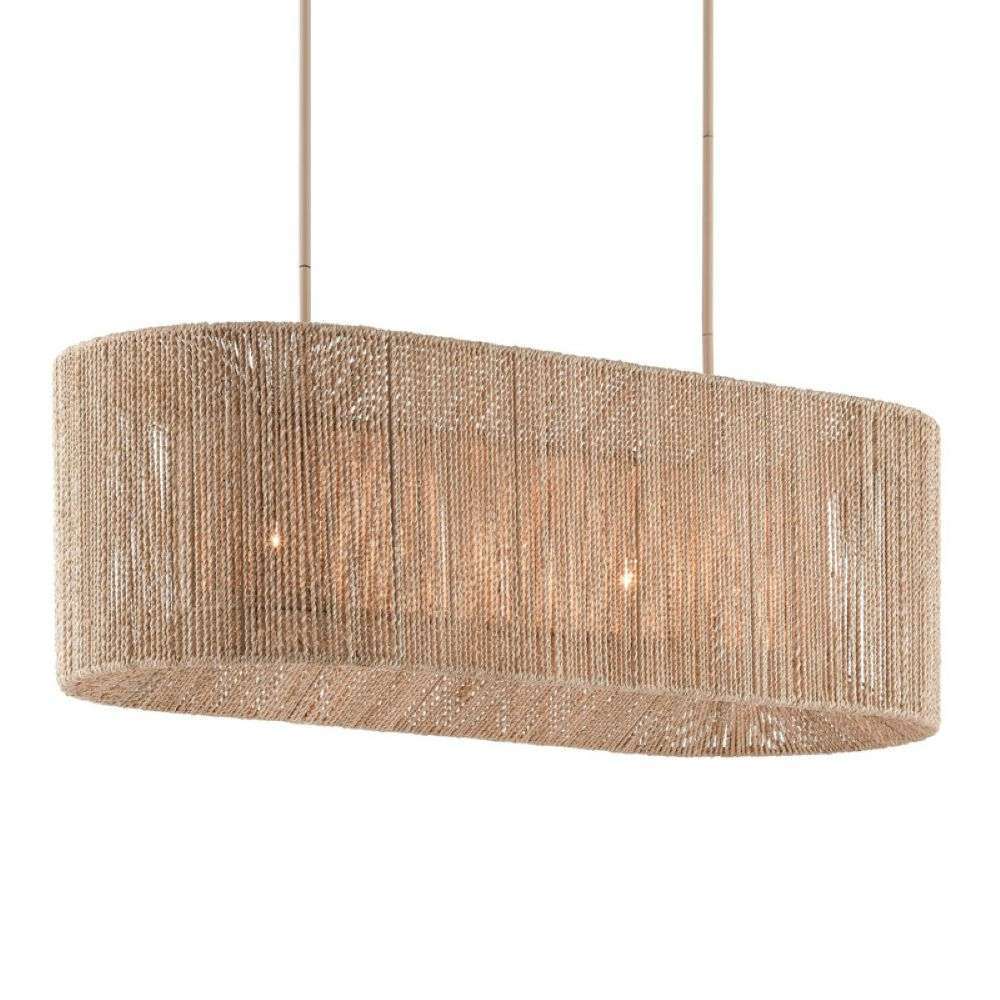 Wrapped in natural abaca fiber rope for a sophisticated, coastal feel, the Mereworth Chandelier emits a warm glow through the fibers lending a touch of texture to seaside retreats and oceanfront abodes.
Natural fiber adds texture and rustic beauty to your home
Makes a statement above dining tables and kitchen islands
156 inch cord makes it easy to install to high ceilings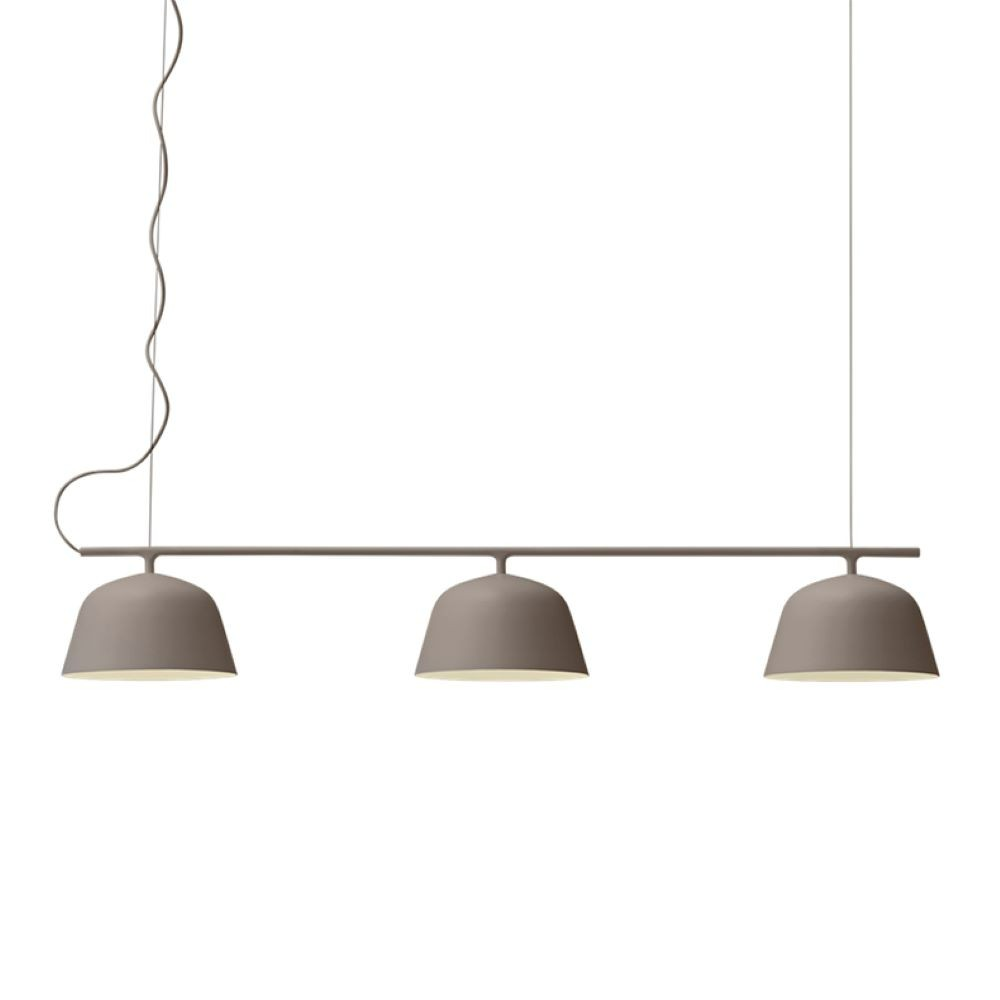 A trio of hand-painted spun aluminum shades form an elegant row of illumination that's both understated and eye-catching. Perfect as over-the-counter kitchen lighting, this modern linear pendant is a contemporary class act.
Sustainably crafted
Hand-painted
Dimmable to set the mood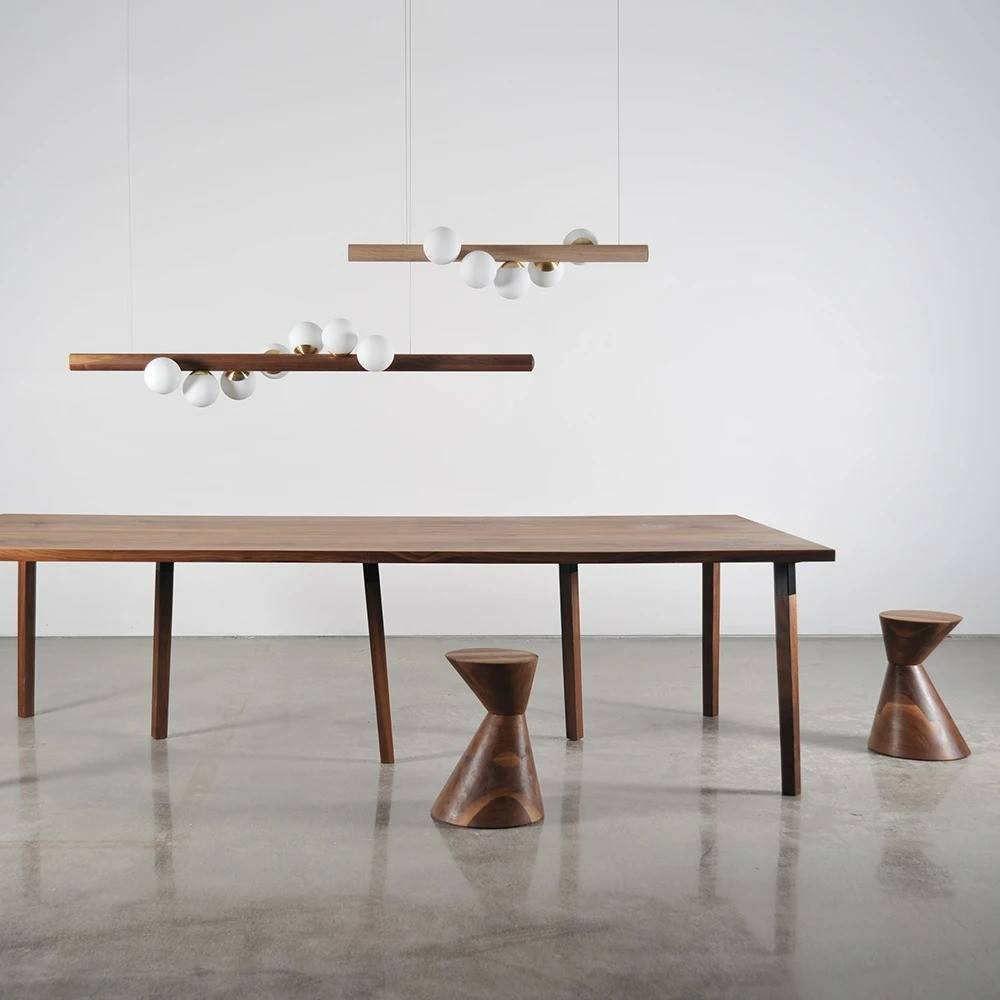 Inspired by the beauty of buds blooming in the springtime, this pendant light showcases blown glass shades nestled into a solid wood beam ready to be suspended solo or in multiples to create a dynamic lighting design above a dining room table or high-end meeting space.
Handcrafted
Powered by energy-efficient LED lighting
Dimmable to set the mood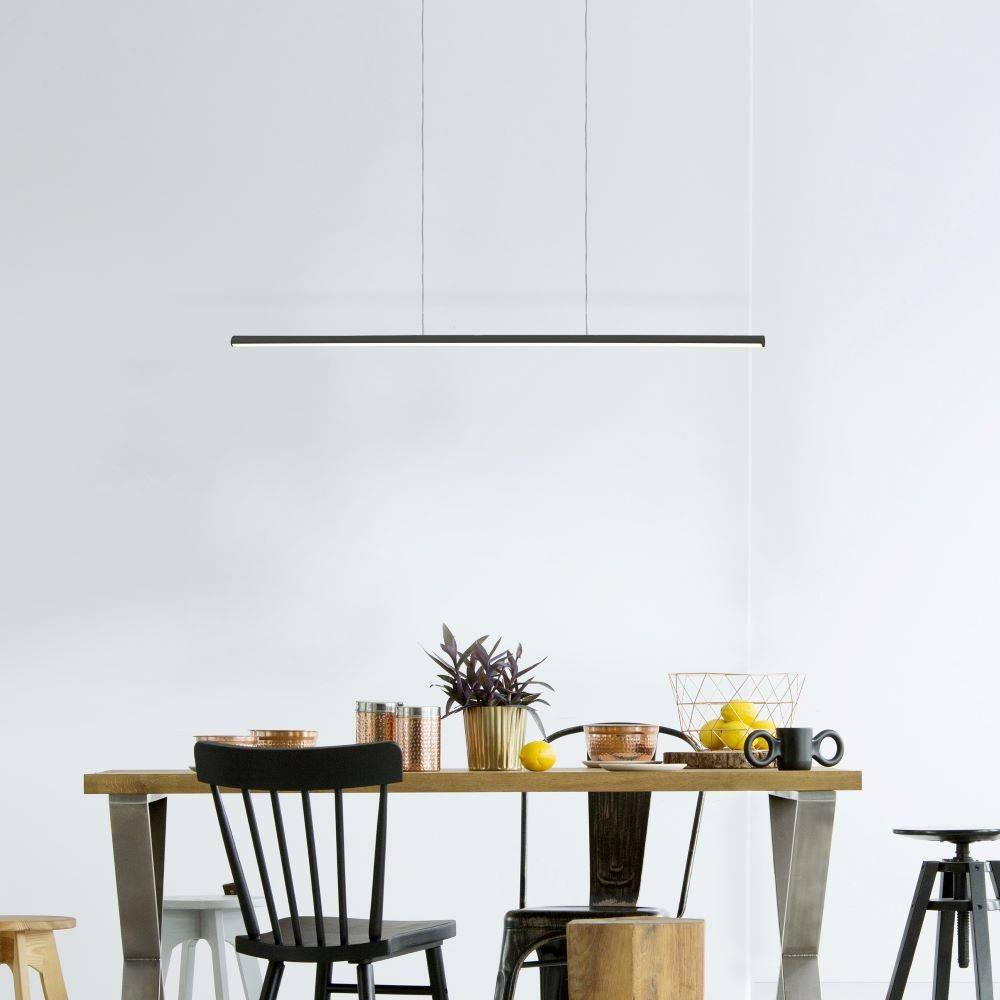 Ready to make an impact above a dining room table or kitchen island countertop, this sleek and streamlined linear light provides directly diffused downward light for casual and upscale environments alike.
Powered by energy-efficient LED lighting
Dimmable design lets you set the mood
Adjustable height means this pendant fits a variety of interiors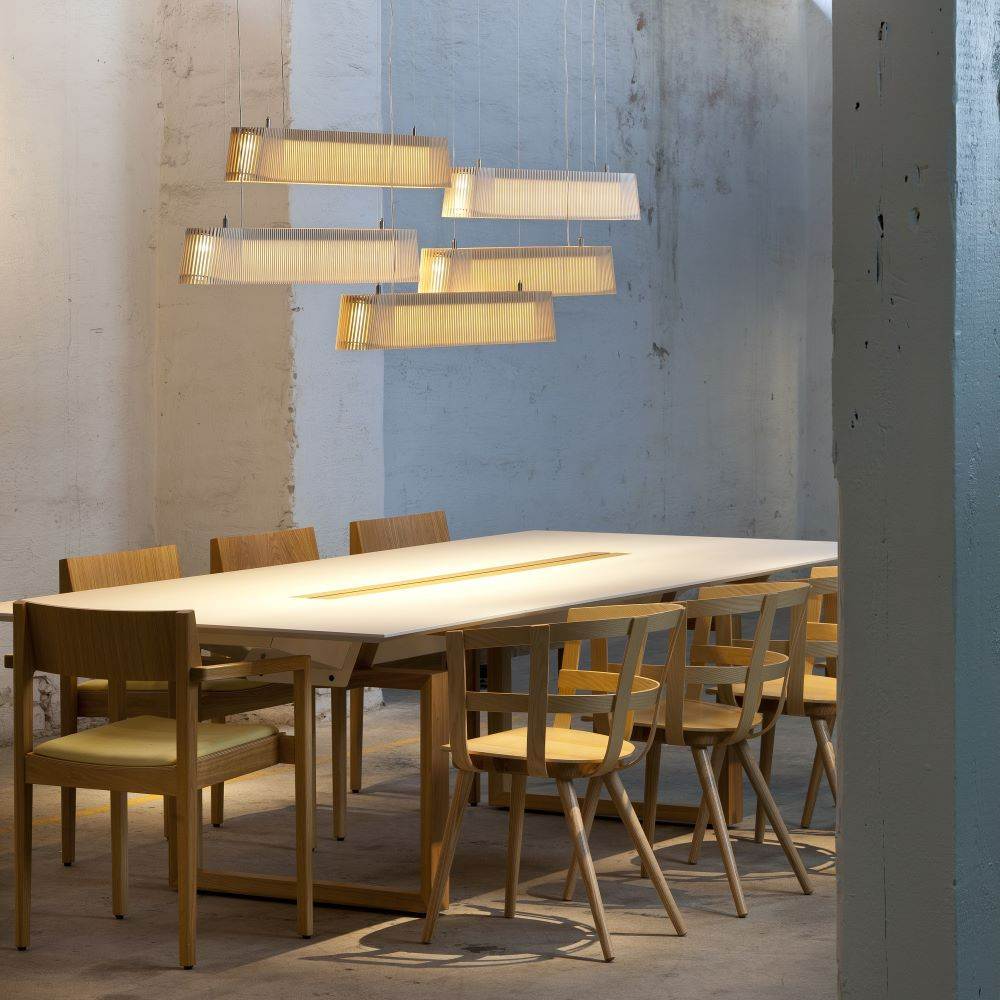 Featuring an open, slatted shade design handcrafted from formpressed birch, this stunning linear pendant offers a sleek, yet organic touch to any home office or dining space in need of some eco-friendly appeal.
Handcrafted
Eco-friendly materials
Powered by energy-efficient LED Lighting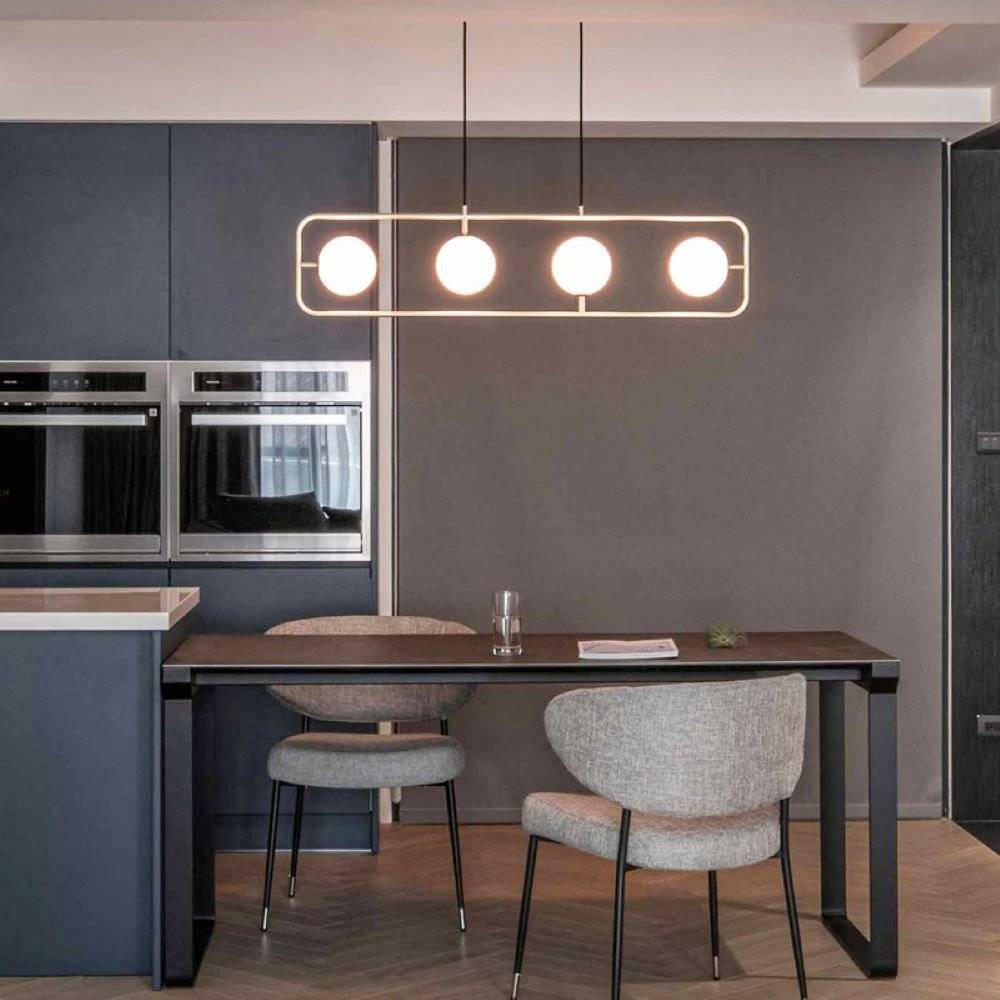 A merging of squares and circles, this skillfully balanced linear light showcases a rigid metal frame accented by flexible LED light sources surrounded by mouth-blown glass orbs for a warmly diffused light source.
Fully adjustable light source can be positioned in multiple directions
Powered by energy-efficient LED lighting
Dimmable to set the mood in your space
Visually light, but offering six powerful, LED lights, this linear pendant brings artful lighting compsition to your favorite dining and meeting spaces in need of directly diffused brightness.
Damp rated - can be used in outdoor dining spaces
Powered by energy-efficient LED lighting
Great for dining rooms or office meeting spaces