Teak Outdoor Lounge Furniture
Aside from its obvious good looks, teak outdoor furniture brings enduring elegance to any exterior location, weathering the elements beautifully, and remaining impervious to the ravages of time. Our favorite outdoor furniture designs from Sweden's Skargaarden and Britain's Barlow Tyrie offer unequivocal proof of it's lasting appeal. The Skargaarden Skanör Two-Seater Sofa, above, pairs a handsome slatted teak base with sumptuous Sunbrella-covered upholstery, while the Djurö Lounge Armchair with Sling showcases a sturdy sculptural form that complements its comfortably pliable Batyline seat and back. Barlow Tyrie's Horizon Sun Lounger may be the most elegant outdoor lounge chair around, thanks to a languid, solid teak silhouette, elegantly framing PVC coated Textilene fabric.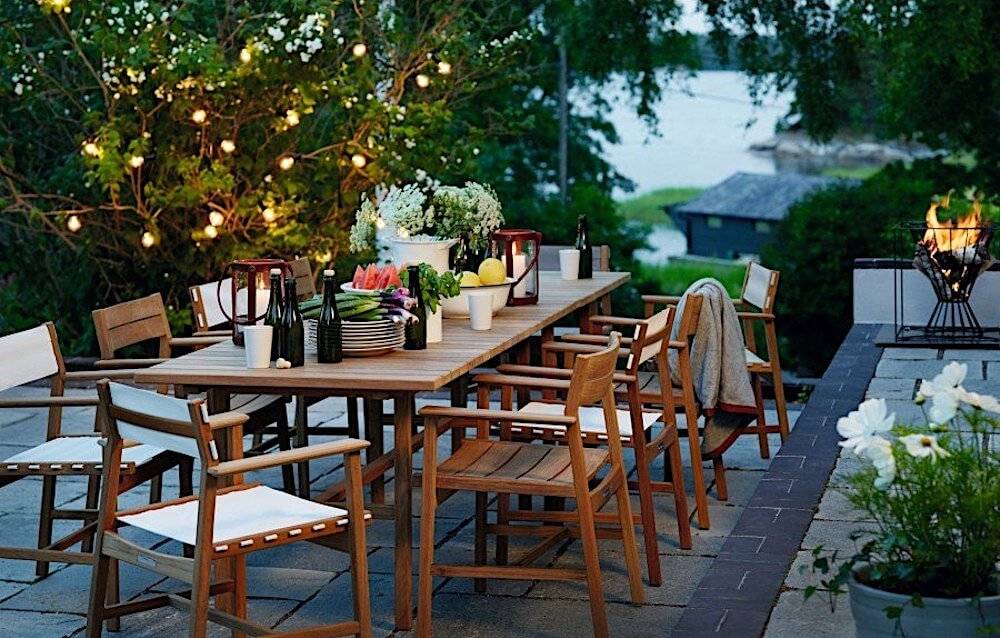 Teak Outdoor Dining Furniture
A durable, unfussy surface for dining, teak creates a handsome backdrop for casual luncheon or romantic dinner alike. The Barlow Tyrie Aura Extending Dining Table complements the well appointed contemporary outdoor space, its slatted surface and impeccable proportions generously sized for up to 8 guests. Pair it with the Aura Dining Chair, or the equally complementary Horizon Folding Carver Chair, which boats a gracefully curved teak framework and a Textilene sling in 4 color choices. Skargaarden's Djurö Rectangular Dining Table, above, an all-teak affair, available in two sizes, is almost too beautiful to consign to outdoor settings alone. The Djurö Dining Armchair may be the obvious answer for matching seating, but the teak-and-steel Skargaarden Grinda Chair, is a worthy alternative, its armless silhouette opening up more room for an extra guest or two.
Teak Outdoor Bar Furniture
Cocktail hour takes on a whole new meaning when teak is in the picture, injecting a dose of refinement without extracting an ounce of good fun. The Barlow Tyrie Bermuda Circular High Dining Table and matching chairs, above, make tall and steady companions, presenting an idyllic vignette for an afternoon glass of wine or late evening soiree. The casual elegance of the Equinox High Dining Stool mustn't be overlooked, it's curved, slatted teak seat perfectly fashioned for the unexpected summer shower, while Barlow Tyrie's Titan Serving Table offers up a portable alternative to the built-in bar, presenting a generous surface area for doling out cocktails and hors d'oeuvres, and plenty of storage space, to boot.