The handsome Calligaris Michigan Storage Bed, above, would be hard to resist under any circumstances, but throw in the roomy storage area that resides inside its neatly upholstered base, and you've got a bed that keeps working hard even while you sleep. Ditto the Lid Storage Bed by Blu Dot, with its piston driven mechanism, which lifts the mattress in one fell swoop to reveal a nifty storage compartment. The very Zen Mash Studios LAX Platform Storage Bed takes a different tack, keeping things stylishly low to the ground, while making use of its solid wood platform with three storage drawers.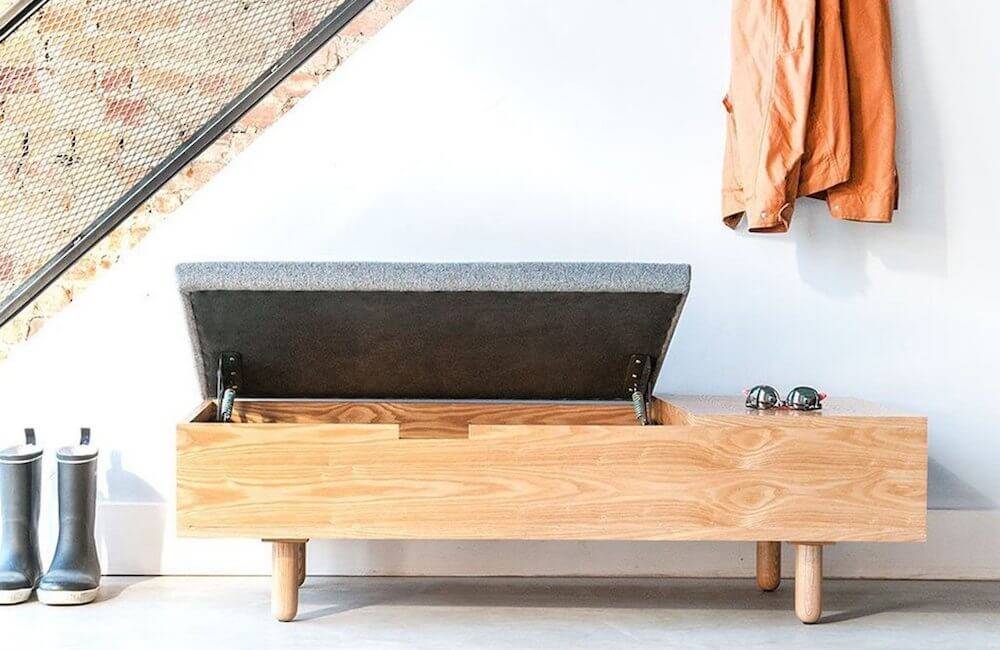 A strategically placed modern bench can be an invaluable asset, and a bench with convenient storage is a serious win. Take the Gus* Mimico Storage Ottoman, which gets its name from the upholstered section that makes a comfy seat, ideal for entryways and taking off shoes; but lift up the seat, and voila! All sorts of space for those pesky scarves, gloves and last-minute essentials, nicely hidden from sight. The Mash Studios LAX Storage Bench employs the same idea, with a padded half of its horizontal form an upholstered seat, and the other half laden with shelves for lining up shoes, books, and other essentials.
Accent Tables With Built-in Storage
What's better than a striking accent table? One with storage room of course! The MENU Turning Table, above, all Scandinavian cool to look at, has a surface area that rotates out to reveal a storage space for tech gadgets, magazines, or anything you'd prefer to keep out of sight, when not in use. Not surprisingly, the Kartell Panier Side Table chooses to be open about the storage space built into its rounded volume, employing Kartell's signature see-through plastic. No need to bother with a magazine holder when the Gus* Wireframe End Table and the Umbra Shift Magino Stool make sweet occasional tables, with space for books and magazines, to boot?