You've found the perfect chandelier for your dining room. Now comes the tricky part: How high should you hang a chandelier over a table? Both a style statement and functional focal point, chandeliers draw the eye in, but also need to be at a height where it lights the room just right. Therefore, hanging it at the proper height is essential, which can seem daunting. Here we'll break down all of the essential information and important details you should take into consideration to ensure that when installed, your chandelier is the center of attention while providing your space with the perfectly welcoming glow you desire.
Standard Recommendations For Chandelier Height Over A Dining Table
Traditionally, a dining room chandelier always hangs at the center (depending on the shape) of the dining table. While you may choose to use multiple chandeliers to light your space, the standard rules are as follows:
As a general rule of thumb, the bottom of the chandelier should be at least 30-36" above the tabletop

This is the standard for an eight foot ceiling, but you can increase the distance above the table for extra ceiling height. For every 2 feet higher ceiling, the bottom of the chandelier needs to be an additional 6 inches higher from the dining table
For example: for a 10' ceiling, you can hang the chandelier 36-42" above the table: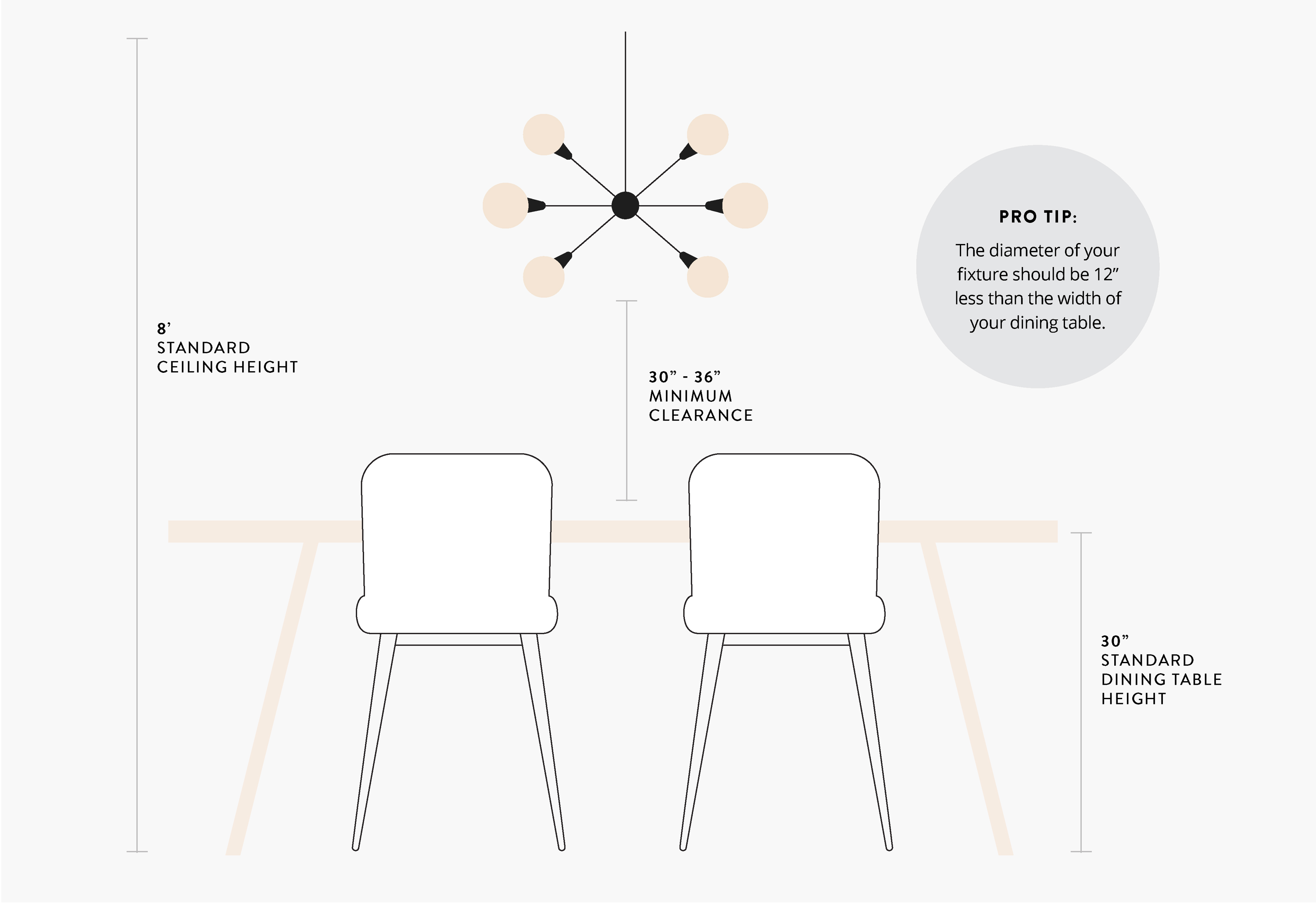 Things To Keep In Mind When Hanging A Chandelier Above A Dining Table
There should always be enough clearance above the dining table to fit things like large serving dishes and centerpieces

Since no one can walk directly into the fixture, it can hang a bit lower than chandeliers positioned over open walkway areas

Aesthetics and visual balance also play a role

Sometimes the style and size of the chandelier affect the height from which you should hang it. An elaborate chandelier can take up a lot of visual space, so it is best to hang it a couple of inches higher than the standard height.

After hanging the chandelier, step back and see how it looks from various vantage points in the room. Try spots where you are seated, standing, or located outside, looking in.
How Big Should The Chandelier Be In Comparision With The Width Of The Tabletop?
Generally speaking, the width of a chandelier should be about ½-⅔ the width of the top of the table over which it hangs

It really comes down to aesthetics and the visual balance of a room. Good rule of thumb to follow is taking table width, subtracting 12 inches or diameter if round, and that is a good minimum for your chandelier

That said, a chandelier that's too large tends to look imbalanced and out-of-place, whereas one that's too small might not work as well as an obvious visual centerpiece to the room. Depending on the size of your table and shape of your room, a series of small hanging fixtures like chandeliers or pendants may work better than a single chandelier

If you have a rectangular dining table, you will want to opt for rectangular fixtures, two pendants, or a round chandelier. If you have a round table, a square or round fixture works best, and if you have a square table, you'll also want to select something round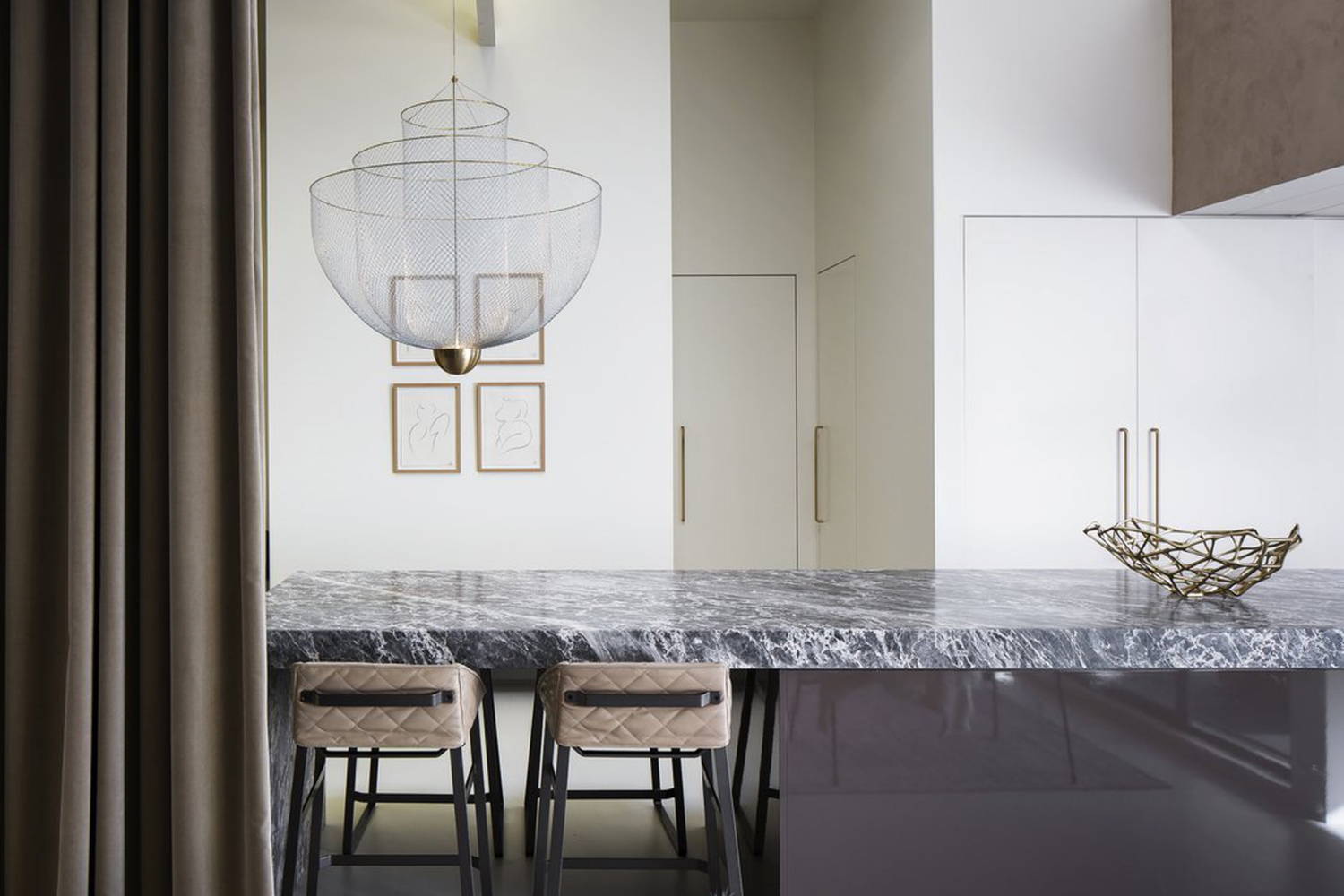 When it comes to above-table lighting there are many different designs available. A popular choice with interior designers, chandeliers can serve as both a source of brightness and a design feature. By incorporating a large, sculptural chandelier above your dining table, you can create a focal point that offers atmospheric light for the evening hours. In the end, the type of chandelier you choose and the height and position at which you choose to hang it all depends on your personal space and personal preference. If the installation looks good to you and functions in the way you desire, then you are set to enjoy your space for years to come.