The French interior architect and designer Tristan Auer, who was named Maison Objet Designer of the Year this past September, doesn't spend much time pouring over interiors magazines or attending trade shows for inspiration. "If you want to find original ideas, you need to listen more attentively to that little voice inside you," he says—which is easy enough if you have an inner voice as distinctive and in-demand as Auer's. At 48 years old, Auer has garnered a sterling reputation for 'besoke luxury,' thanks to a portfolio of luscious contemporary interiors and modern furniture creations for both residential and hospitality clients—projects befitting his elite Parisian education and apprenticeships under French creative icons Philippe Starck and Christian Liaigre. As for a signature style, "I've got a very bad memory and quickly forget the things I have done. I'm not interested in reproducing the same things over and over," he dismisses, even as his keen eye for detail and reverence for past design movements is evident in global projects, from Dubai to Mustique.
International reputation nothwithstanding, there can be no doubt that Auer's creative sensibilities are, first and foremost, French, part of an esthetic continuum, emblemized by Christian Liaigre, Joseph Dirand, and others, in which restraint and extravagance, simpliciity and sophistication, past and present aren't so much strange bedfellows as perfectly natural pairings.
Like his fellow Parisian designers, Auer, who was born in Aix en Provence, but honed his eye in Paris, is informed by a range of creative movements—Minimalism, Primitivism, Modernism—and disparate disciplines, like couture fashion, that have come to define interior schemes that express both good taste and a taste for the very finest things.
Auer embraces traditonal symbols of luxury—marble, velvet, gold—and applies them to refined modern silhouettes and bold, graphic colorways, eager to marry lavish architectural flourishes with tightly edited furnishings, cutting-edge contemporary designs with Mid Century masterpieces by Charlotte Perriand and Pierre Jeanneret.
Despite his global reputation, Tristan Auer's creative eye remains undeniably French, part of a continuum in which restraint and extravagance, simplicty and sophistication, past and present remain perfectly natural pairings.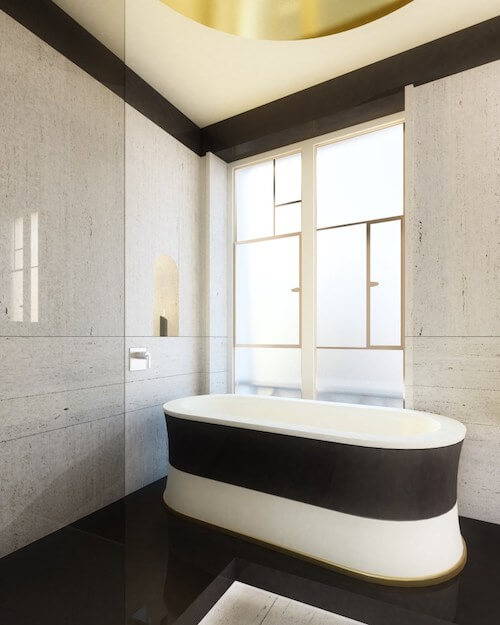 Restraint and luxury collide in a bathroom by Tristan Auer at the Hotel de Louvre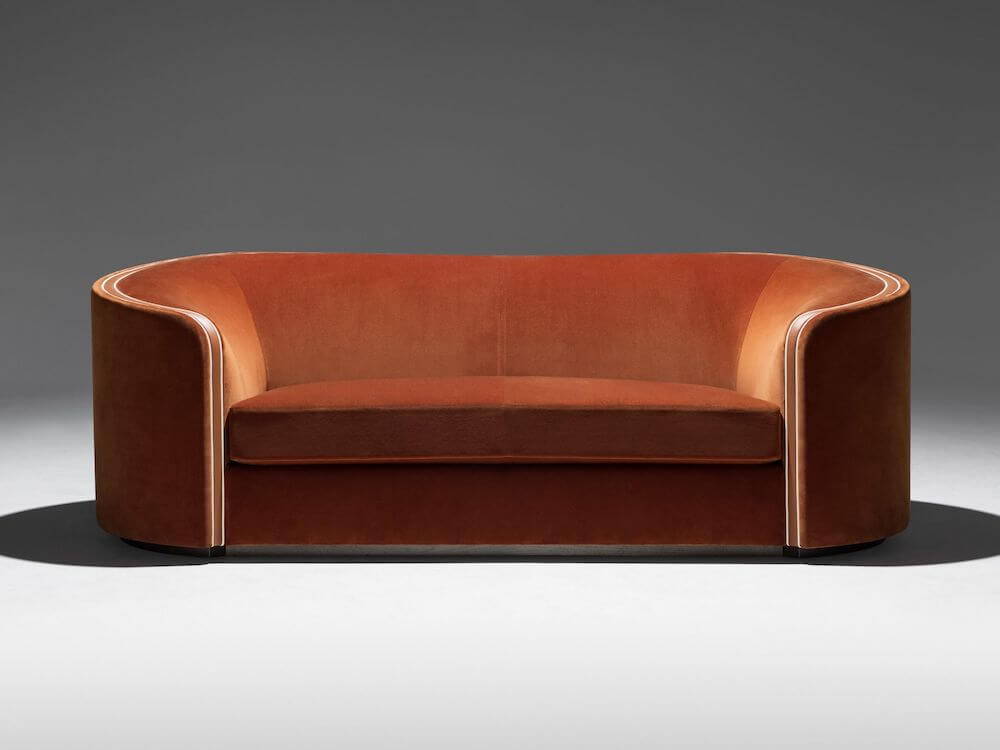 Tristan Auer's Edie Sofa for Holly Hunt, features velvet, leather, and walnut, and references an eclectic range of movements, including, minimalism, modernism, and primitivism.
Tristan Auer's interior projects often feature the designer's own modern furniture designs, as meticulously realized as every other visual element in his spaces. Auer's Edie Sofa, above, a collaboration with Holly Hunt Studio, illustrates his preference for furnishings that look simultaneously vintage and of-the-moment, referencing the past without appearing one bit derivative. Beautiful forms are clearly important to Auer, but so is comfort. The Edie Sofa's sensuous curves and plush upholstery are designed to be admired, to be sure, but just as surely beckon its admier to sit down and stay awhile. Not surprisingly, Auer never loses sight of the interior architect's ultimate goal: "What really makes me proud is when my clients say they feel at home in an interior I have designed. It's very gratifying for the ego."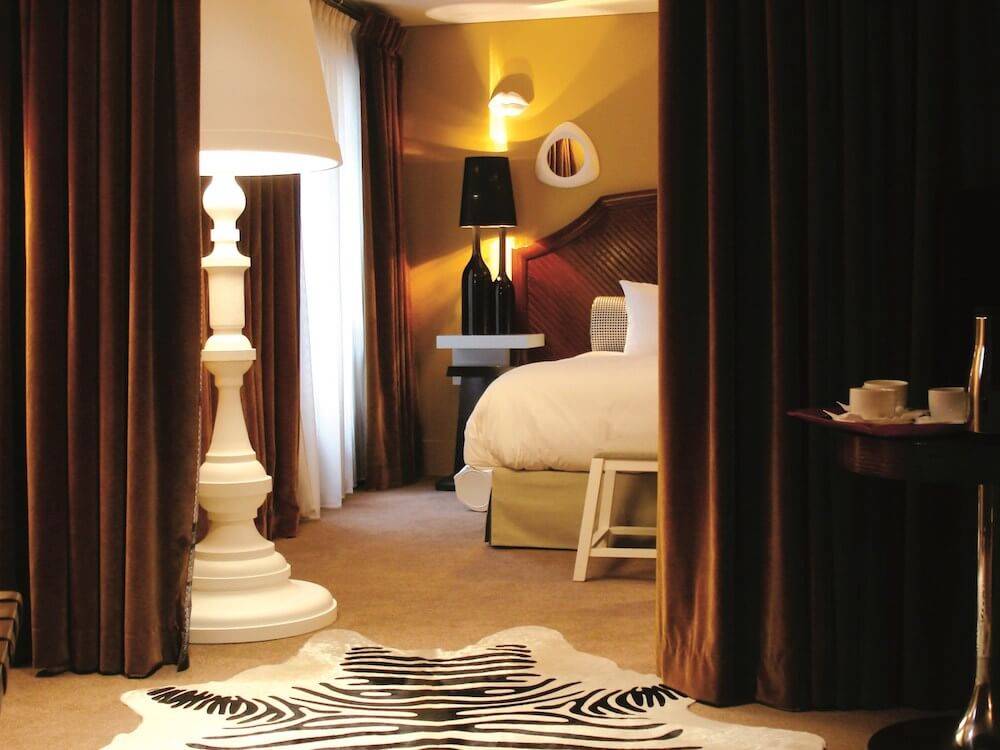 In Paris' 9th District, the Hotel Jules is..."decorated with vintage accents inspired by the 50's, 60's and 70's. The tone is free, playful, bohemian, cozy, cozy, decomplexed but with allure and style."
Below: A Tristan Auer-designed Paris interior features one of the designer's bespoke furniture designs, a velvet-covered armchair .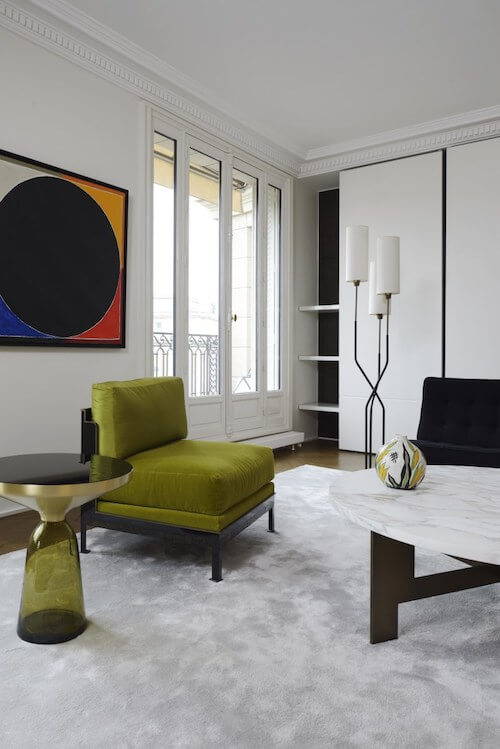 "I've got a very bad memory and quickly forget the things I have done. I'm not interested in reproducing the same things over and over."
— Tristan Auer