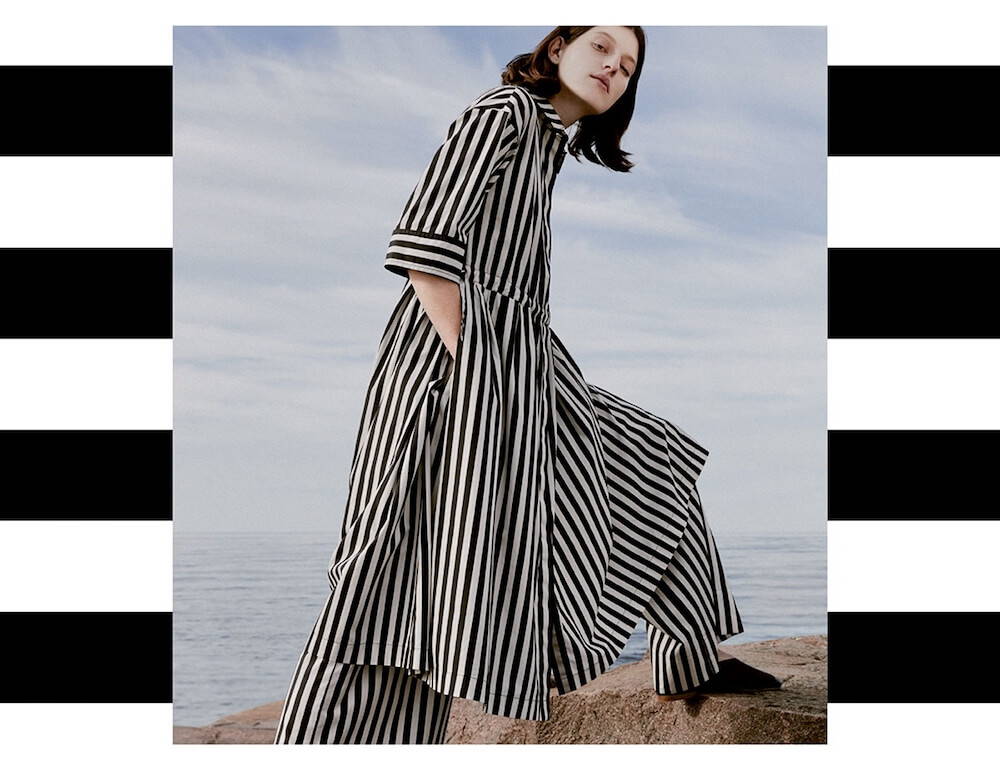 Marimekko's Spring/Summer 2018 Collection celebrated the 50th anniversary of the company's Tasaraita stripes motif..
The Finnish textiles company, Marimekko, is known for its bold, graphic prints, many of which are enduring vintage motifs that date back to the 1960s. Marimekko's Unikko motif, a bright red stylized poppy designed by designer Maija Isola in 1964, may be the de facto identity of the company—arguably, the de facto identify of Finland—but Marimekko aims to put another, lesser known, motif on center stage this year. 2018 marks the 50th anniversary of Tasaraita, a simple striped pattern that was conspicuously on display during the company's Spring/Summer 2018 fashion show—for reasons as timely today as they were in 1968.
Like many of Marimekko's textile patterns, Tasaraita, a seemingly innocuous repeat pattern of thick vertical lines, has an interesting backstory, played out against the turbulent 1960s and the Women's Liberation Movement. Created by Annika Rimala, a fashion designer with graphic design training, Tasaraita, translated as 'even stripe,' debuted on Marimekko's first cotton jersey collection, which, in characteristic Marimekko fashion, featured "timeless, anonymous everyday clothes that suited everyone, regardless of age or sex." In an era defined by iconoclastic moments in the fight for gender equality —the introduction of the birth control pill, the founding of the National Organization for Women—Annika Rimala injected a subtle message of equality into the evenly spaced graphic composition of Tasaraita.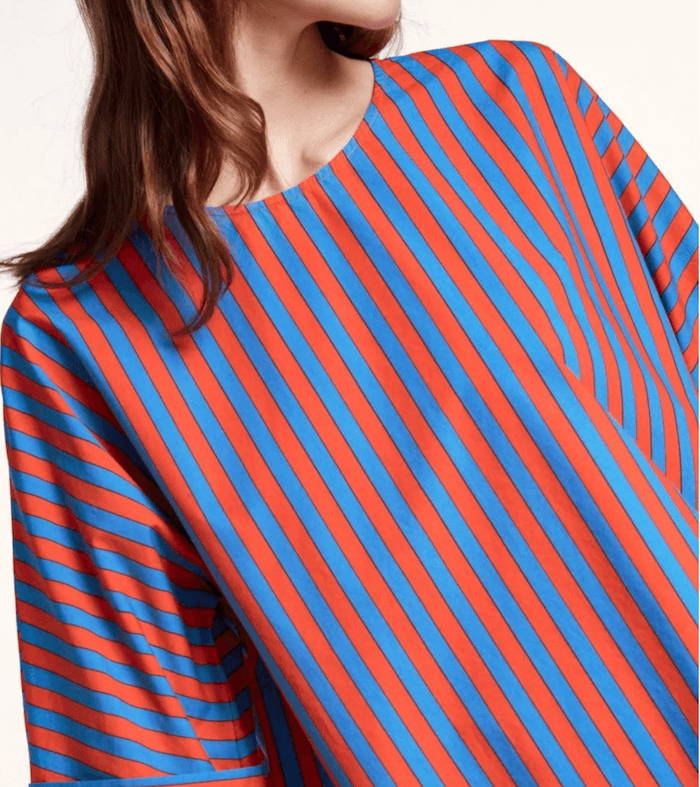 Marimekko's Tasaraita motif sends a subtle message of gender equality.
In an era defined by iconoclastic moments in the fight for gender equality, Marimekko designer Annika Rimala injected a subtle message of equality into the evenly spaced graphic composition of Tasaraita.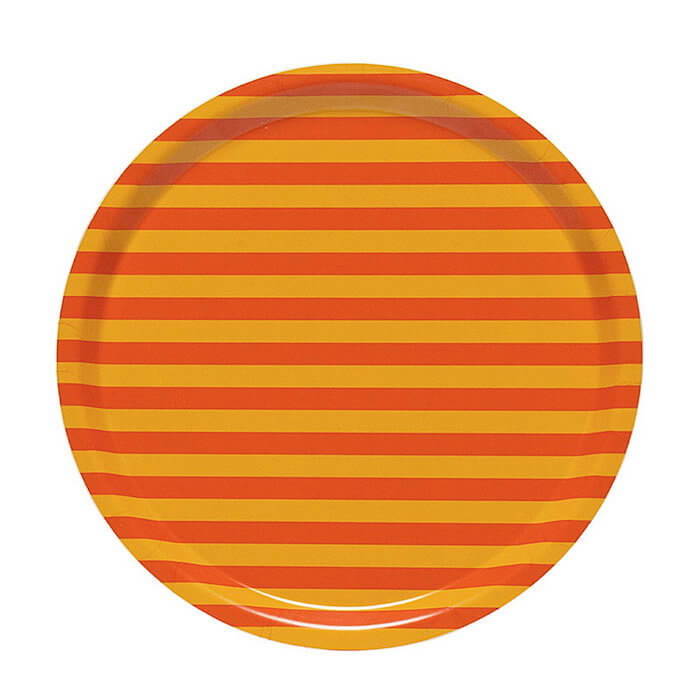 A Marimekko Tasaraita serving tray from the Spirng/Summer 2018 collection.
Not surprisingly, the notion of gender equality resonates deeply with Marimekko, a company founded by a visionary woman—textile designer Armi Ratia started the company in 1951—that owes its identity almost wholly to the creative output of female talent, past and present. "Equality has always been part of Marimekko's DNA and activities, and we believe that everyone should have the same right to make decisions about their own lives."
In the year 2018, it's hard not to view Marimekko's 'equality' message as extending beyond gender to include the ongoing debate around sexual orientation and identity. As far back as the 1960's, Marimekko fashions—and the models promoting them—have pointedly eschewed traditional notions of beauty and gender, presenting, instead, almost androgynous profiles that emphasize pared-down comfort, confidence and practicality over an over-reliance on the female anatomy.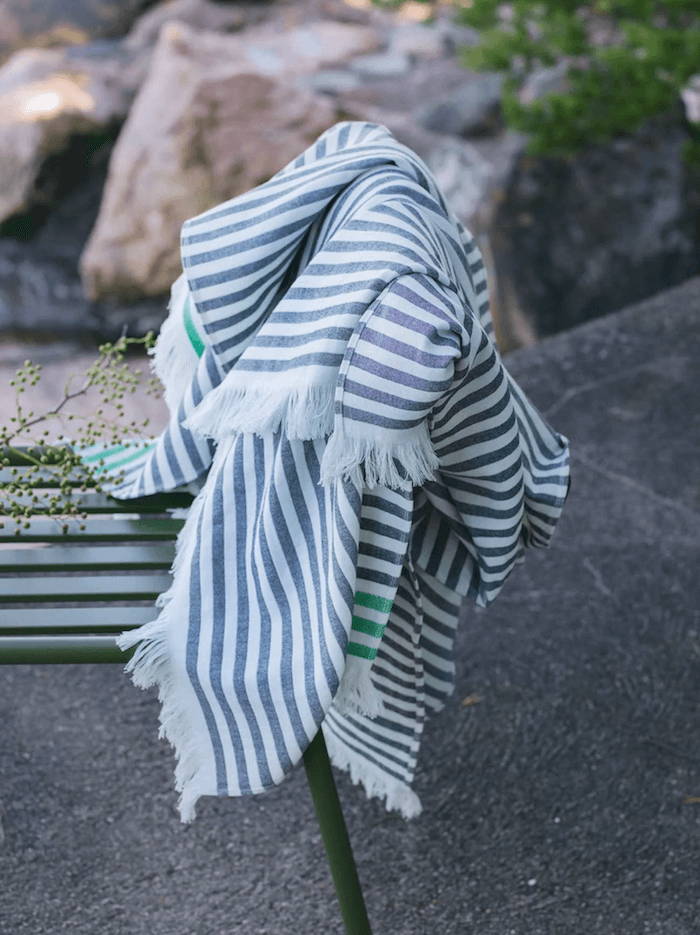 Part of the 2018 Marimekko collection, beach towels bearing the Tasaraita print..
Empowering women remains a central tenet of the Marimekko philosophy, and the company is using the occasion of Tasaraita's 50th anniversary to spearhead an initiative aimed at creating opportunities for at-risk young girls around the globe. Teaming up with Plan International, a UK-based children's rights organization which operates all over the developing world, the partnership dovetails perfectly with Marimekko's female empowerment worldview. "We want to support Plan's work in the developing countries, particularly in promoting right and education for girls as they are in the weakest position," explains Marimekko Communications Director, Piia Kumpulainen.
That support, in addition to building awareness through the partnership, includes donations made to the organization from sales of clothing from the Tasaraita line. During certain periods in 2018, €1 of every Tasaraita shirt sold will be donated to Plan International to help further their mission.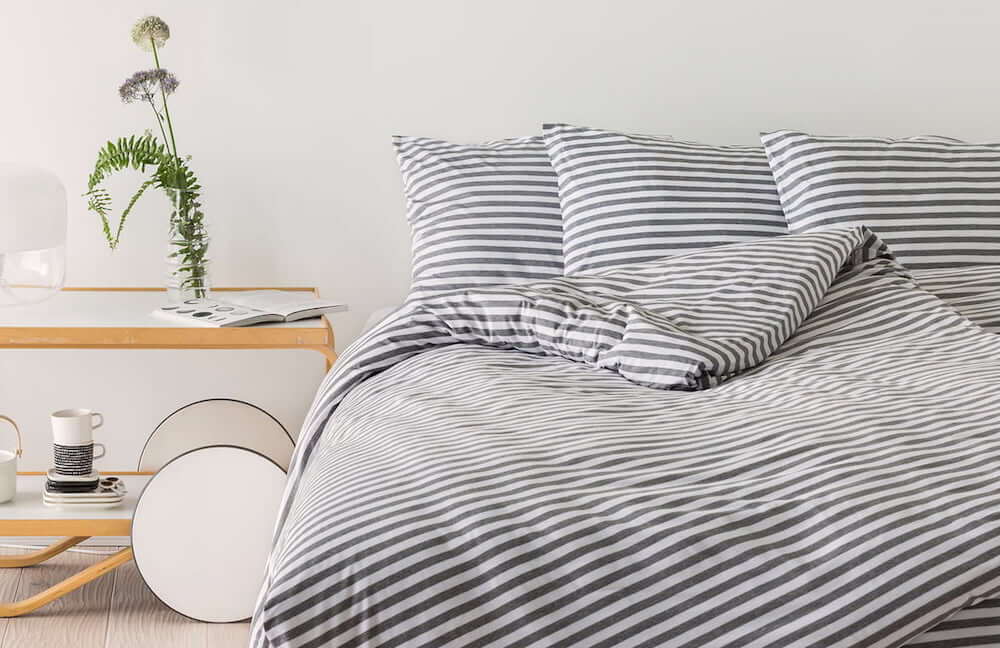 Introduced in 1968, Marimekko's Tasaraita print, featured on a bed linen collection, turns 50 this year.