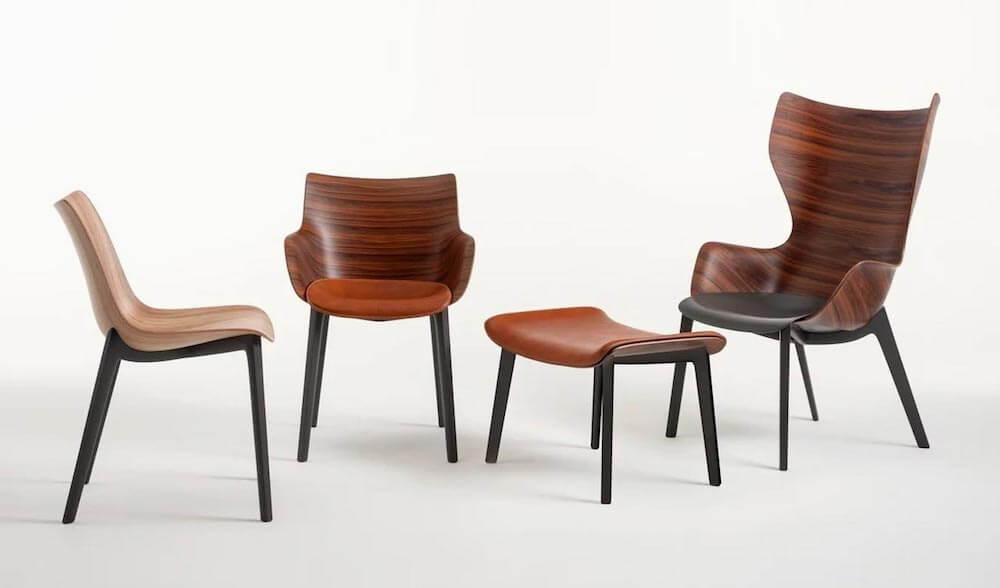 Designed by Philippe Starck, the new Woody collection of modern furniture by Kartell is crafted primarily from molded wood.
Philippe Starck and Kartell have been collaborating on technologically innovative modern furniture for 30 years, and this year marked another breakthrough moment for the French designer and the Italian design brand. Making a splash at this year's Salone del Mobile in Milan was Woody, a new collection of seating that, in a landmark moment for Kartell, is fashioned from wood, rather than Kartell's signature injection moulded plastic. The Kartell Woody collection features 4 pieces: 2 armchairs, a companion ottoman, and a modern side chair.
According to Claudio Luti, Kartell's President, it was Philippe Starck who first introduced the notion of venturing into wood technology. "It was Starck himself who came to me to say that he had found a German technology to bend wood and work it in moulds," explains Luti, who didn't need much convincing. "We can create curves, so this is the right time," he surmised. Curves and rounded forms have long defined some of Kartell's best-selling designs, arrived at via injection mould technology that allows for single seamless forms. The Woody range retains some plastic elements, but injects the textural richness of wood grain into Kartell's signature shiny plastics. "Today, continuous technological research allows Kartell to use wood in an absolutely innovative way: thanks to a special patent, the wood is machined with a mould that can extend the limit of curvature of the panel and create the frame of the chair with sinuous curves," the company announced, in advance of the Milan unveiling of the Woody collection.
In a landmark moment for Kartell, the Woody seating collection is fashioned from wood, rather than Kartell's signature injection mold plastic.
Princesswood is an elegant modern side chair with moulded wood seat & plastic legs.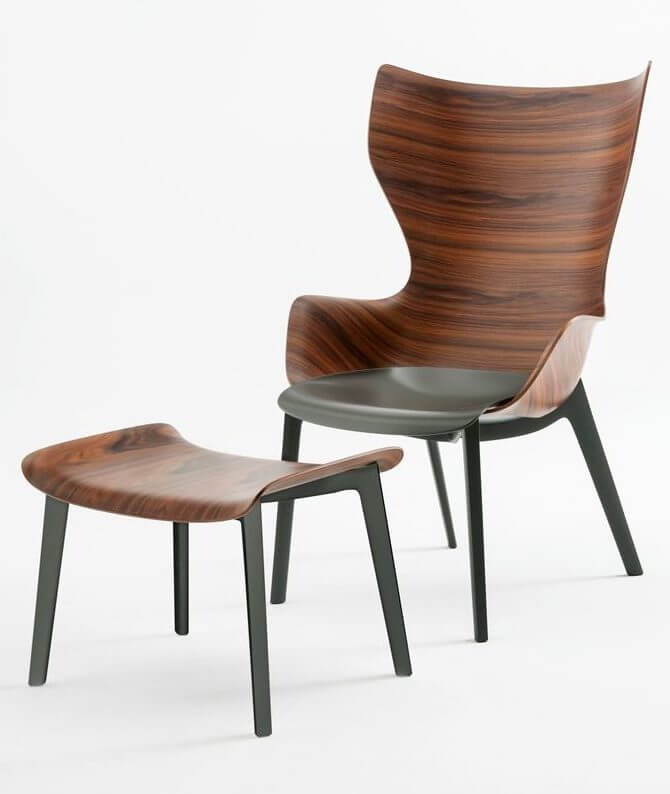 Kingwood, the star of the Woody collection, is a wingback lounge chair with ottoman..
While all the pieces in the suite feature moulded wood bodies and plastic bases and legs, the star of Woody is Kingwood, a stately modern lounge chair with a deeply curved moulded wood back and arms, echoing the graceful forms of Mid Century Wingback chairs. Plastic base and legs, along with a choice of seats in plastic, leather or fabric upholstery complete the chair's material hybrid. Kingwood's Ottoman features a gently curved wood seat and the same plastic base and legs of its companion lounge chair. Rounding out the collection are Queenwood, a compact modern armchair with elegantly rounded back and arms, available with or without upholstery, and Princesswood, a sinuously shaped modern side chair. All Woody chairs and ottoman will be made available in a choice of 3 wood finishes and a variety of base colors.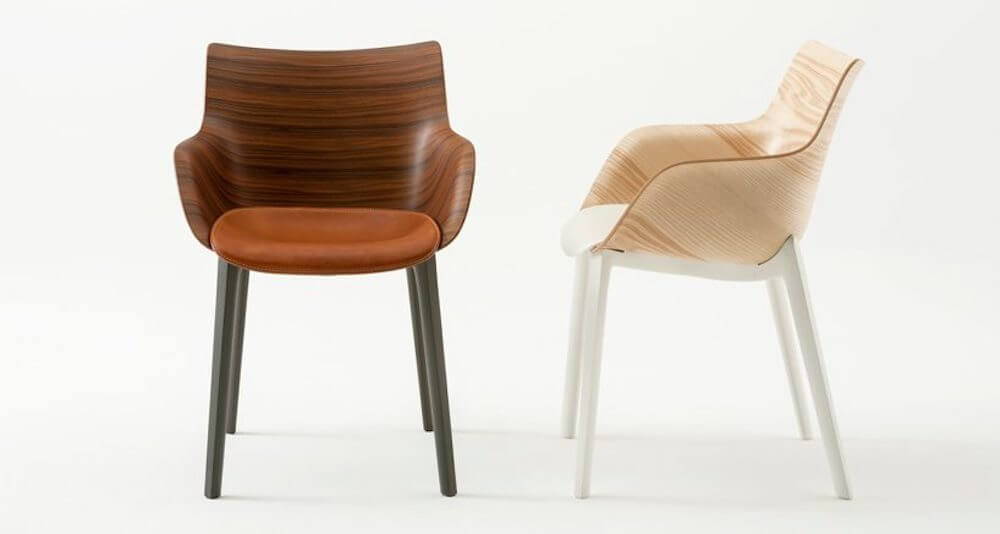 The Kartell Queenwood modern lounge chair, which features a gracefully curved moulded wood seat and back, will be available with or without upholstery.