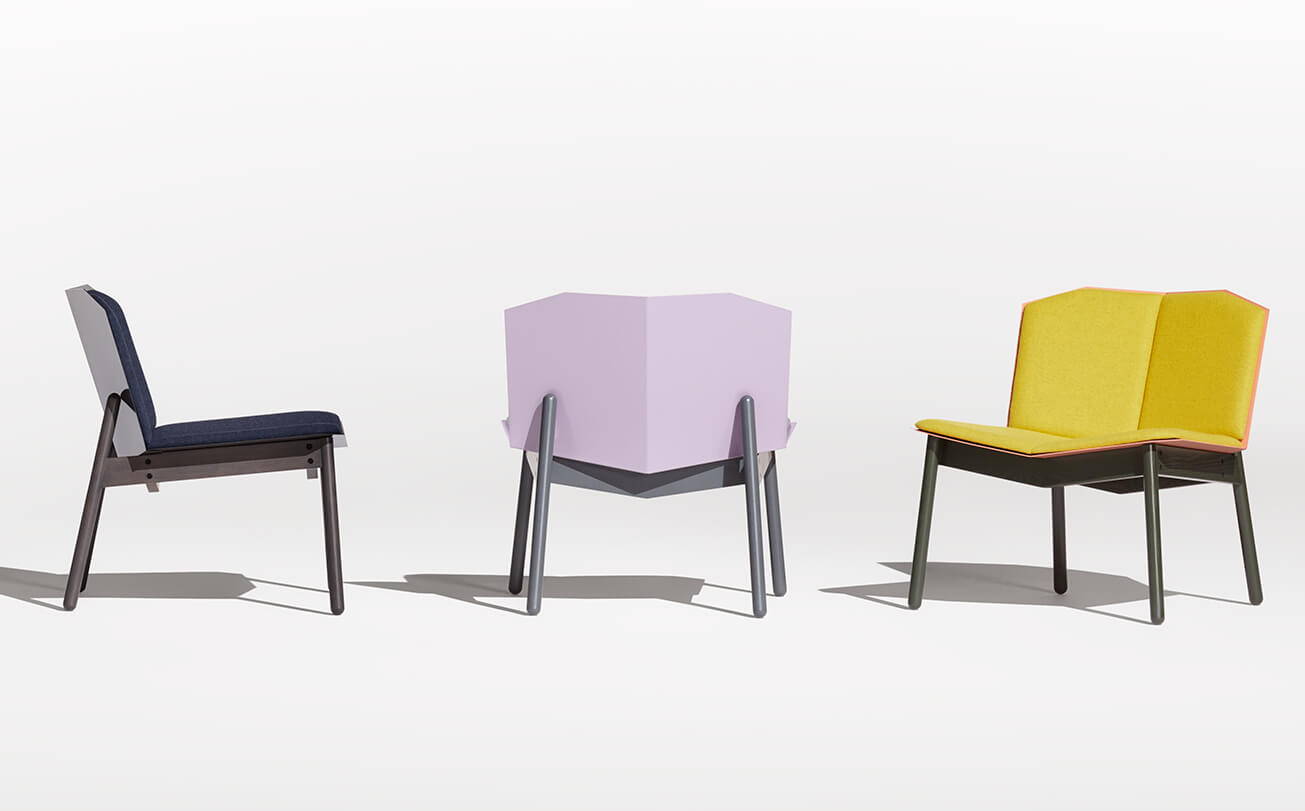 Above: Blu Dot Cat's Pajamas Lounge Chair
Color blocking—the juxtaposition of distinct blocks of colors on a single surface—is not a new concept. Piet Mondrian, whose famous primary color abstractions are 20th Century masterpieces, may easily be considered the father of color blocking. Still, there's no missing modern design's 2017 color blocking trend. Evident on fashion runways, interior design schemes, and product design, flat panels of contrasting colors appear on modern furnitiure, contemporary lighting, architecture, and landmark museum exhibits. Here, a hard-edged collection of our favorite color blocking applications.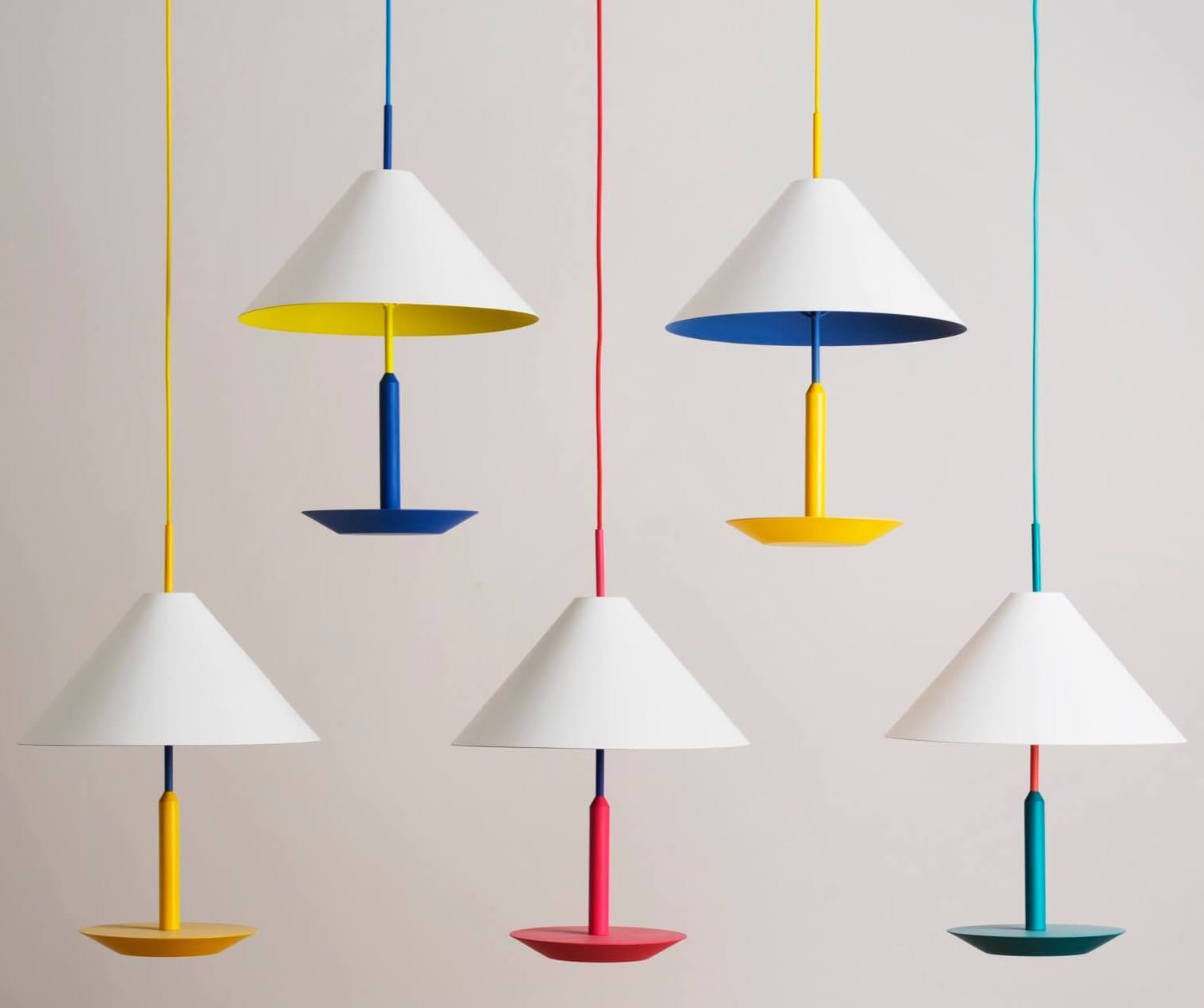 Little Eliah Pending Lamp by Maison Dada
This whimsical contemporary lamp has the structure of a table lamp, but is designed to be suspended. Color blocked elements define its clean, graphic profile.
Color blocking as a visual element is not new, but there's no missing its vivid presence in 2017.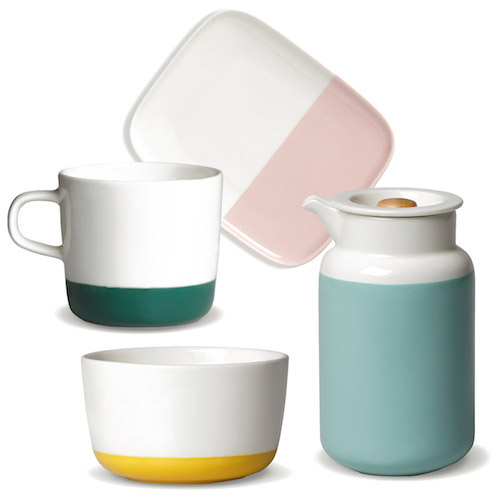 Marimekko Oiva Puolikas Collection
Known for its exhuberant prints, Finnish textile giant, Marimekko, nevertheless went muted and graphic with its Oiva Puolikas dinnerware collection, in which matte white plates, bowls, cups and vessels get a dip of contrasting color.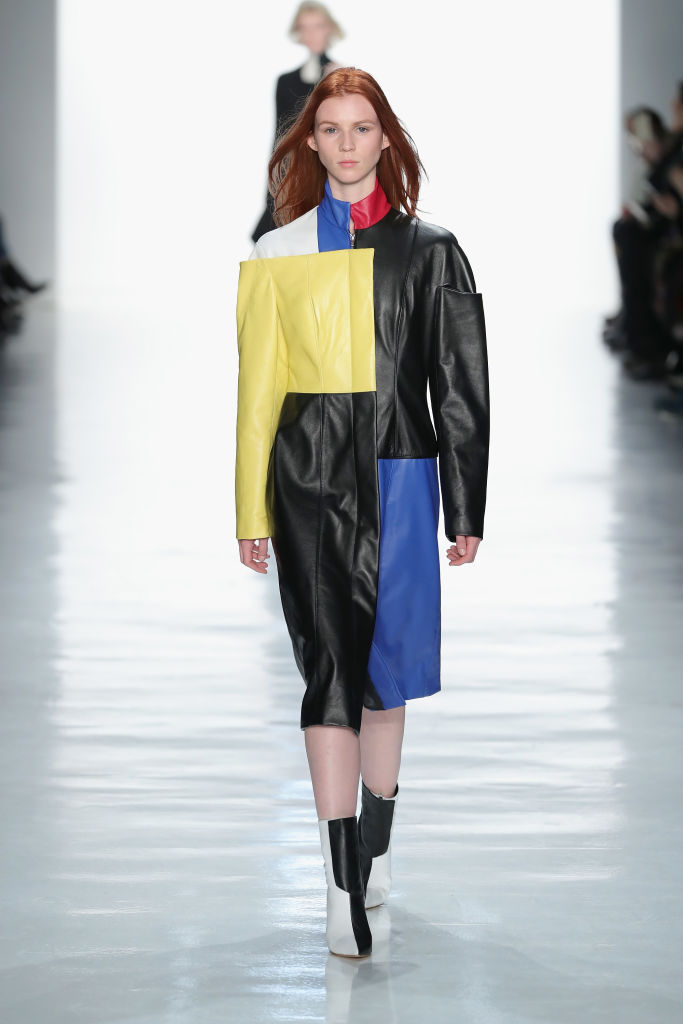 Above: During New York Fashion Week in February this year, a model wears a Mondrian-esque leather coat by Hong Kong designer, Kevin Ho. Below: Costume jewelry, like the Color Block Bib Necklace by Amrita Singh is on-trend for 2017.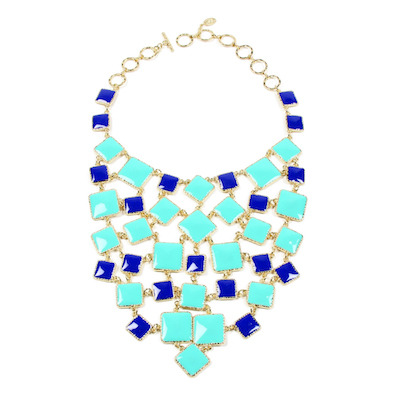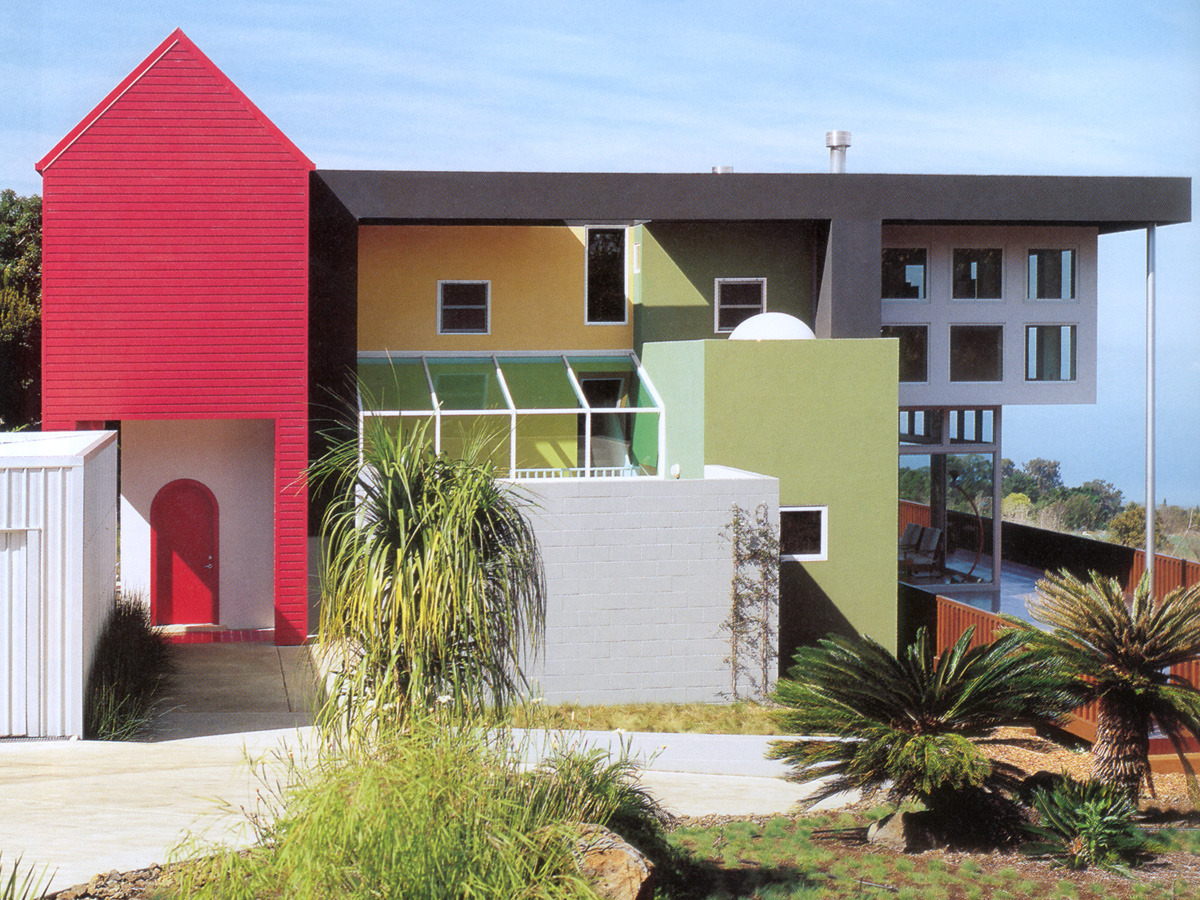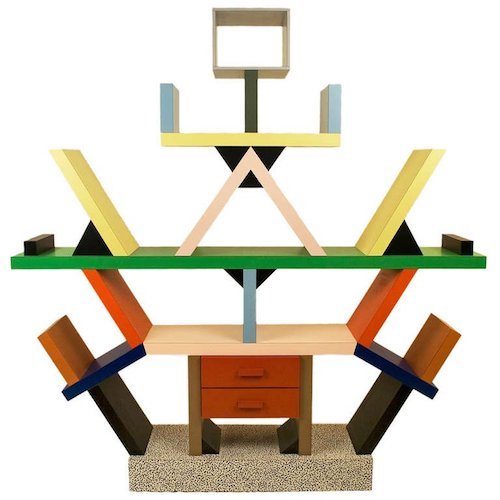 Ettore Sottsass, Design Radical, Metropolitan Museum of Art
Without a doubt, New York's most highly anticipated exhbition of the year is the Met's career retrospective of Ettore Sottsass, founder of Memphis, the postmodern design collective that made color blocking a trademark treatment. Sotsass' Carlton Bookcase, left, is an icon of the Memphis movement, but he applied the concept even to Casa Maui, above, his most famous residential arachitectural commission, completed in 1997.
Ettore Sottsass made color blocking one of the trademarks of Memphis, the 1980s design movement that's decidely back in vogue in 2017.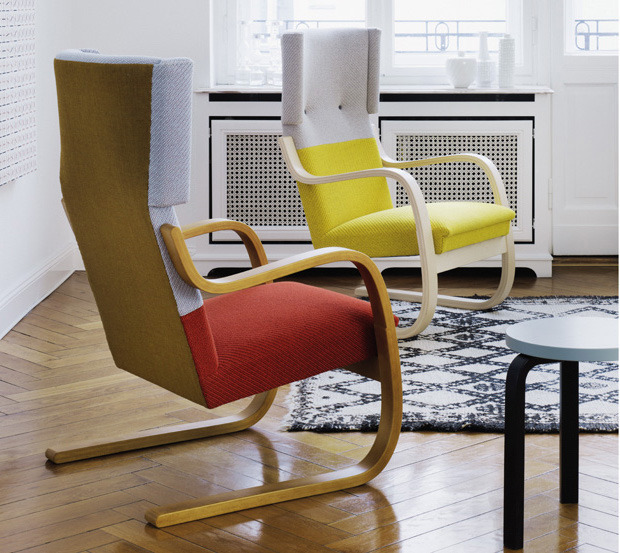 Artek Armchair 401, Hella Jongerius
Artek and Dutch designer Hella Jongerius have collaborated on reinterpretations of classic creations by Alvar Aalto The Artek 401 Armchair features exquisite color block textiles as an alaternative to the original's monochromatic upholstery—presenting a very contemporary remake of a 20th Century icon.
DIY Color Block Painted Door
Color blocking has gone DIY. Adding a splash of color and geometry to doors and walls is as simple as a luscious color palette, masking tape, and a touch of imagination.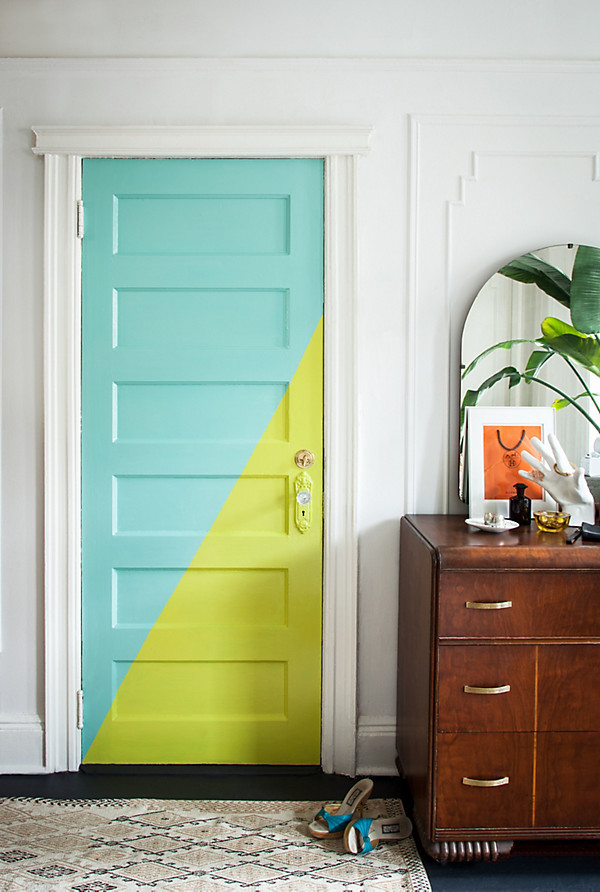 Shop The Trend
Multi-colored bands of brightly painted aluminum give this modern pendant lamp, designed by Fredrik Mattson, a playful, yet artful profile.