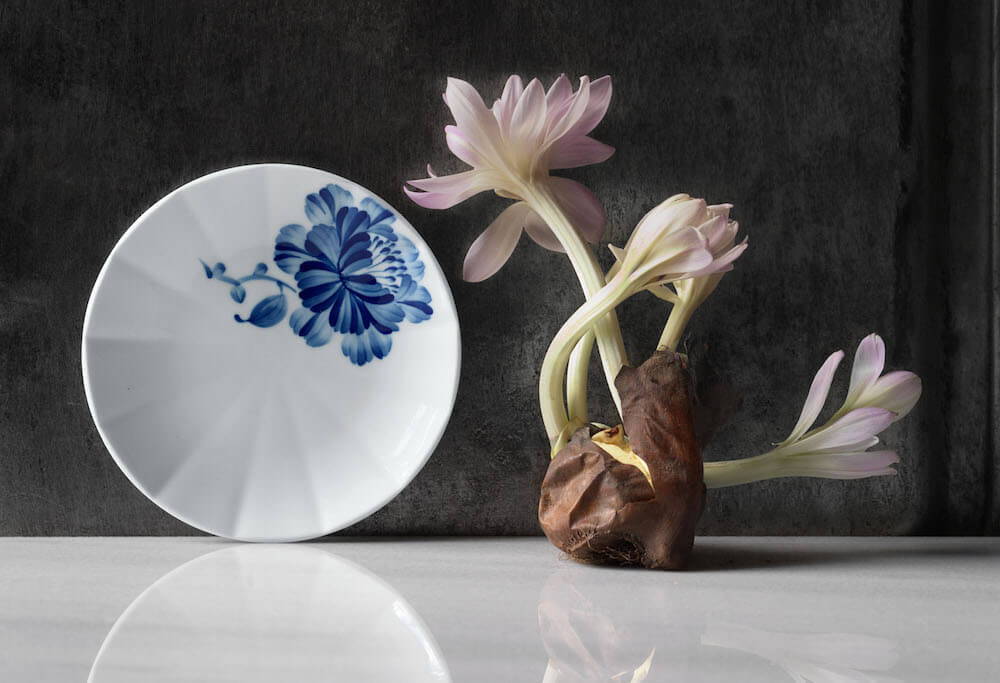 Blomst, a new series of blue flowers, updates Royal Copenhagen's iconic blue dinnerware motifs, first introduced in the 18th Century.
Royal Copenhagen, the Danish porcelain manufacturer, has unveiled contemporary dinnerware that features a fresh new range of blue flowers—the first blue floral series since the company's iconic Blue Flower motifs were introduced in 1779. Called Blomst, this new pattern "brings together past and present," by using the same cobalt blue colorway that defines the original blue series, and modernizing the classic tabletop collection with bolder floral compositions and subtle geometric shapes.
Blomst, which translates as 'flower' in Danish, encompasses 15 different flower illustrations—including classic spring blooms, like hyacinth and iris—chosen, according to Royal Copenhagen, "with an emphasis on species that bore a rich botanical history, and of course, their individual beauty.'" Wouter Dolk, the Dutch artist chosen to hand-render each flower in the Blomst series, is a highly accomplished painter of botanicals, best known for his exquisite in-situ murals of outsized flowers. Dolk spent five years on this commission—not his first for Royal Copenhagen—meticulously researching a way to bring the company's storied Blue Flower series into the 21st Century, while still honoring its legacy. The resulting designs make subtle distinctions between the more ornamental compositions of the Blue Flower collection and the bolder, starker illustrations in Blomst. "Eventually, I arrived at placing a single, perfectly hand-painted flower at unexpected angles and allowing it room to breathe. In the end, the design proved transcendent, allowing every splendid flower its moment in the sun," says Dolk.
"Eventually, I arrived at placing a single, perfectly hand-painted flower at unexpected angles and allowing it room to breathe."
Blue Flower was not Royal Copenhagen's first pattern; that honor belongs to Blue Fluted Plain, a Chinese-influenced pattern that launched the Royal Copenhagen porcelain line in 1775, in addition to the signature cobalt blue that still defines the brand. Blue Flower was the company's second pattern, launched in 1779, a highly decorative series, influenced by the late Rococo period, and featuring delicate sprays of flowers on tabletop pieces with asymmetrical scalloped edges.
Blomst updates Blue Flower's organic scalloped edges with a gentle geometric fluting, that gives the collection, along with its more vivid floral renderings and generous white space, a viscerally modern character. Plates, mugs, bowls, cups and saucers, teapot and serving dishes comprise the Royal Copenhagen Blomstcollection.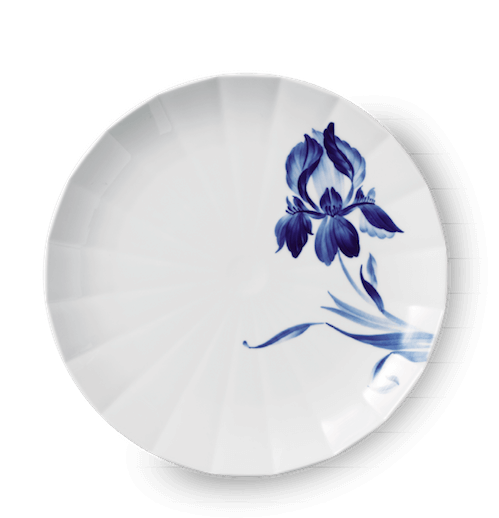 Royal Copenhagen Blomst dinnerware features bolder florals & subtle geometric shapes.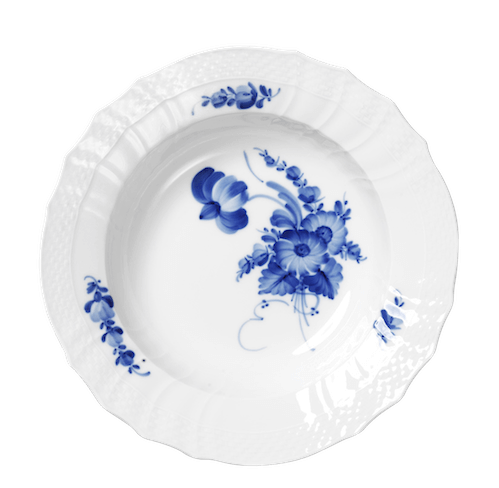 Royal Copenhagen's traditional blue dinnerware was more flowery, in every sense of the word.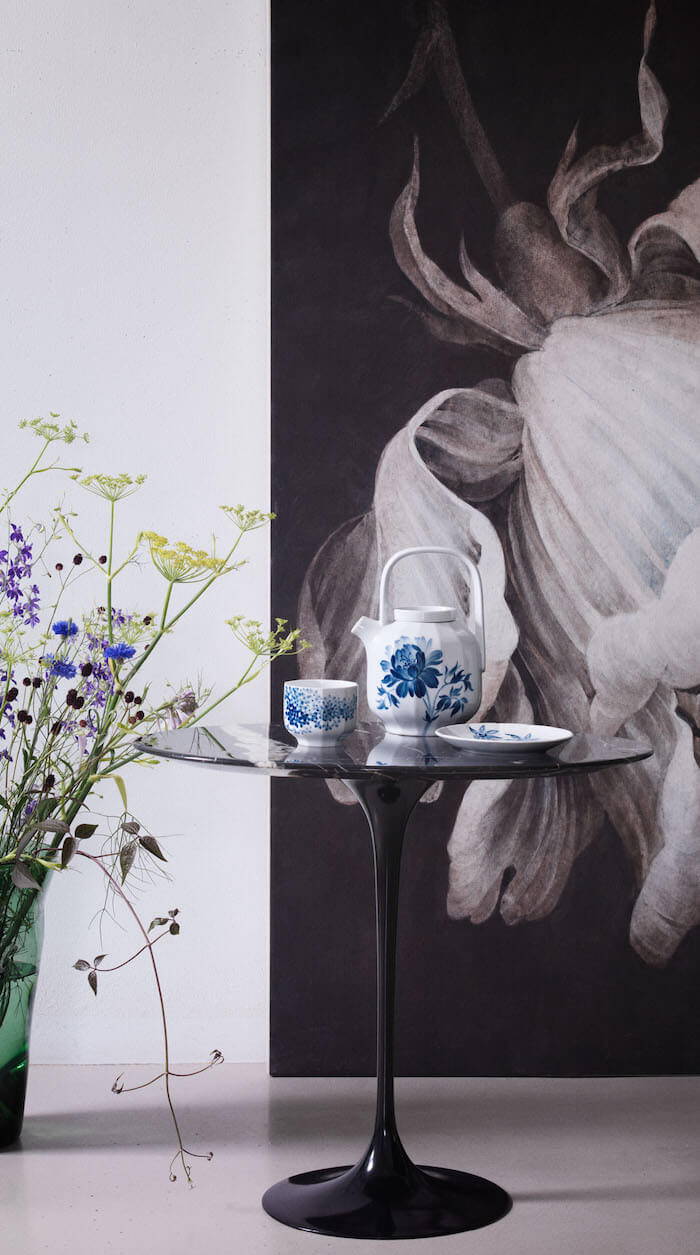 The new Blomst series features expertly illustrated blue flowers and modernized forms.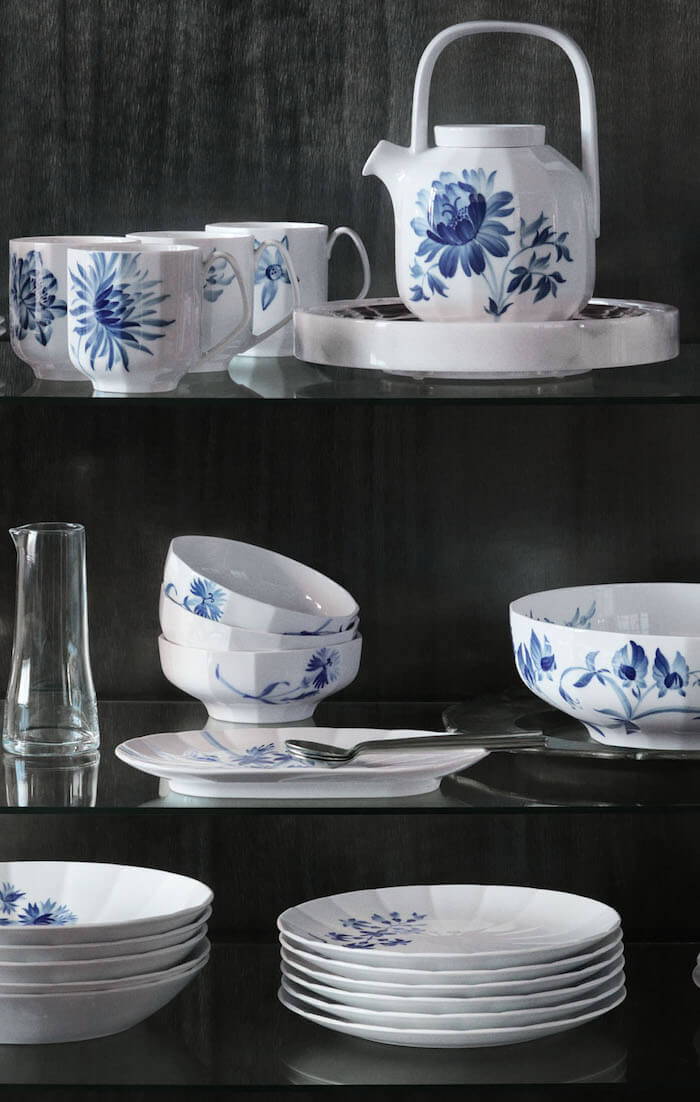 Though highly detailed, the floral patterns of Blomst project a bold contemporary beauty.
Blomst artist Wouter Dolk's hand painted floral compositions—15 flowers, in all—are translated onto porcelain by Royal Copenhagen illustrators. .