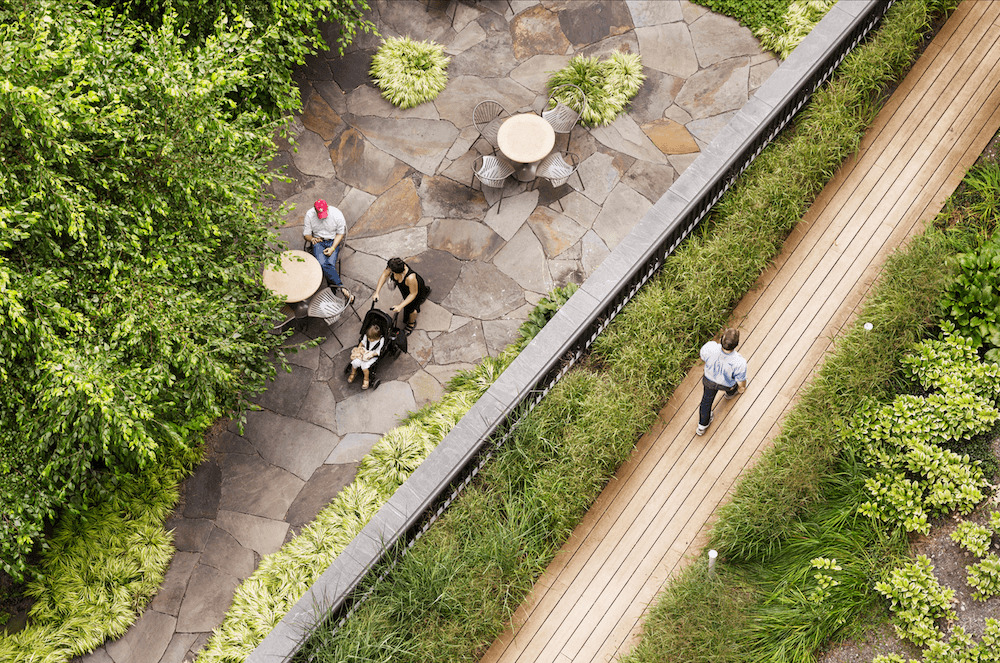 Brooklyn's Austin Nichols Warehouse & Waterfront, reburbished as a mixed-use public space of walkways, intimate gardens, and ornamental cherry trees.
Landscape Architect Kate Orff has become the first person in her profession to become a McArthur Fellow, a distinction granted by The John D. and Catherine T. MacArthur Foundation. The annual award, commonly referred to as a 'genius grant,' carries a monetary gift of $625,000, and honors outstanding creative accomplishments in disparate fields—ranging from mathematics to history, journalism to psychology. Orff, who heads the Manhattan-based firm, SCAPE, is one of two dozen 2017 McArthur Fellowship recipients, and the first landscape architect to be so feted, putting her in a rare position of prominence within a little-understood, but ecologically crucial, job function.
Ecology remains the driving force behind the work of SCAPE, a practice which focuses primarily on the unique challenges of the urban landscape, and which applies boths social and environmental sensitivity to a projects ultimately lauded for their aesthetic value. "We have, intentionally or not, built the American landscape as a massive consumption machine for petrochemicals," she says, a depressing truth illustrated in fertilizer-hungry suburban lawns and the greenhouse gas-emitting McMansions that demand them. To that end, Orff's projects incorporate a holistic approach that treads lightly on the landscape—a philosophy given added resonance by the increasingly dire effects of environmental degradation and climate change.
As the McArthur Foundation noted in its citation, "Her research and design practice addresses the challenges posed by urbanization and climate change (such as biodiversity loss and rising sea levels) through in-depth collaborations with ecologists, engineers, educators, artists, and community members that aim to make our urban habitats more adaptive and resilient."
As the first landscape architect
to be awarded a McArthur Fellowship, Kate Orff is in a rare position of prominence within a little-understood, but ecologically vital, field.
Counting among her influences both the widely-lauded Dutch architect, Rem Koolhaas, and the under-appreciated landscape architect Anne Whiston Spern, Orff sees her work less as a luxury to be appreciated by esthetes, and more as "a sort of public service."
While Orff's New York-centric portfolio includes both public spaces in under-served communities, like East Harlem, and private commissions in tony enclaves, like Greenwich Village, the common denominator in her work is obvious for its clear understanding of purpose and deep respect for context.
Orff's public spaces are layered and nuanced, a configuration of areas separated by tall trees and low-profile plantings and subtle privacy elements that facilitate both communion and solitude, while her private commissions seamlessly integrate a landscape's natural topography and native habitat into outdoor spaces as emotionally exhilarating as they are visually stirking.
At the Hall of Science in Queens, NY, undulating planters mimic the geometry of the building.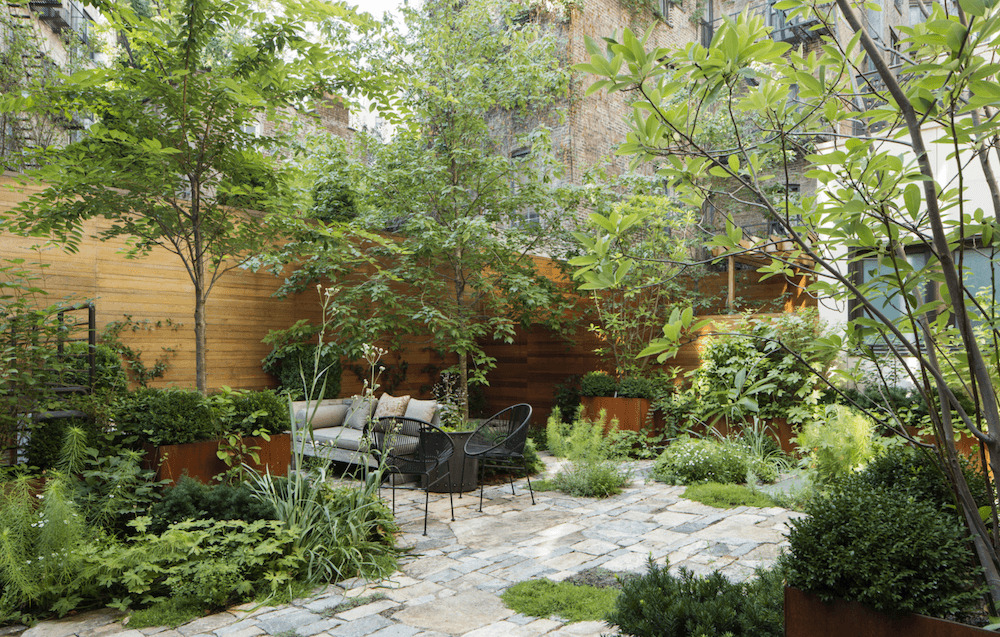 A shared garden space connecting three Greenwich Village townshouses incorporates shade trees and privacy screens to carve out cool, intimate spaces for all residents.
The McArthur Fellows Program is, in some ways, a mysterious distinction, a "no-strings-attached" prize, spearheaded by anonymous nominating, evaluating, and selection committees. But while the process by which Fellows are ultimately selected remains blurry, its intention to reward those who "exercise their own creative instincts for the benefit of human society," remains ever clear, 46 years after the grant's inception in 1981. Since then, 989 creative minds have become McArthur Fellows, counting only one landscape architect—Kate Orff—amongst them.
In East Harlem, a detrioriating public space was remade into a Play-