Designer and architect Ferruccio Laviani has created a glamorous new floor lamp for Kartell, the latest product of his ongoing collaboration with the Italian modern furniture and lighting brand. Laviani's Kabuki Foor Lamp is the most significant recent floor lamp design by Kartell, a brand that has most famously remained associated with whimsical table lamps and modern pendant lights made from lightweight injection mould plastic. Laviani's interest in modern interpretations of Boroque designs—the best-selling Bourgie Table Lamp being a primary example—is once again refelcted in Kabuki a highly ornamental design of perforated patterning that Kartell describes as 'neo-baroque.' While Kartell's contemporary lighting and furniture designs have become synonymous with decorative panache, it's been a while since a modern floor lamp has been presented so unequovically as an object of beauty as much as light source.
It's been a while since a modern floor lamp has been presented so unequivocally as an object of beauty.
Laviani's Kabuki Floor Lamp lives up to its name—the classical Japanese theatre tradition was Laviani's inspiration—both in scale and drama, presenting a vaguely anthropomorphic form of head and torso, as much as outsized candlestick or decorative vase. Kartell's signature injection mould technology, an evolving process that yields more and more technologically sophisticated designs, is responsible for Kabuki's striking head-to-toe woven structure, a lacy surface area which emits diffused light at night, while remaining ornamental objet d'art in daylight.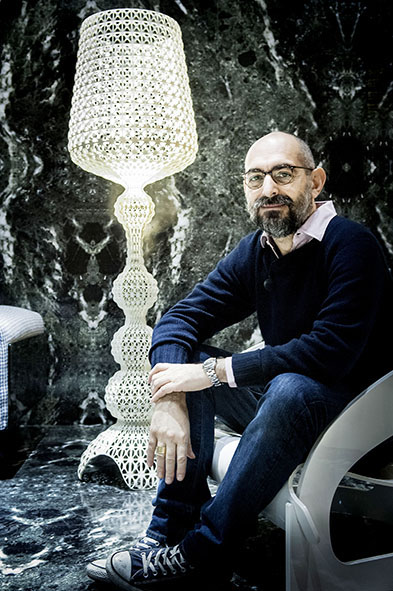 As an architect and designer, Ferruccio Laviani, shown above with his Kabuki Floor Lamp for Kartell, has collaborated with a range of modern furniture and lighting brands, including Foscarini, Oluce, and FLOS. His contemporary lighting designs for Kartell, however, remain amongst his most famous industrial design creations.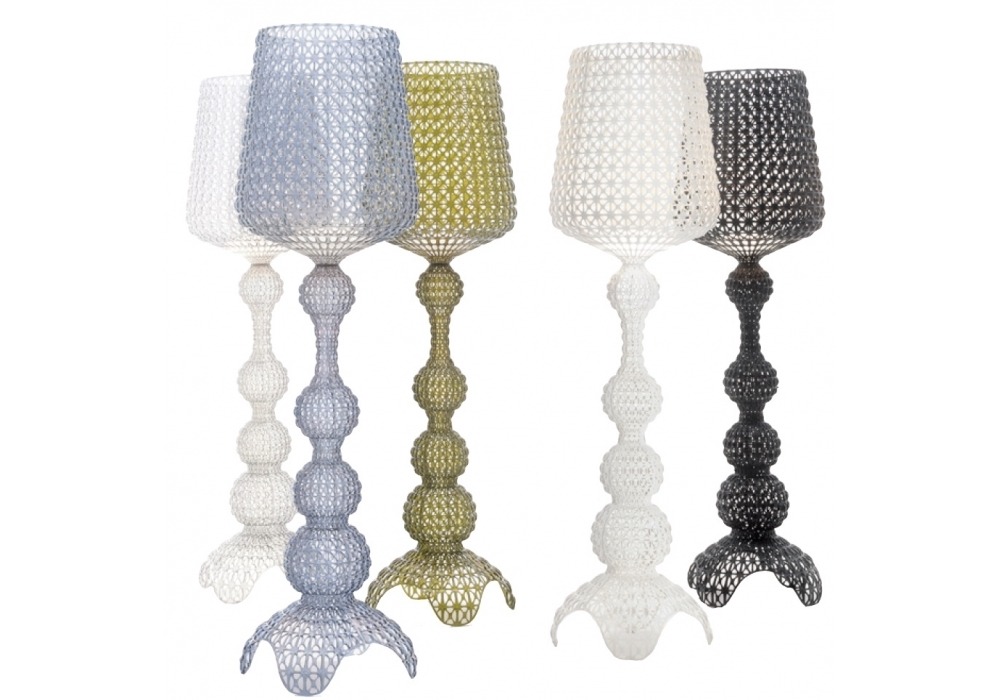 Ferruccio Laviani for Kartell >
Ferruccio Laviani was appointed Art Director at Kartell in 1991, and has since created a number of memorable modern lighting designs for the brand. The Bourgie Table Lamp and Bloom Pendant Light are perennial favorites, while the Battery Table Lamp, a rechargeable, portable LED Lamp are amongst the designer's more recent designs. View all Ferrucio Laviani designs for Kartell here.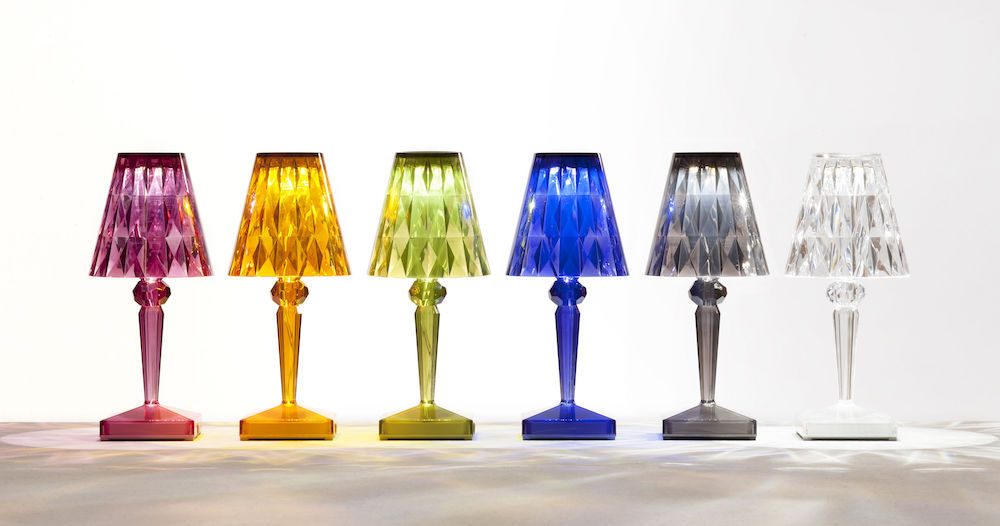 Kartell's Battery Table Lamp is a rechargeable and portable modern lamp, a 2016 design by Ferruccio Laviani.