Since its arrival on the modern design scene in 2012, the GUBI Beetle Dining Chair has quietly become one of the most recognizable contemporary chairs of the last decade. Designed by the Danish-Italian design firm GamFratesi for Danish brand GUBI, the Beetle seating range has since expanded into a suite that includes dining chairs, lounge chairs, modern barstools and counter stools, each iteration retaining its defining, rounded form, derived, as its name suggests, from the insect group.
Unveiled as a prototype in Milan in 2012, GamFratesi's Beetle Chair was an instant hit, landing atop 'most wanted' lists for good reason. At once playful and elegant, the Beetle Chair's beautifully modulated silhouette invoked its namesake to a tee, while its Mid Century overtones proved widely resonant with modern design enthusiasts eager for innovative contemporary furniture that promised timeless allure. The Beetle Chair was more than pure form, however, mimicking the anatomy of the beetle—rigid outer shell and soft interior—quite literally, merging refined good looks with beckoning comfort—an enviable formula that has proven irresistible in the ensuing years.
GamFratesi's collaboration with GUBI has spawned a sizable Beetle family. The Beetle Dining Chair has expanded over the years, offering a wide range of upholstery choices—including velvet and leather—and either wood or metal bases in a wide choice of finishes. An un-upholstered version of the Beetle Dining Chair presents an all-polypropylene shell in a range of colors, offering the same distinctive profile at a lower price point.  
The Gubi Beetle Barstool and Counter Stool are also available with or without upholstery and same range of base choices, while the Beetle Velvet Lounge Chair and Beetle Print Lounge Chair, feature generous proportions and a dazzling array of fabric choices, befitting a statement modern lounge chair.
View the entire GUBI Beetle modern furniture collection here >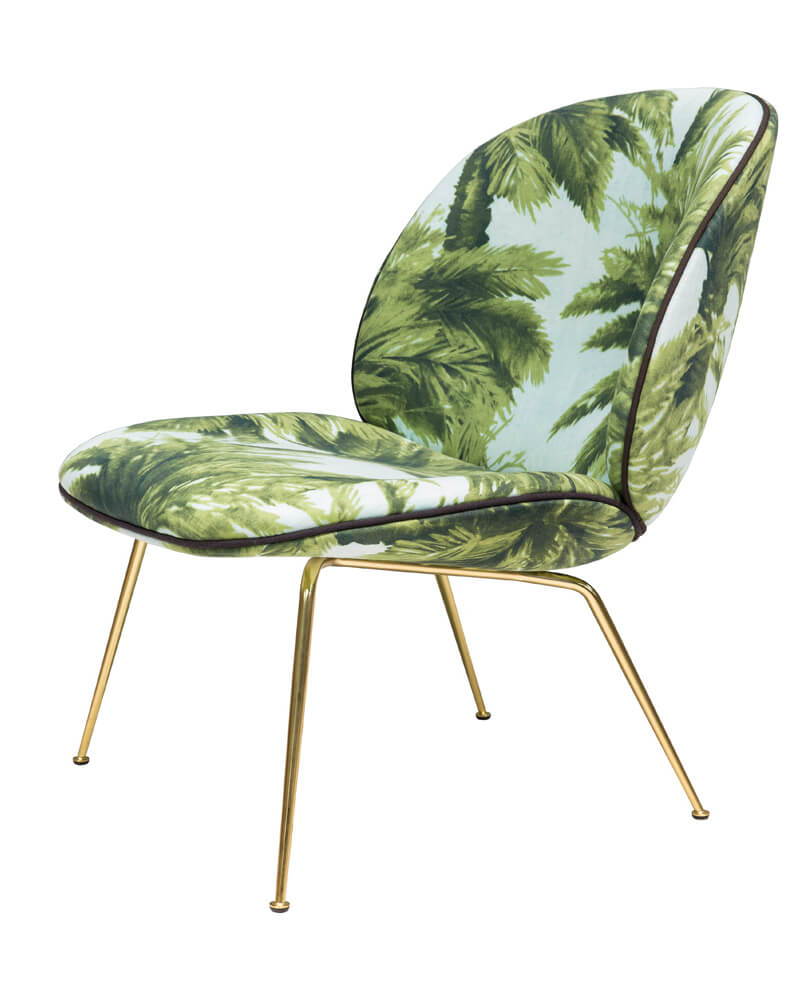 The GUBI Beetle Lounge Chair (above, below), available in both velvet and printed fabrics.