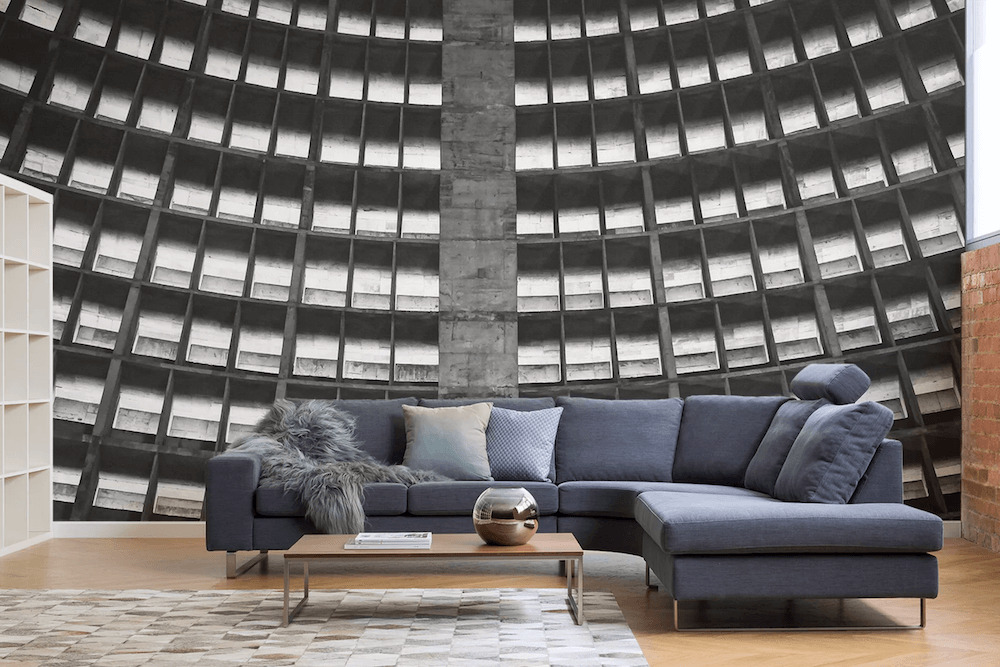 The concrete interior of the Rio De Janeiro Cathedral—part of Murals Wallpaper's Brutalist line of wallpapers—provides a decorative backdrop for a contemporary living room scheme.
Brutalism as an architectural style may not be anyone's idea of warm and fuzzy, but modern design lovers are warming up to the idea of injecting the movement's dramatic geometrics into contemporary interior schemes. Murals Wallpaper, a British modern wallpaper company that specializes in all-encompassing, mural-like wall coverings, has introduced a line of wallpaper that features the concrete repeat patterns that distinguish some of the world's most significant Brutalist structures. Part of the company's Concrete Effect range, which focuses on industrial and urban iconography, Murals Wallpaper's Brutalist suite of motifs showcases close-ups of the concrete modules that comprise the facades and interiors of famous Brutalist edifices—like Washington DC's Metro subway system, and London's Welbreck Street parking garage.
Photo-realism has become a trend in modern wallpaper designs. Dutch designer, Piet Hein Eek's wood, brick, and marble wall coverings uncannily replicate the real thing, while the Brooklyn Tins collection of contemporary wallpapers by French brand Merci has given vintage New York tin ceilings new trompe l'oeil  life. Murals Wallpaper itself carries a faux concrete wallpaper collection that brings an industrial edge to the most conventional suburban home, and a whole range of wallpapers replicating graffiti-laden and decrepit city walls has managed to estheticize urban decay. Still, highlighting the visual splendor of Brutalism is an altogether different challenge.
Maligned for its brooding, colorless presence, Brutalist architecture—its heyday spanning the 1950s through the 1970s—has mostly been relegated to the rubbish heap of 20th Century architectural movements, the ugly step-sister to Mid Century Modernism's elegance and refinement. The movement's misunderstood name—derived from the French word, brut, or raw, didn't advance its cause much, but neither did its ready adoption by repressive governments like that of the former Soviet Union and the once-divided Germany, which cottoned to Brutalism's imposing, bunker-like character. But, as these wallpapers illustrate, it may be high time to appreciate Brutalism's raw beauty. The Welbreck Street car park (bottom, left) is slated for demolition this year, diamond-patterned facade and all.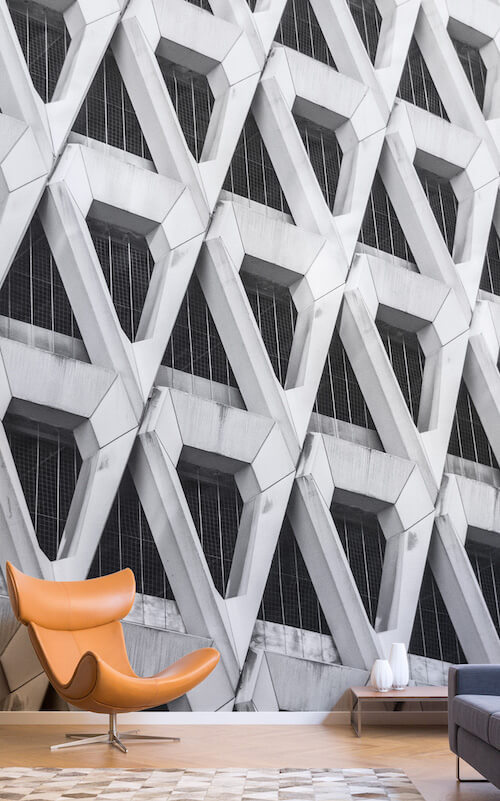 Living room furniture is dwarfed by the concrete facade of London's Welbreck Street car park.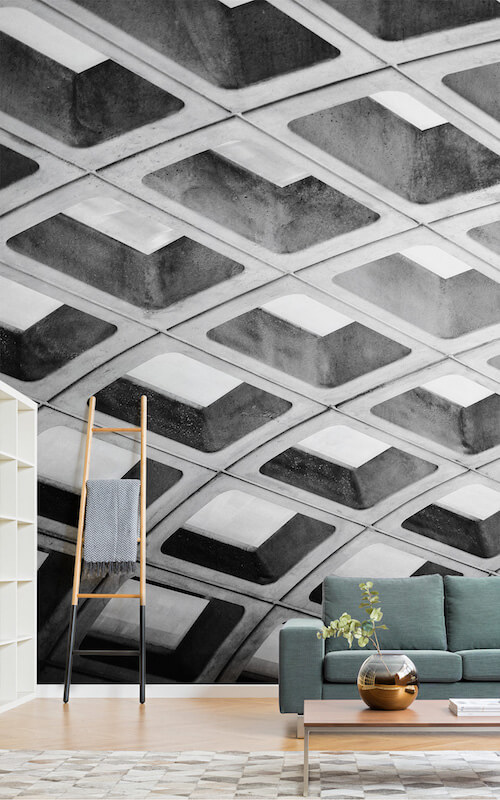 The vaulted ceilings of Washington DC's Metro subway system make a dramatic statement.