To mark the 100th Anniversary of the Bauhaus, Knoll has released new variations of the Cesca Chair, a 1928 design by the architect and designer Marcel Breuer, which remains one of the lasting emblems of the seminal German school. The Cesca Chair, an innovative cantilevered design that would eventually become one of the most popular—and most copied—chairs of the 20th Century, features the tubular steel construction which fascinated Breuer, and which defined his earlier Wassily Chair. The classic Cesca composition—slender steel support, cantilevered wood seat, and hand-woven cane inserts—is now available in fully upholstered and partially upholstered models.
A disciple of Bauhaus founder, Walter Gropius, Marcel Breuer brought architectural clarity to his two famous chairs, each marked by geometric silhouettes and gently bent tubular steel, a novel material application which Breuer claimed was sparked by his keen observation of bicycle handlebars.
According to Knoll, "after completing the Wassily, Breuer felt that the potential grace of the material was not yet fully exploited. An attempt to reduce visual noise led him to the continuous line of steel supporting a cantilevered seat ..." and the iconic Cesca, named for the designer's daughter, Francesca, and an enduring staple of modern dining rooms.
The Knoll Bauhaus centennial editions of the Cesca Chair present a range of upholstery options—velvet, suede, boucle, vinyl, leather—in myriad dark and pale hues, transforming a design defined by textural, hand-applied craft to a more luxurious dining chair, well suited to both casual and formal dining room schemes. Design purists who want something of Cesca's original airy composition can have it both ways, opting for an upholstered seat, combined with the original cane back.
View the Knoll Cesca Chair collection >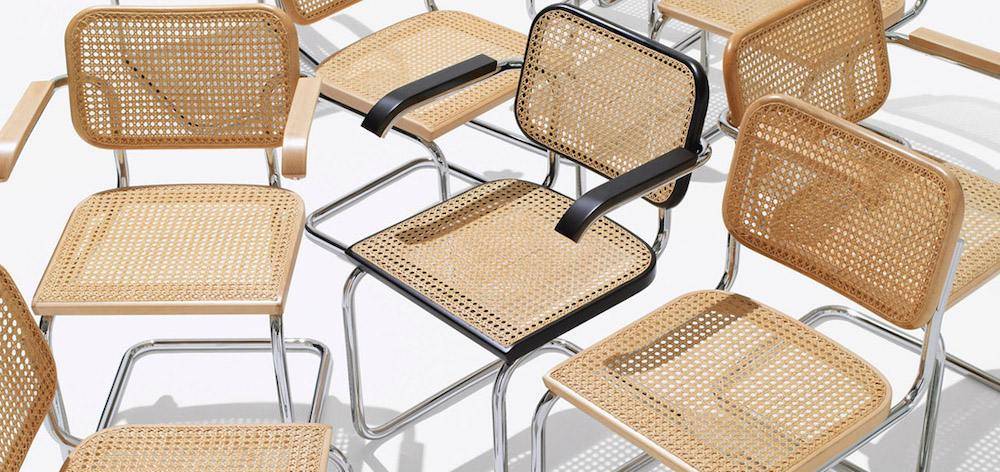 The original Knoll Cesca Chair features hand woven cane and a choice of beech hardwood or ebonized beech finish.