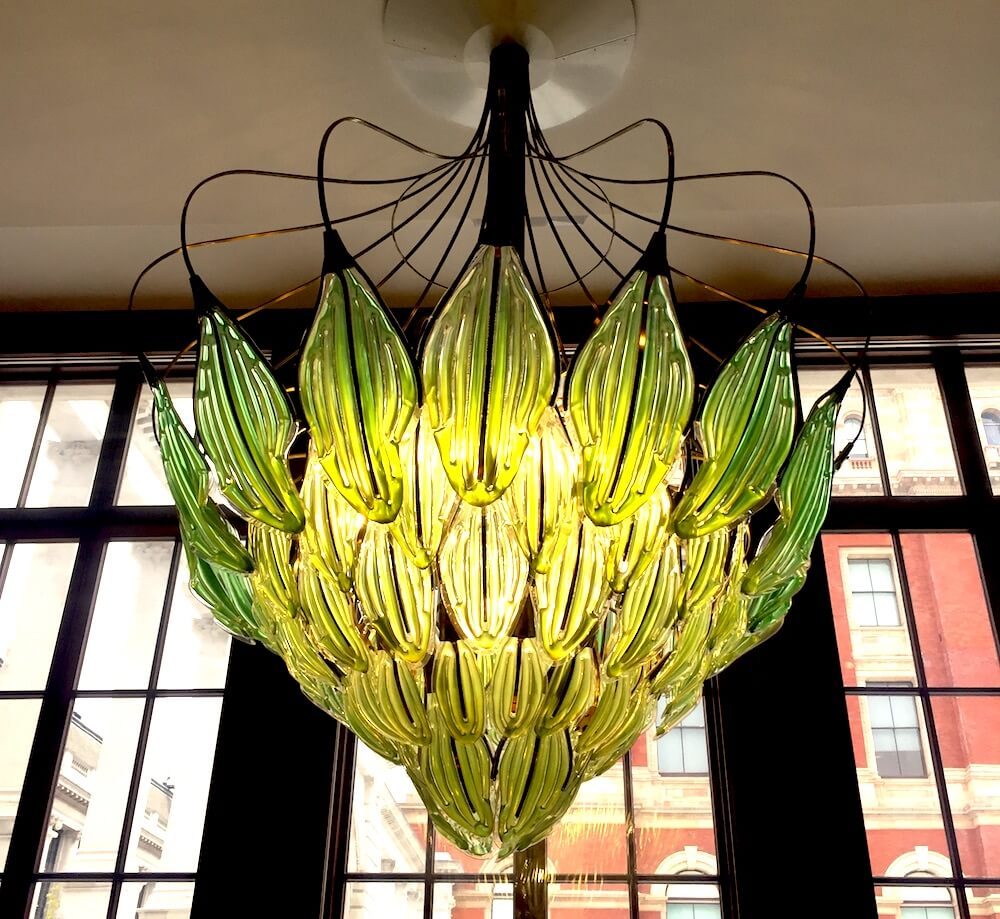 Julian Melchiorri's Exhale Chandelier was on view at the Victoria & Albert Museum in London during the London Design Festival in September 2017 .
Giving weightier meaning to the phrase, 'green living,' inventor and engineer Julian Melchiorri has created Exhale, a protype of a modern lighting fixture that acts as both air purifier and viable organism—thanks to green microalgae. A star attraction at this year's London Design Festival—where we had a chance to view this 'living' chandelier in person—Exhale is now part of the permanent collection of London's Victoria & Albert Museum, the venerable institution at which Melchiorri once held the position of Engineer in Residence.
Melchiorri is the London-based founder of Arborea, a biochemical technology company which created a patented method of applying the capabilities of photosynthesizing microorganisms towards sustainable products that improve the quality of everyday life. Exhale's air purifying credentials, then, are indebted to Arborea's innovative system, manifest in the form of a 'life support' device within the fixture, that nourishes the microorganisms—contained within the fixture's leafy elements—and keeps them alive and fully functional. The organisims, in turn, fueled by the chandelier's light emissions, perform photosynthesis, feeding on carbon dioxide and releasing clean air into the atmosphere.
Impressive as the technology and its related benefits are, what's most impressive about Exhale is how conventionally beautiful a contemporary lighting fixture it is. Melchiorri was inspried, in part, by the V&A's Art Nouveau collection, and it's easy to see the movement's influence in the chandelier's organically decorative curves and flourishes. Entirely hand crafted, Exhale's form is, appropriately enough, centered around the Fibonacci sequence, employing 70 glass 'leaves' of 3 different sizes, arranged in graduated layers, and yielding a shimmering green composition—a modern lighting design that's both dazzling and, literally, life altering.  
Hand constructed from glass and metal, Exhale is comprised of 70 'leaves' in 3 different sizes.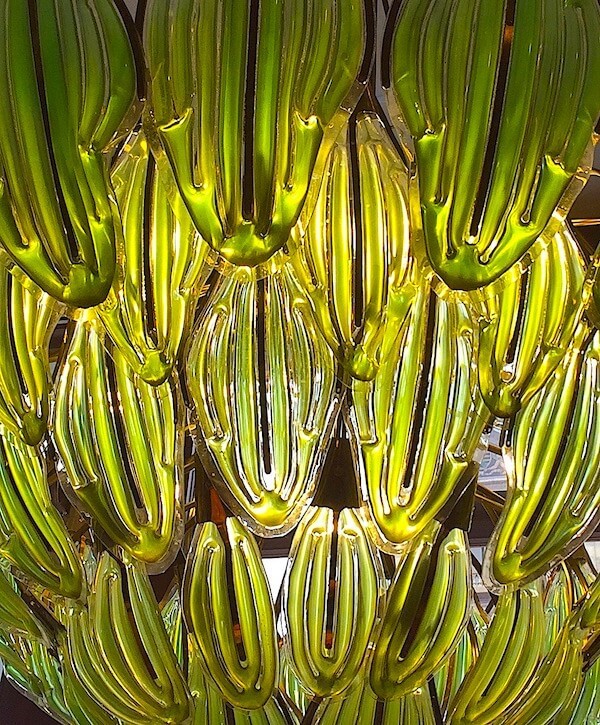 Arranged in the Fbonacci sequence, each Exhale 'leaf' carries microalgae within its structure.
—Photographs by Promila Shastri